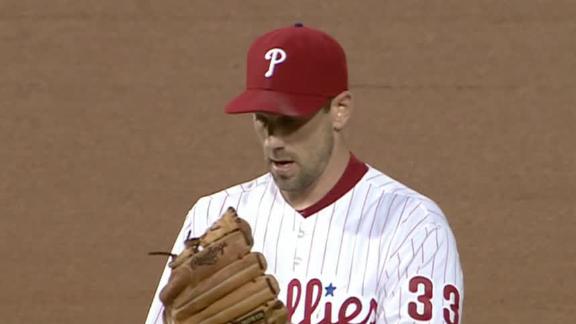 Updated Jun 18
Share
Tweet
Cliff Lee struck out nine in eight impressive innings, Michael Young tied a career high with three doubles and the Philadelphia Phillies beat the Washington Nationals 4-2 Tuesday night.
Nats-Phils rivalry quiet now, but could erupt

Updated Jun 18

Share Tweet

The rivalry between the Nationals and Phillies is newly minted. As a result, it's not as entrenched as some of the more storied contentious relationships in baseball such as Yankees-Red Sox. Dodgers-Giants. Cardinals-Cubs. Expect that to change.

Source:

MLB.com

Updated Jun 18

Share Tweet

Jordan Poyer took part in Oregon State's graduation on Saturday and flew to Philadelphia on Sunday, but he struggled to fall asleep that night in his airport hotel room. He was awake at about 5 a.m. when Zach Ertz walked into the room after taking a red…

Source:

philly.com

Eagles Growing Restless Over QB Competition

Updated Jun 18

Share Tweet

Chip Kelly has not settled on a starting QB for the 2013 season, causing some frustration in the locker room. QB Michael Vick and WR DeSean Jackson are among the Eagles who have publicly voiced their desire for Chip Kelly to name a starting quarterback.…

Source:

eaglesgab.com

Updated Jun 18

Share Tweet

Allen Iverson's in the news again and it's not good. The Answer's ex-wife is claiming that Iverson kidnapped their five children after a vacation gone bad. Reportedly, Tawanna Iverson is saying she gave her former husband permission to take the kids on …

Source:

dimemag.com

Ruiz activated from DL; Lerud optioned to Triple-A

Updated Jun 18

Share Tweet

The Phillies on Tuesay activated catcher Carlos Ruiz from the 15-day disabled list and optioned Steven Lerud to Triple-A Lehigh Valley.

Source:

MLB.com

Updated Jun 18

Share Tweet

Philadelphia Eagles owner Jeffrey Lurie wasn't joking in March when he mentioned his desire to have the Super Bowl at Lincoln Financial Field. Trust me, I know. I was standing right there, reminded of the same sick feeling I got back in 2010 when I real…

Sources:

ESPN.com philly.com

Updated Jun 18

Share Tweet

The NFL altered its policy on what kinds of bags fans are allowed to bring into stadiums last week, banning just about everything other than clear bags made of plastic, vinyl, or PVC with dimensions that do not exceed 12 inches by six inches by 12 inche…

Sources:

profootballtalk.com philly.com

Inside the Phillies: Amaro waiting to see whether Phillies core can still produce

Updated Jun 18

Share Tweet

It was a hot seat of sorts. As the Phillies took batting practice before the start of their three-game series against the Washington Nationals on Monday night, general manager Ruben Amaro Jr. sat on the brown wooden planks inside the home dugout. Surrou…

Source:

philly.com

Lee Records His Ninth Win

Jun 18

Cliff Lee struck out nine over eight innings to lead the Phillies to a 4-2 win over the Nationals and improve to 9-2.

Sports Columnists

2013 NBA playoffs -- Spurs left to regroup after Game 6

Jun 18

The Spurs were less than a minute away from a title, but now they're forced to regroup for a Game 7.

2013 NBA Finals -- Chris Bosh of Miami Heat -- Danny Green of San Antonio …

Jun 18

After San Antonio Spurs guard Danny Green hit 66 percent of his 3-pointers through the first five games of the NBA Finals, the Miami Heat's Chris Bosh declared there will be a different look for Game 6: no more open shots.