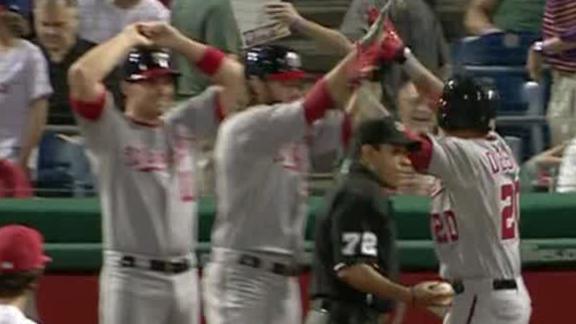 Updated Jun 19
Share
Tweet
Ian Desmond hit a grand slam in the 11th inning and the Washington Nationals beat the Philadelphia Phillies 6-2 Wednesday night, avoiding a three-game sweep.
Made you flinch! Phillies fan spills beer on self reacting to Ryan Zimmerman foul ball

Updated Jun 19

Share Tweet

The Washington Nationals might or might not ever get their collective groove back this season. But this much we know: A foul ball by slugger Ryan Zimmerman is the scariest thing in Major League Baseball — even to a fan sitting behind home plate, suppose…

Source:

yahoo.com

Updated Jun 19

Share Tweet

Bret Munsey has been brought on as a scout for the Eagles, according to a source.

Updated Jun 19

Share Tweet

Rookie tight end Zach Ertz and rookie cornerback Jordan Poyer missed Philadelphia Eagles OTAs and minicamp, but only because they weren't allowed to go. An NFL rule that prohibits rookies from joining their teams until their college terms are completed …

Source:

ESPN.com

Updated Jun 19

Share Tweet

If the Phillies are truly trying to resolve the puzzle of their ability to contend - and aren't merely trying to convince themselves, their fans, or any potential trade partners of that - then the big piece of the equation is as obvious as always.

Updated Jun 19

Share Tweet

The Phillies and the Washington Nationals have more than Jayson Werth in common these days. Both teams have dealt with a litany of injuries that have turned them into offensively challenged ballclubs. With a 4-2 victory Tuesday night at Citizens Bank Pa…

Sources:

philly.com ESPN.com CNNSI.com

Utley to start rehab stint Wednesday

Updated Jun 19

Share Tweet

The Phillies announced Chase Utley will begin a rehab assignment with Double-A Reading on Wednesday night.

Source:

MLB.com

Updated Jun 19

Share Tweet

Philadelphia Eagles SB Nation takes a look at the "interesting, albeit not terribly exciting, cast of characters" in the Eagles' quarterback competition. About right. Lots of arguments over this issue lately, but I think the important thing fo…

Source:

ESPN.com

The Sports Car: DeSean Jackson

Jun 19

Philadelphia Eagles wide receiver DeSean Jackson has a birthday surprise for Dave Dameshek as Dameshek interviews him on a joyride through Los Angeles.

Nationals Top Phillies In 11 Innings

Jun 19

Ian Desmond's grand slam in the 11th inning lifted the Nationals over the Phillies.