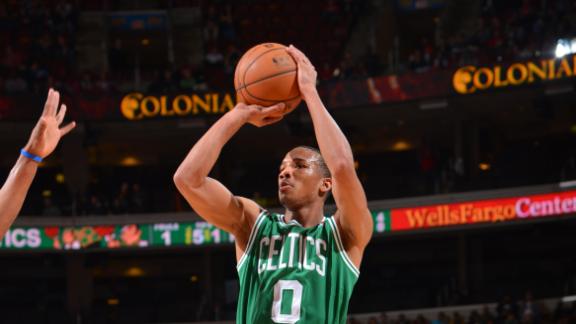 Celtics send Sixers to ninth loss in last 10 games

Share Tweet

LONDON (AP) - The NBA is going overseas for eight preseason games in October, with stops in Europe, Asia and South America.

Share Tweet

CLEARWATER, Fla. (AP) Jose Reyes, Hanley Ramirez and the Dominican Republic put on a relentless offensive display in their first exhibition game ahead of the World Baseball Classic, amassing 28 hits in a 15-2 romp over Cole Hamels and the Philadelphia P…

Share Tweet

G.J. Kinne won't likely make the Eagles' final roster. While that may be crushing for some young players trying to make it in the National Football League, Kinne is tougher than most.

Share Tweet

profootballtalk.com

Mar 5, 2013

Cullen Jenkins continues to take advantage of his head start on the free agent market, as the former Eagles defensive lineman keeps adding stops on his West Coast tour. According to Ian Rapoport of the NFL Network, Jenkins is set to visit the Raiders to…

Share Tweet

Forbes: 76ers owner Joshua Harris twice as rich as Eagles chairman Jeffrey Lurie

The annual Forbes billionaire list is out, and this year Philadelphia can boast just one billionaire owner - the Sixers' Joshua Harris.

Share Tweet

Michael Vick is attending dog-training classes

yahoo.com

Mar 5, 2013

So here's where you get to learn just how much you believe in the power of redemption and paying debts to society. Philadelphia Eagles quarterback Michael Vick has been spotted at a New Jersey-area PetSmart store, getting his dog trained. Vick, as you m…

Share Tweet

For Sixers, Andrew Bynum's role continues to fade

Practice had just ended for the 76ers on Monday afternoon, the door to the gym at Philadelphia College of Osteopathic Medicine swung open almost immediately, and you'd never guess which player was the first to leave.

Share Tweet

Ben Revere's role with Phillies: Getting on base

BRADENTON, Fla. - If you're looking for someone to compare Ben Revere to, here's a name: Ryan Howard. At first glance, the two couldn't be more different. Howard is known as "Big Piece" for a reason. He is 6-foot-4 and solid as a refrigerator.…

Share Tweet

Projecting the Phillies' Opening Day roster

CLEARWATER, Fla. - We made our first attempt at projecting the Phillies' 25-man Opening Day roster a little more than 2 weeks ago. The most significant development that has occurred since then is the lack of significant developments, specifically with r…

Share Tweet

Avery Bradley Leads Celtics To Third Straight Win

Mar 5

Avery Bradley scores 22 points to lead the Celtics to the 109-101 win over the 76ers.

Sports Columnists

Peter King: Kuechly goes back to school; Chiefs break from Pioli's way; ma…

Mar 5

We interrupt the never-ending hype for NFL free agency (when, by the way, is the last time a great free agent class led a team deep into that season's playoffs?) to talk about 15 weeks that no one ever talks about. But people should.

NBA Coast to Coast - Western Conference playoff matchups we're wishing for

Mar 5

J.A. Adande runs down his list of playoff matchups he wants to see in the Western Conference.