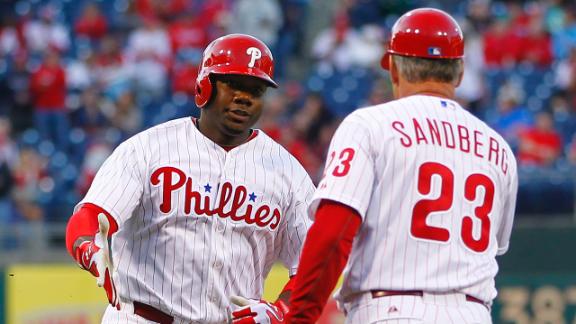 Updated May 3
Share
Tweet
Jonathan Pettibone pitched neatly into the seventh, Ryan Howard, Chase Utley and Domonic Brown hit solo homers and the Philadelphia Phillies beat the Miami Marlins 4-1 Friday night.
The 10-man rotation, starring a 7-year-old's #HotSportsTakes on NBA teams

Updated May 3

Share Tweet

A look around the league and the Web that covers it. It's also important to note that the rotation order and starting nods aren't always listed in order of importance. That's for you, dear reader, to figure out. C: r/NBA. A 7-year-old breaks down the Ph…

Source:

yahoo.com

Indians claim Carrera from Phils, option Bauer

Updated May 3

Share Tweet

The Cleveland Indians claimed outfielder Ezequiel Carrera off waivers from the Philadelphia Phillies on Friday and optioned right-hander Trevor Bauer to Triple-A Columbus.

Source:

ESPN.com

Updated May 3

Share Tweet

The Eagles are moving to a 3-4 defense and they visited with a player Thursday who could be an option at outside linebacker if he winds up signing in Philadelphia. Former Patriot Trevor Scott met with the team and, per Adam Caplan of TheSidelineView.com…

Source:

profootballtalk.com

Updated May 3

Share Tweet

Righty Roy Oswalt, who once was part of the Phillies' vaunted Four Aces combo, has agreed to a minor-league deal with the Rockies, the team said Thursday.

Updated May 3

Share Tweet

Both Eagles coach Chip Kelly and general manager Howie Roseman heaped praise on Matt Barkley after the surprising selection of the Southern California quarterback Saturday in the fourth round of the NFL draft.

Updated May 3

Share Tweet

It was the top of the third inning, and Kyle Kendrick's command of the strike zone had temporarily gone south. He had just issued a four-pitch walk to Miami's Justin Ruggiano, and a fan seated in the Hall of Fame section along the first-base line had se…

Will Matt Barkley make an impact with the Philadelphia Eagles?

May 3

Former Philadelphia Eagles QB Donovan McNabb explains what impact rookie QB Matt Barkley will have on the team in 2013.

Howard, Utley Power Phillies

May 3

Ryan Howard and Chase Utley both homered to lead the Phillies to a 4-1 win over the Marlins.