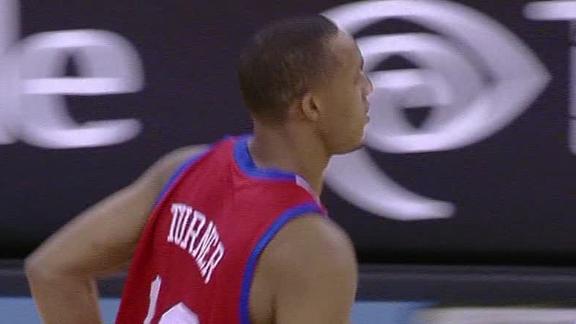 ESPN.com
Updated Nov 30, 2012
Evan Turner scored 25 points, Jason Richardson hit four 3-pointers down the stretch and the Philadelphia 76ers beat the Charlotte Bobcats 104-98 on Friday night for their third consecutive victory.
Share
Tweet
ESPN.com profootballtalk.com philly.com

Nov 30, 2012

Nick Foles handing off to Bryce Brown in front of a national television audience wasn't the way the Philadelphia Eagles envisioned their season going.

Share Tweet

CNNSI.com

Nov 30, 2012

PITTSBURGH (AP) -- For the third consecutive game, the Steelers will be without their star quarterback. At least it appears as if they'll have the quarterback of their defense and the reigning team MVP back on the field.

Share Tweet

Phillies non-tender outfielder Schierholtz

MLB.com

Nov 30, 2012

A source confirmed on Friday that the Phillies have non-tendered outfielder Nate Schierholtz, who was eligible for salary arbitration.

Share Tweet

Michael Vick makes the case for Olympic gymnast Gabrielle Douglas to win Sportsman of the Year

yahoo.com

Nov 30, 2012

With 2012 nearing its end, Sports Illustrated is set to name its annual Sportsman of the Year. Individual athletes, coaches, and teams have all been given the honor. This year, SI staff asked athletes for nominees. Philadelphia Eagles quarterback Michae…

Share Tweet

Donovan McNabb says Eagles are only going to get worse

profootballtalk.com

Nov 30, 2012

Former Eagles quarterback Donovan McNabb is not optimistic about the direction his old team is heading in. Asked on CSN Philadelphia about the Eagles' Sunday night game with the Cowboys, McNabb said he thinks quarterback Nick Foles, playing behind a bea

Share Tweet

Eagles cartoon caption contest results

Earlier this week, we gave you the opportunity to write the caption for Rob Tornoe's next Eagles-themed cartoon. We got nearly 300 entries, which was a tremendous response. Now we can announce the winner, as picked by Rob himself.

Share Tweet

ImPACT Test: How It's Used To Determine Concussion Recovery

Yesterday, Eagles quarterback Michael Vick failed his second concussion test of the week, meaning he has not been cleared to return to football activities. Robert Franks, D.O., takes a closer look at the testing used to make such determinations.

Share Tweet

Ex-pitcher Park, first S. Korean in MLB, retires

CNNSI.com

Nov 30, 2012

SEOUL, South Korea (AP) -- Former major leaguer Chan Ho Park is retiring after a career spanning nearly two decades in the United States, Japan and South Korea.

Share Tweet

See possible Eagles picks play Saturday

Eagles fans might take extra interest in Saturday's mega-matchup between Alabama and Georgia for the right to face Notre Dame in college's BCS National Championship Game.

Share Tweet

ESPN.com

Nov 30, 2012

Five nuggets of knowledge about Week 13: Tough times. The Philadelphia Eagles and the Dallas Cowboys haven't met in a game in which they both had losing records since ... well, since three weeks ago. But before that, the last time was Oct. 28, 1990. The…

Share Tweet

PFT Live: Cowboys talk with Charean Williams, PFT Planet calls and tweets

profootballtalk.com

Nov 30, 2012

The Cowboys will be playing to keep their playoff hopes alive on Sunday night against the Eagles and we'll be talking about their chances of winning that game on Friday's PFT Live. Charean Williams of the Fort Worth Star-Telegram will join Mike Florio

Share Tweet

Eagles chat with Paul Domowitch

Join the Daily News' Paul Domowitch as he takes your questions about all things Eagles at noon on Friday.

Share Tweet

profootballtalk.com philly.com

Nov 30, 2012

When defensive end Jason Babin was released by the Eagles, he said he hoped he would wind up playing for a winner. Things didn't really work out that way. Babin was claimed off of waivers by the 2-9 Jaguars, one of the few teams in the league with a wor

Share Tweet

Breakfast links: Dez Bryant, Pro Bowler?

ESPN.com

Nov 30, 2012

New York Giants Justin Tuck made it clear after the first time he played against him that he was impressed with Redskins rookie quarterback Robert Griffin III. Tuck said Wednesday that he would actually pay to watch Griffin race Eagles quarterback Micha…

Share Tweet

Nick Foles' first action this season came against the Dallas Cowboys on Nov. 11. With Michael Vick out with a concussion, Foles stepped in and completed nearly 70 percent of his passes for 219 yards and a touchdown.

Share Tweet

philly.com profootballtalk.com

Nov 30, 2012

Having played two seasons under Chip Kelly at Oregon and his next two seasons in Philadelphia, Casey Matthews has a unique perspective on whether his former coach would make a good fit with the Eagles.

Share Tweet

Inside the Phillies: With two centerfielders off the board for the Phillies, is Bourn a target?

B.J. Upton will be the centerfielder in Atlanta next season. Denard Span, after being traded from the Minnesota Twins Thursday, will play the position for the National League East champion Washington Nationals.

Share Tweet

Shane Victorino best value for Phillies?

This is a post from High Cheese, the Daily News' Phillies blog. AS WE wrote in Thursday's Daily News, the Phillies face a fascinating conundrum with their situation in centerfield. They have money to spend, and they have an obvious place to spend it. Bu…

Share Tweet

Eagles have too few big weapons to beat Cowboys

COWBOYS (-10) over Eagles: Double V is not a fan of double digits, but jeez, how can anyone in their right mind turn toward the battered Birds? As if the seven-game losing streak ain't enough, the Eagles now have their top three offensive weapons on the…

Share Tweet

Recent history: The Cowboys defeated the Eagles, 38-23, at the Linc on Nov. 11. Dallas leads the series, 60-47.

Share Tweet

'Playbook': Philadelphia Eagles vs. Dallas Cowboys

Nov 30

Will the Philadelphia Eagles continue to give the ball away to opponents and lack the fundamentals needed to pull off a win? The "Playbook" guys explain why the Eagles need to be careful against the Dallas Cowboys.

Politics In Play In Philly?

Nov 30

Sources: Michael Vick believes the Eagles using his concussion as a reason to keep starting Nick Foles.

Make-or-Break Game For Jason Garrett?

Nov 30

Skip Bayless and Stephen A. Smith debate whether Sunday's game against the Eagles is a make-or-break game for Jason Garret and the Cowboys.