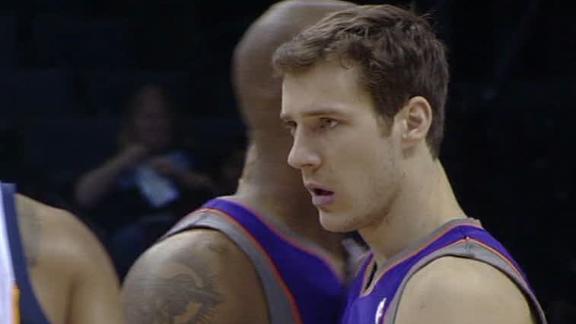 valleyofthesun.com
ESPN.com
Updated Feb 5, 2013
Solutions to the toughest problems are often discovered in blatantly accidental ways. It's usually a story behind the discovery of the law of gravity or something of the sort, but on Tuesday...
Share
Tweet
yahoo.com

Feb 5, 2013

On Jan. 24, the Phoenix Suns came through with an expertly timed nationally televised win over the Los Angeles Clippers. The team played sound all-around basketball and moved to 2-0 under interim head coach Lindsey Hunter. Even though the team roared ou…

Share Tweet
Dragic, Suns Outlast Grizzlies

Feb 5

Goran Dragic scored 15 of his 17 points in the fourth quarter to help the Suns edge the Grizzlies.
Sports Columnists
Ian Thomsen: Clippers, Rockets among teams that could be buying at deadlin…

Feb 5

Much of the focus this trade season has been given to the players possibly on the block (Pau Gasol, Paul Pierce, Josh Smith). But which teams are positioned to be buyers at the deadline? Could the Clippers deal some depth to strengthen their title hopes…

Coast to Coast - Who can beat the Miami Heat in East?

Feb 5

Our experts discuss what teams in the Eastern Conference could challenge the Heat in the playoffs?