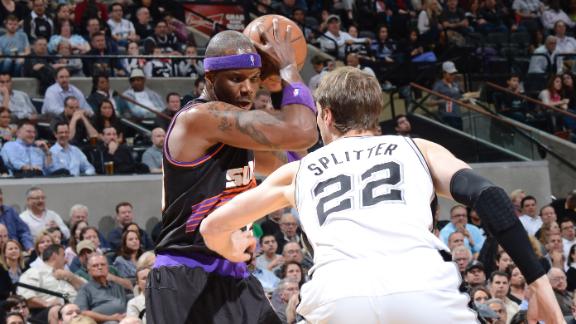 Phoenix Suns 105, San Antonio Spurs 101 (OT) - O'Neal takes over

valleyofthesun.com

Feb 27, 2013

When league experts pinpointed Jermaine O'Neal as on his way out following the Suns' trade to acquire Marcus Morris, it made sense. O'Neal, after all, didn't fit into what...

Share Tweet

yahoo.com valleyofthesun.com

Feb 27, 2013

At 19-39, tied for last in the Western conference and on their way toward a third straight postseason-less season, the Phoenix Suns would seem to be in line to give their fans a break. Something to help the team escape its Michael Beasley-rich experienc…

Share Tweet

valleyofthesun.com ESPN.com

Feb 27, 2013

PHOENIX — Interim head coach Lindsey Hunter finished his four-minute postgame press conference and walked off the podium with a slight grin on his face. "I'll finally be able to sleep a little...

Share Tweet

Suns Outlast Spurs In Overtime

Feb 27

Jermaine O'Neal had 22 points and 13 rebounds to help snap the Spurs' 18-game home winning streak.

Sports Columnists

Lee Jenkins: Could humility be delaying Derrick Rose's comeback?

Feb 27

At the 2008 Final Four in San Antonio, Derrick Rose was asked if he would enter the upcoming NBA draft, a reasonable question considering Pat Riley was among the many executives who had come to the Alamadome with the sole purpose of scouting him. Instea…

Ian Thomsen: LaMarcus Aldridge finally emerging as leader in Portland

Feb 27

LaMarcus Aldridge was bracing himself for the issues that have beset his Trail Blazers recently.