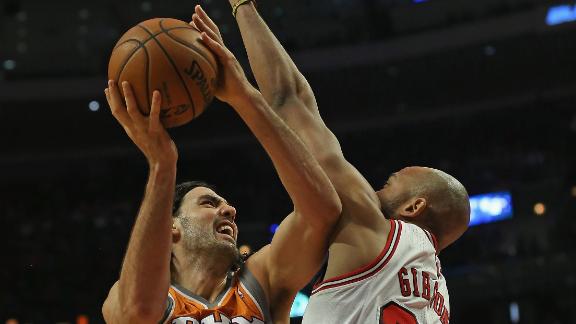 Updated Jan 12
Share
Tweet
Luis Scola scored 22 points to help the Phoenix Suns beat the Chicago Bulls 97-81 Saturday night, snapping a five-game losing streak.
Sources:
ESPN.com
valleyofthesun.com
Joakim Noah's Bounce Pass Finds Luol Deng

Updated Jan 12

Share Tweet

Joakim Noah times a perfect bounce pass to Luol Deng who throws down the slam in tonight's matchup between the Chicago Bulls and Phoenix Suns.

Source:

dimemag.com
Suns Snap 5-Game Skid

Jan 12

Luis Scola scored 22 points and Michael Beasley added 20 off the bench to lift the Suns.