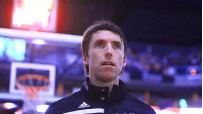 Updated Jul 4, 2012
Share
Tweet
A person familiar with the situation says free agent forward Michael Beasley has agreed to a three-year, $18 million deal with the Phoenix Suns.
Updated Jul 4, 2012

Share Tweet

Steve Nash wanted to go to the Los Angeles Lakers. He just needed an assist.

Updated Jul 4, 2012

Share Tweet

Michael Beasley is visiting with the Phoenix Suns on Wednesday, marking his second meeting with the club since the free-agency period began July 1, sources said.

Nash Lands With Lakers

Jul 4

J.A. Adande on the Lakers landing Steve Nash from Suns in sign-and-trade.

Nash To Lakers

Jul 4

Steve Nash to Lakers in sign-and-trade deal. Beto Duran of ESPN LA 710 breaks down the deal.

Knicks Pursuing Nash

Jul 4

ESPN's J.A. Adande joins SportsCenter to talk about the chances that Steve Nash joins the New York Knicks.