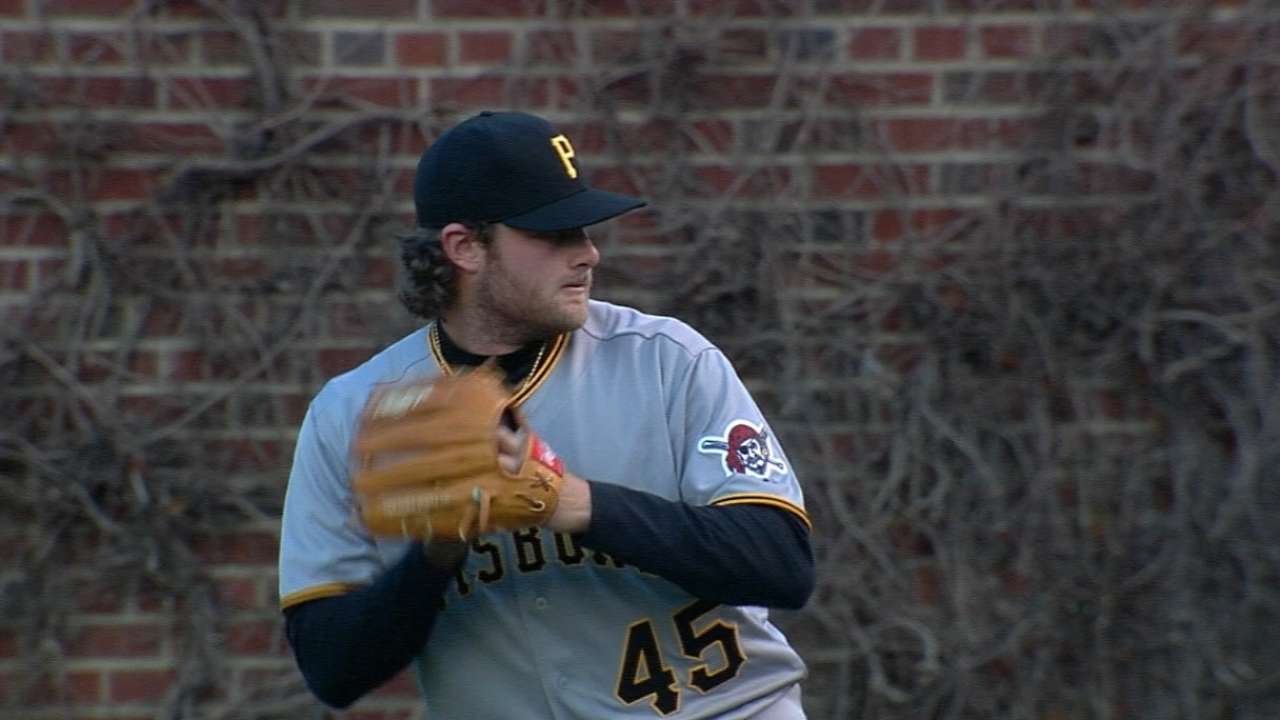 MLB.com
post-gazette.com
Updated 5 hours ago
For all the Pirates accomplished this year, all the questions they emphatically and successfully answered along the way, their entire season will boil down to one more: Can they beat Jake Arrieta?
Share
Tweet
MLB.com

5 hours ago

Only one win separated the Cubs and Pirates in the standings this year, providing little clarity as to which team has the upper hand entering tonight's winner-take-all clash. By using Statcast™, however, the matchup in the National League Wild Card …

Share Tweet

For the Pirate Parrot, birds of a feather don't stick together

The Pirates lost the face of their franchise last year, and hardly anyone noticed.

Share Tweet

Stats Geek: The great 98; it is just that

This year's Pirates are one of only six clubs in franchise history to win 98 games, and you need to go back more than 100 years to Honus Wagner's time to find a Pittsburgh club that won more.

Share Tweet

post-gazette.com yahoo.com ESPN.com

9 hours ago

Neal Huntington wants Pirates fans to be emotional about the team he's put together, and tonight he will get his wish.

Share Tweet

Pirates or Cubs: Who will wave victory flag tonight?

Pirates fans hope they will be able to celebrate tonight by hoisting a victory flag over PNC Park. Cubs fans just hope their flag-raising days aren't over.

Share Tweet

Historic: Cubs-Pirates 8 ET on TBS

MLB.com

11 hours ago

Two of baseball's oldest, most storied franchises are about to do something they've never done. Together in the postseason for the first time, the Pirates and Cubs are representing the National League as Wild Card clubs and will square off tonight, live…

Share Tweet

Andrew McCutchen's mother to sing national anthem for Wednesday's wild-card game

post-gazette.com

16 hours ago

The ceremonial first pitch will be thrown out by former Pirates right-hander Bob Walk, and Petrina McCutchen, mother of Andrew McCutchen, will sing the national anthem before Wednesday's wild-card game between the Pirates and Cubs.

Share Tweet

The Cubs Might Have Screwed Themselves By Screwing Kris Bryant

deadspin.com

19 hours ago

This Wednesday, the Cubs play the Pirates in the NL wildcard game. The game is in Pittsburgh, but it's worth noting that the Cubs finished one win away from hosting it themselves. The slimness of that margin should send Cubs fans back to April, when the…

Share Tweet

Before they were postseason bound: Pirates

MLB.com

Oct 5 (yesterday)

The Pirates are headed to the postseason, and this will be the first time that many fans across the league will be focusing on their roster. Here's our attempt to give them a head start with the origins of every player wearing the black and gold.

Share Tweet

post-gazette.com

Oct 5 (2 days ago)

The Pirates held an on-field presentation before Sunday's regular-season finale to formally recognize A.J. Burnett and Aramis Ramirez, who plan to retire after the playoffs. The veterans are guaranteed at least one more game at PNC Park, as the Pirates …

Share Tweet

Hurdle On Pirates' Evolving Culture

Mar 2

Pirates manager Clint Hurdle talks about the importance of Pedro Alvarez, Pittsburgh's season outlook and taking the next step.

Pirates: Spring Training Players To Watch

Mar 2

The Pirates have a new catcher in Francisco Cervelli and a new first baseman in moving Pedro Alvarez over from third, and they need both to lead in hitting if the team wants to win the NL Central.

Cole Looking To Build On Early Success

Mar 2

Pirates pitcher Gerrit Cole discusses working with new catcher Francisco Cervelli and helping his team win more games.

Pirates Win Bidding For SS Jung-Ho Kang

Dec 22

David Schoenfield discusses the news that the Pirates have won the rights to negotiate with South Korean SS Jung-Ho Kang.