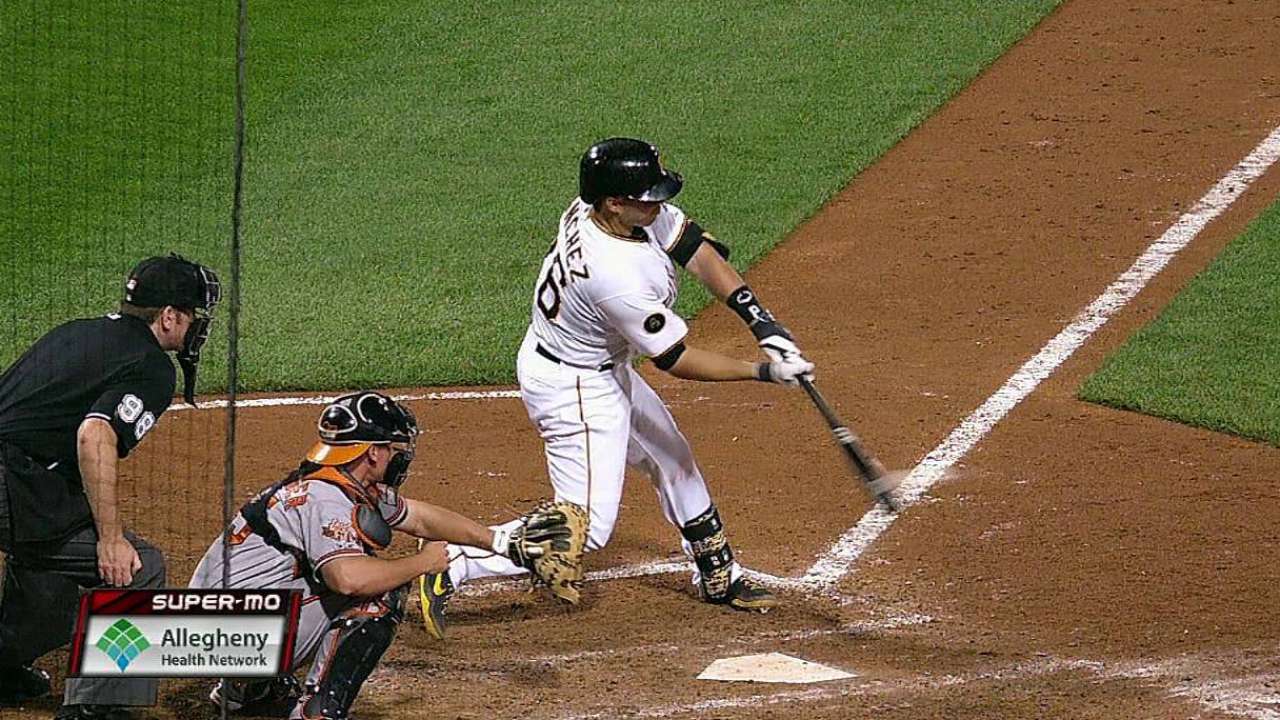 Sanchez slated for winter action in Dominican
MLB.com
Updated Oct 28 (yesterday)
Catcher Tony Sanchez, who figures prominently in the Pirates' 2015 plans behind the plate, indeed is scheduled to get in some valuable prep work in the Dominican Winter League, general manager Neal Huntington confirmed on Tuesday.
Upvote
Share
Tweet
Pirates' catching future learning in fall league

post-gazette.com

Oct 27 (3 days ago)

SURPRISE, Ariz. — Yes, Elias Diaz was aware of the opportunity the Pirates' catching situation has created for him. He knew Russell Martin would reach free agency after the 2014 season and understood that Martin will likely depart. Diaz, however, found …

Upvote Share Tweet

Report: South African Keeper Senzo Meyiwa Shot Dead

deadspin.com

Oct 26 (4 days ago)

South Africa national team captain and Orlando Pirates keeper Senzo Meyiwa was reportedly shot and killed in Vosloorus. He was 27. A spokesperson for the South African Football Association confirmed Meyiwa's death.Read more...

Upvote Share Tweet

Pirates trade for Sellers, designate Gomez and Axford for assignment

post-gazette.com

Oct 25 (5 days ago)

In a move to reduce their arbitration responsibilities and add depth in the middle infield, the Pirates acquired Justin Sellers from the Cleveland Indians Saturday in exchange for cash considerations.

Upvote Share Tweet

post-gazette.com

Oct 23 (7 days ago)

Russell Martin and Starling Marte were named finalists Thursday for Gold Glove awards, the defensive honors given to the top player in each league at each position.

Upvote Share Tweet

Pirates sign pitcher Stinson to minor league contract

post-gazette.com

Oct 23 (7 days ago)

The Pirates today signed right-hander Josh Stinson to a minor league contract with an invitation to spring training as a non-roster player.

Upvote Share Tweet

Pirates' Bell getting his feet wet at first base in AFL

MLB.com

Oct 22

Outfielder Josh Bell, the Bucs' 2014 Minor League Player of the Year, has had his ups and downs while learning a new position this fall.

Upvote Share Tweet

Pirates experiment with outfield prospect Josh Bell at first base

post-gazette.com

Oct 19

SCOTTSDALE, Ariz. — What the Pirates are trying to do with Josh Bell stems from equal parts necessity, opportunity and hope. They are trying to create a spot for a valuable asset due to stability at one position and a lack thereof at another. And becaus…

Upvote Share Tweet

MLB.com

Oct 17

Before Travis Ishikawa hooked on with the Giants earlier this summer, he spent time mulling retirement, having been set free by the Pirates. Then injuries happened, opportunities opened and Ishikawa became the Giants' latest out-of-thin-air hero.

Upvote Share Tweet

Jeff Banister spent 29 years with the Pirates organization, the past four as bench coach, and now he is manager of the Rangers. He has a nice three-year contract plus an option for 2018 and far more responsibility than he had in Pittsburgh.

Upvote Share Tweet

Pirates to raise season ticket prices

post-gazette.com

Oct 16

SURPRISE, Ariz. — The Pirates will raise season ticket prices for the fourth consecutive year in an effort to keep pace with the prices of their division rivals, rising demand on the secondary market and record attendance.

Upvote Share Tweet

Mental toughness and sound execution make Giants, who defeated Cardinals 6-4, difficult to beat in October 

nydailynews.com

Oct 16

You watch these Giants, who are now on the verge of their third World Series in five years, and sometimes you can't quite figure out how they do it. They've hit exactly two home runs in this post-season, and only one since they routed the Pirates in the…

Upvote Share Tweet

Catching prospect Diaz could be in Pirates' plans for 2015

MLB.com

Oct 15

As the 2014 Minor League season progressed, manager Clint Hurdle and GM Neal Huntington both went out of their way to heap props on catching prospect Elias Diaz, and he could have an impact on the Pirates in 2015.

Upvote Share Tweet

MLB.com

Oct 14

Texas has narrowed its managerial search down to three finalists: interim manager Tim Bogar, Indians bullpen coach Kevin Cash and Pirates bench coach Jeff Banister.

Upvote Share Tweet

Bucs considering future of four key veterans

MLB.com

Oct 9

After the Pirates' loss in the Wild Card Game, the club turned its attention to the offseason. On the sixth day after the conclusion of the World Series, Russell Martin, Edinson Volquez, Francisco Liriano and Clint Barmes will become free agents able to…

Upvote Share Tweet

Rangers continue skipper interviews with Banister and McEwing

MLB.com

Oct 8

The Rangers continued their interviews with managerial candidates by meeting with Pirates bench coach Jeff Banister and White Sox third base coach Joe McEwing on Wednesday. The Rangers have already interviewed pitching coach Mike Maddux, Triple-A manage…

Upvote Share Tweet

ESPN.com post-gazette.com

Oct 6

Pittsburgh Pirates manager Clint Hurdle underwent surgery on Monday to replace his ailing right hip.

Upvote Share Tweet

post-gazette.com

Oct 4

The result of the National League wild-card game does not do justice to the Pirates' season. They went 88-74 despite losing Francisco Liriano, Gerrit Cole, Russell Martin, Andrew McCutchen and Neil Walker to injuries at times. They also earned their sec…

Upvote Share Tweet

Not Top Plays

Oct 3

Catch the best and worst plays from "SportsCenter".

Bruce Bochy On Wild-Card Win

Oct 1

Manager Bruce Bochy talks after the Giants' wild-card win over the Pirates.

NL Wild-Card Preview

Oct 1

Doug Glanville and Red Sox catcher David Ross preview the matchup between the Giants and Pirates and make their predictions.

Giants Shut Out Pirates In NL Wild-Card Game

Oct 1

Highlight Of The Night: Madison Bumgarner tossed a four-hit complete game, and Brandon Crawford hit a grand slam to lead the Giants to an 8-0 win over the Pirates. They will face the Nationals in the NL Division Series.

Sports Columnists

Chicago Bulls couldn't have asked for a better season opener

Oct 30

Yes, the Knicks are ugly, but it was top-to-bottom domination for Chicago at Madison Square Garden, Michael Wilbon writes.

The First Half

Oct 29

THE FIRST HALF: What's made the NFL's 95th season memorable—so far The MMQB Newsletter Enter your email below to receive the best of The MMQB in your inbox each weekday

Chicago Bulls poised to beat LeBron James' Cavaliers with playoff savvy, e…

Oct 28

The Chicago Bulls know playoff heartache and failure intimately, which makes this Bulls team more ready than LeBron James and the imposing Cleveland Cavaliers to win a championship, Michael Wilbon writes.