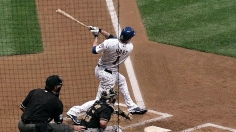 Bucs add Presley, McPherson for stretch run

MLB.com

Updated Aug 31, 2012

The Pirates' roster for a possible postseason appearance came into surprising focus on Friday, when the club recalled outfielder Alex Presley and right-handed starter Kyle McPherson from Triple-A Indianapolis.

Upvote Share Tweet
Uecker Honored Before Brewers' Win

Aug 31

Brewers unveil statue of Bob Uecker before 9-3 win over Pirates.
Sports Columnists
Don Banks: Jets' Ryan didn't want to draft rookie WR Hill; more camp Snaps

Aug 31

Musings, observations and the occasional insight as the NFL preseason mercifully comes to a close ...