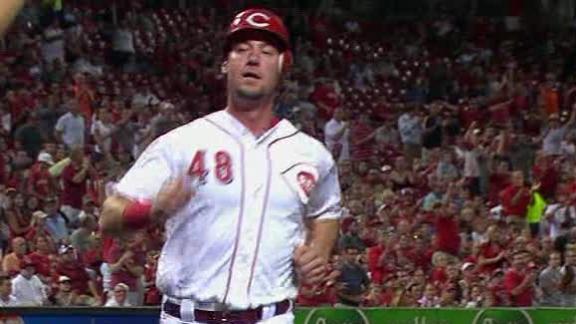 yahoo.com

Sep 12, 2012

Brandon Phillips of the Cincinnati Reds says his conflict with Pirates pitcher Jared Hughes is over. Phillips says each man has "forgiven" the other for what was said during an incident on the field Monday night, one in which Phillips said Hug…

Share Tweet

MLB.com

Sep 12, 2012

Following Reds starter Mike Leake's seven innings of work, the Cincinnati bullpen continued its scoreless-inning streak to bring home a 5-3 win against Pittsburgh at Great American Ball Park and secure the first two games of the three-game series.

Share Tweet

Reds Hold On To Complete Sweep Of Pirates

Sep 12

Reds hand Pirates sixth straight loss.