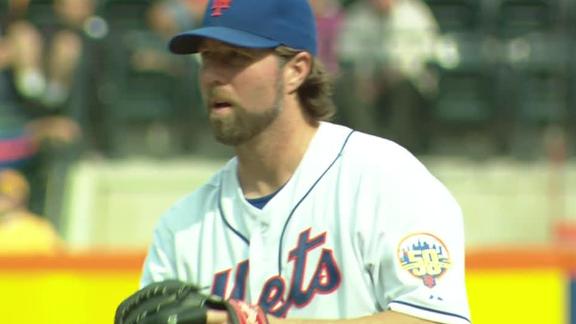 ESPN.com
Updated Sep 27, 2012
R.A. Dickey became the first knuckleballer to win 20 games in more than three decades, tying his career-high with 13 strikeouts and leading the Mets over the Pirates 6-5 on Thursday behind David Wright's tiebreaking, three-run homer in the fifth inning.
Share
Tweet
yahoo.com

Sep 27, 2012

Your browser does not support iframes. Thursday's home finale turned out to be a historic day both on and off the field for the New York Mets. On the field, R.A. Dickey claimed his milestone victory in their 6-5 defeat of the Pirates, becoming the first…

Share Tweet

ESPN.com

Sep 27, 2012

National League batting leader Andrew McCutchen came out of Pittsburgh's game against the New York Mets in the seventh inning Thursday after appearing to hurt a leg while making a diving catch.

Share Tweet

yahoo.com nytimes.com deadspin.com

Sep 27, 2012

Your browser does not support iframes. Travis Snider switched from No. 45 to No. 23 when he was traded from the Toronto Blue Jays to the Pittsburgh Pirates earlier this season. Turns out it was an appropriate change too, because the Buccos right fielder…

Share Tweet

yahoo.com

Sep 27, 2012

Over the past few years, Bo Porter has earned the label of someone who might make a great manager one day. Next year, Porter will get a chance to prove that thought right. After interviewing for the Pirates and Marlins for managing jobs in recent years,…

Share Tweet

Dickey: 'Pretty Special Moment'

Sep 27

R.A. Dickey calls into SportsCenter to discuss his 20th victory of the season.

Dickey Gets 20th Win As Mets Hang On

Sep 27

R.A. Dickey notched his 20th win of the season and tied a career-high with 13 strikeouts.

Web Gems

Sep 27

Is Travis Snider's home run-robbing catch better than Jon Jay's bobbling bare-handed grab?

Sports Columnists

Biggest NFL games of Week 4 -- John Clayton's First & 10

Sep 27

Roger Goodell's influence will be felt when the struggling Saints and Packers meet on Sunday, writes John Clayton.

Don Banks: Saviors now, regular refs will be scrutinized more than ever in…

Sep 27

When the NFL's regular crews of referees mercifully get back to work, starting Thursday night in Baltimore, let's hope they're ready for their close-up. Because this is going to be the closest close-up the league's game officials have ever experienced.