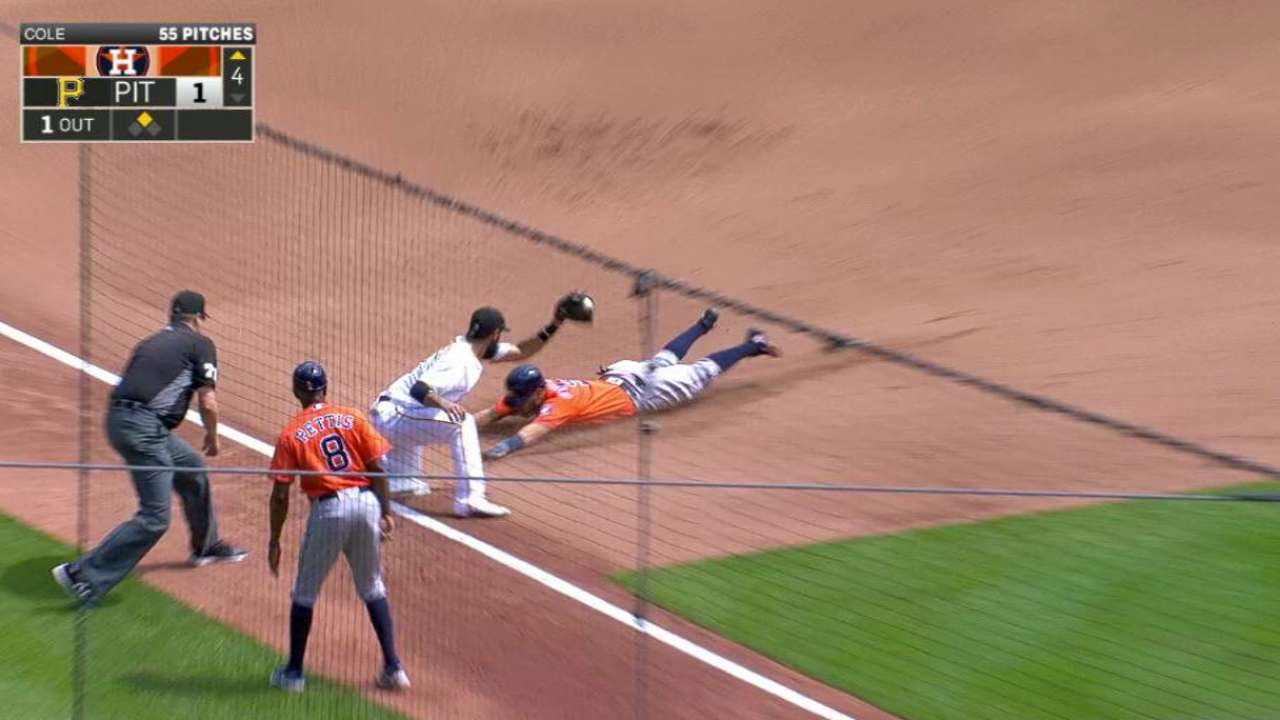 Astros edge Bucs to cap strong road trip
MLB.com
Updated 1 hour ago
Fighting to keep their spot in a crowded American League Wild Card picture, the Astros did exactly what they needed to during a seven-game swing through Baltimore and Pittsburgh. Coming off a series victory over the Orioles, the Astros claimed another o…
Share
Tweet
profootballtalk.com

2 hours ago

The Eagles didn't wait long to put wide receiver Dorial Green-Beckham into game action, throwing him into the lineup for last week's game against the Steelers two days after he was acquired in a trade with the Titans. Green-Beckham will be in the lineup…

Share Tweet

pittsburghlive.com profootballtalk.com

2 hours ago

In James Harrison's mind, there's only possible outcome resulting from his meeting with the NFL on Thursday. "They're going to clear my name," Harrison said ...

Share Tweet

nytimes.com

3 hours ago

A solid road trip kept the Houston Astros on the right path toward a playoff spot.

Share Tweet

Steelers notebook: Williams never worried about future; Harrison vows he'll be cleared

post-gazette.com

3 hours ago

Vince Williams was a sixth-round draft pick in 2013. He was no cinch to make the Steelers, let alone start. But that's what he did 11 times after veteran Larry Foote was injured in the season opener.

Share Tweet

post-gazette.com

4 hours ago

With the ball en route to, but not yet in, the bushes beyond the center-field fence, Gerrit Cole raised his glove to ask for another. He knew Evan Gattis' second-inning homer would leave the yard without having to look.

Share Tweet

Down Goes Brown: Five teams that have had a quiet offseason, and what it means for 2016-17

thehockeynews.com

4 hours ago

An NHL offseason can be a funny thing. For some teams, it represents an opportunity to blow everything up real good, hitting the reset button entirely or at the very least radically changing direction. For others, it's a chance to double down on what's …

Share Tweet

pittsburghlive.com post-gazette.com

4 hours ago

Steelers fans will have to wait longer for their first in-game look at this season's first-round pick. Cornerback Artie Burns told the Tribune-Review that he ...

Share Tweet

Penguins' Jan. 22 game against Bruins moved to 3 p.m.

post-gazette.com

4 hours ago

The Penguins' Jan. 22 home game against Boston will start at 3 p.m., not 12:30 p.m. as originally scheduled, the team announced today.

Share Tweet

yahoo.com

5 hours ago

Here are your Puck Headlines: A glorious collection of news and views collected from the greatest blogosphere in sports and the few, the proud, the mainstream hockey media. Have a link you want to submit? Email us at . via Alexander Fedorov, Sport Expre…

Share Tweet

Pirates injury updates: Glasnow to make rehab start in Class AAA

post-gazette.com

7 hours ago

Right-hander Tyler Glasnow is scheduled to throw a bullpen session in Indianapolis today and make his next rehab start in Class AAA, athletic trainer Todd Tomczyk said.

Share Tweet

Paul Zeise: The Steelers' best offense doesn't include a tight end

post-gazette.com

8 hours ago

Tuesday, the Pittsburgh Post-Gazette's very own Ray Fittipaldo explored the possibility of the Steelers using five-receiver sets. The more I think about it, the more I like it.

Share Tweet

Penguins' individual game tickets go on sale Friday

post-gazette.com

9 hours ago

Individual game tickets for 2016-17 Penguins home games will go on sale Friday at 10 a.m., with approximately 2,000 tickets available for each game.

Share Tweet

Olsavsky sees a lot of himself whenever he watches inside linebacker Tyler Matakevich

post-gazette.com

10 hours ago

Jerry Olsavsky, the Steelers inside linebacker coach, takes one look at rookie Tyler Matakevich and sees another late-round NFL draft choice who was smart, instinctive, not overly fast, but almost always in the right place to make a tackle or disrupt th…

Share Tweet

Penguins Prospectus: Kevin Porter

post-gazette.com

11 hours ago

Penguins Prospectus is an offseason project by Jason Mackey and Sam Werner that each weekday through Sept. 16 will examine 27 parts of the organization. Players and team personnel will appear according to when they played, coached or managed their first…

Share Tweet

profootballtalk.com

13 hours ago

The Steelers are working on a contract extension for guard David DeCastro, but they're pushing up against their self-imposed deadline of the regular season. So according to Mark Kaboly of the Pittsburgh Tribune-Review, his linemates are doing what they …

Share Tweet

Adam Frazier, Matt Joyce form top of Pirates revised batting order

post-gazette.com

19 hours ago

With the Pirates offense stuck in neutral, manager Clint Hurdle tried kicking it into gear with a new one-two punch atop the batting order Tuesday night against the Houston Astros. Off the bench came Adam Frazier to bat leadoff and play second base, fol…

Share Tweet

MLB.com

19 hours ago

Gregory Polanco homered twice Tuesday night, leading a resurgent Pirates offense out of its brief funk. But Ivan Nova hardly needed the help, throwing a complete game in a 7-1 win over the Astros at PNC Park.

Share Tweet

Gene Collier: Turnabout like this can drive fans crazy

post-gazette.com

19 hours ago

This whole baseball thing, perhaps you've noticed, offers a person innumerable opportunities to drive him or herself crazy, especially if him or herself is straining under the delusion, for example, that the track of the 2016 Pirates offense can be in a…

Share Tweet

Brown focused on bettering game, not contract

Jul 31

Steelers wide receiver Antonio Brown explains how his focus is not on a contract, but getting better at his game. He also offers his take on some of the Steelers' top playmakers facing suspensions or possibility of suspension in two consecutive year

SC Cartoons: DeAngelo Williams and Goliath

Jul 29

Former Carolina Panthers running back DeAngelo Williams tells the story of his battle with Kris Jenkins from his rookie year.

Steelers' plans to offset loss of Le'Veon Bell

Jul 29

ESPN Steelers reporter Jeremy Fowler explains the team's mentality without Le'Veon Bell and how they're going to focus their efforts on Antonio Brown.

Riddick wants to see improvement from Steelers' D

Jul 29

Louis Riddick says his focus in Pittsburgh is on the defensive side of the football and improving the pass rush as the start of the season nears.