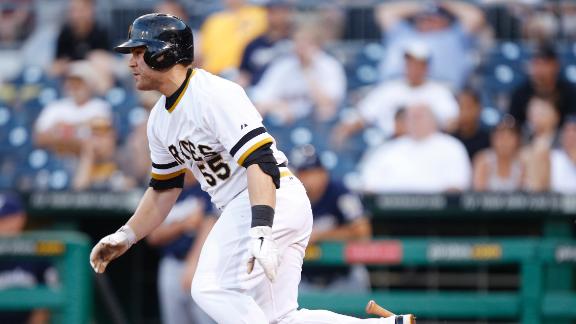 Russell Martin hit a clutch walk-off single, driving in Gaby Sanchez in the 14th inning to give the Pirates a 2-1 victory Sunday. Vin Mazzaro threw five perfect innings in relief after a rain delay of over two hours.
Share
Tweet
Taylor And Rooney – A Must See Video

steelersgab.com

Jun 30, 2013

It's one of the most interesting relationships that a player and team owner has ever had – that being Steelers CB Ike Taylor and Steelers owner Dan Rooney. The two have had pictures taken together, and Taylor has shown throughout his Steelers career a t…

Share Tweet

steelersgab.com

Jun 30, 2013

Sure there's no way to tell as of yet, but it sure is fun to start thinking about how two of the higher profile rookies on the defensive side of the ball in 2013 will fare – Steelers LB Jarvis Jones and Browns LB Barkevious Mingo. The two players were c…

Share Tweet

Storylines Of June

Jun 30

Tim Kurkjian breaks down the success of the Pirates and the disappointment of the Nationals.