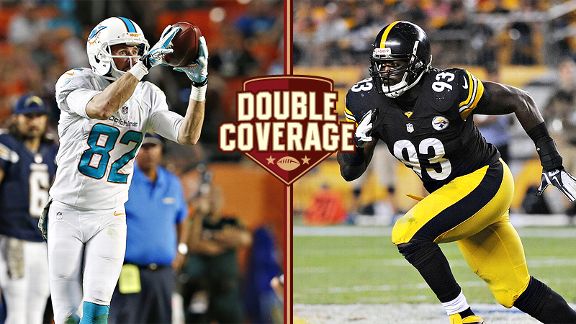 Updated 2 hours ago
Share
Tweet
The postseason has started early for several teams around the NFL. The Miami Dolphins (6-6) and Pittsburgh Steelers (5-7) are two of those clubs, and they will meet Sunday at Heinz Field in what could amount to a playoff eliminator. Miami and Pittsburgh…
Updated 4 hours ago

Share Tweet

Early this week, Ravens coach John Harbaugh said that the team would have to nurse some of their players through injuries this week in hopes of having them on the field against the Vikings. Linebacker Elvis Dumervil is one of those players. Dumervil inj…

Source:

profootballtalk.com

Steelers' Friday leftovers

Updated 6 hours ago

Share Tweet

A hodgepodge of topics from this week at the Steelers: Bracing for Wallace: Teams have been throwing deep on the Steelers, who have given up 11 passing plays that have covered at least 40 yards. You can bet the Dolphins will take a couple of shots on Su…

Steelers notebook: New linemen example of NFL's unglamorous side

Updated 14 hours ago

Share Tweet

Eric Olsen and David Snow are the newest Steelers, signed to the 53-man roster within the past week to provide depth along a depleted offensive line. Neither had been on an NFL roster this season, and they were among the hundreds of forgotten players re…

Source:

post-gazette.com

Updated 14 hours ago

Share Tweet

Mike Adams gets a second chance Sunday when he starts at left tackle against the Miami Dolphins.

Sources:

post-gazette.com pittsburghlive.com

Updated 18 hours ago

Share Tweet

Outside linebacker LaMarr Woodley, out for three games with a calf injury, was a full practice participant Thursday. He said he is practicing on the ...

Sources:

pittsburghlive.com ESPN.com

Updated 18 hours ago

Share Tweet

The most impressive of Steelers running back Le'Veon Bell's statistics aren't his yards gained, passes caught or tackles broken. They are these: Helmets broken, 1. ...

Updated 22 hours ago

Share Tweet

Before the Dolphins face the Steelers on Sunday in Pittsburgh, Miami owner Stephen Ross should personally thank Steelers coach Mike Tomlin for knocking the Jonathan Martin situation to the media's back burner. But the Martin-Incognito kettle still simme…

Source:

profootballtalk.com

Updated 23 hours ago

Share Tweet

PITTSBURGH -- Remember predictions that the Pittsburgh Steelers' passing game would flounder without a bona fide deep threat? The Steelers' receivers apparently do. "They took to heart (questions of) how good are we going to be on offense without Mike W…

The Word: Tomlin Fined $100K For Actions

Dec 5

Sarah Spain and Jane McManus discuss if Steelers head coach Mike Tomlin's $100,000 fine was a fair punishment by the NFL.

Inside the Huddle: Antonio Brown

Dec 5

The Steeler's Antonio Brown is on pace for a 113-catch, 1,470 yard season and has 428 yards after the catch, 204 yards more than Dolphin Mike Wallace.

Preview: Miami Dolphins vs. Pittsburgh Steelers

Dec 5

NFL Films previews the Week 14 matchup between the Miami Dolphins and the Pittsburgh Steelers.

Inside the Huddle with John Clayton

Dec 5

John Clayton goes deep on all four downs this week. Topics: Antonio Brown making big catches for the Steelers as Mike Wallace comes back to town. Division games proving to be very close this season. Gronk & Rodgers make the difference, big time.