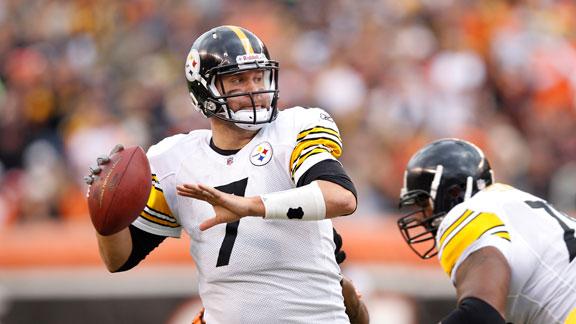 profootballtalk.com
ESPN.com
steelersgab.com
Updated Feb 21, 2012
It became national news this week that Ben Roethlisberger and new Steelers offensive coordinator Todd Haley had yet to talk since Haley was hired by the Steelers. So we bring you an inevitable follow up: The two men have "recently" had a meeting of th
Share
Tweet
Schlereth on Roethlisberger-Haley issue

ESPN.com

Feb 21, 2012

Steelers quarterback Ben Roethlisberger said he hasn't spoken with new offensive coordinator Todd Haley, and ESPN's Mark Schlereth sees no problem with that. "You would have liked for them to touch base," Schlereth said. "In the overall s…

Share Tweet

profootballtalk.com post-gazette.com

Feb 21, 2012

The Steelers continue to-rework contracts of their veterans in an effort to find some cap space for 2012. The latest player to adjust his deal: tackle Willie Colon. $3.8 million of Colon's $4.5 million salary was converted into a bonus that was prorate

Share Tweet

profootballtalk.com

Feb 21, 2012

Ordinarily, when a team has a good young player who becomes a restricted free agent, that team does what it needs to do and keeps that good young player in the fold. But it's becoming increasingly clear that Steelers receiver Mike Wallace is not in an o

Share Tweet

How important is Mike Wallace?

Feb 21

Donte Whitner joins the set of "NFL Total Access" to explain why the Steelers need to re-sign Mike Wallace and what he means to the offense.

What is Wallace worth?

Feb 21

Will Ben Roethlisberger and Troy Polamalu restructure their contracts to make salary room for Mike Wallace? Jason La Canfora has the latest Steelers news, including when Rashard Mendenhall will be ready to play.

Big Ben Hasn't Talked To Haley

Feb 21

Mark Schlereth on the report that Ben Roethlisberger says he hasn't spoken to new offensive coordinator Todd Haley.