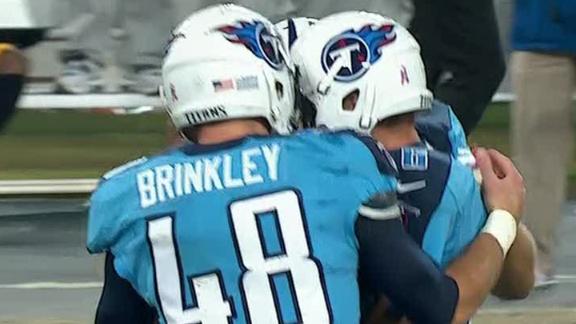 CNNSI.com
profootballtalk.com
ESPN.com
steelerstoday.com
nytimes.com
post-gazette.com
Updated Oct 11, 2012
The Steelers will have to wait for their first road victory of the season. Rob Bironas chipped in a 40-yard field goal as time expired to help Tennessee hold off visiting Pittsburgh 26-23.
Share
Tweet
CNNSI.com profootballtalk.com ESPN.com

Oct 11, 2012

NASHVILLE, Tenn. (AP) -- Ben Roethlisberger has passed Terry Bradshaw as the Pittsburgh Steelers' career passing leader, and he needed fewer games to reach that mark.

Share Tweet

post-gazette.com profootballtalk.com ESPN.com

Oct 11, 2012

Ben Roethlisberger broke Terry Bradshaw's passing record but it was an otherwise unmemorable night for the Steelers.

Share Tweet

Pittsburgh center Maurkice Pouncey injured his right leg on the Steelers' first offensive play from scrimmage against Tennessee on Thursday night, and will not return.

Share Tweet

profootballtalk.com ESPN.com yahoo.com post-gazette.com

Oct 11, 2012

With Steelers safety Troy Polamalu out after re-aggravating his calf injury, Will Allen is in tonight's starting lineup. The Steelers announced that Allen - and not Ryan Mundy, who started the first three games of the season, first in place of startin

Share Tweet

Join our ESPN.com NFL experts as they break down the AFC matchup between the Pittsburgh Steelers and the Tennessee Titans. Contribute your thoughts and questions beginning at 8:25 p.m. ET. See you there. Countdown Live: Steelers-Titans

Share Tweet

Peter King: Week 6 Picks

CNNSI.com

Oct 11, 2012

Last week: 12-2, .857. Year to date: 43-34, .558 Pittsburgh 27, Tennessee 14. The talk in Pittsburgh will be about Ben Roethlisberger?s shot at breaking Terry Bradshaw?s record for career passing yards?he needs a 300-yard game in Nashville to do it?but …

Share Tweet

NASHVILLE, Tenn. -- Greetings from the AFC South stomping grounds. I'm here for Thursday night's game between the Steelers and Titans. Most of the blogs today and tonight will focus on Pittsburgh because it's game day. Consider yourself warned. Time for…

Share Tweet

N.F.L. Week 6 Game Probabilities: Penalizing Pittsburgh

nytimes.com

Oct 11, 2012

What has been holding the Steelers back is their penalty rate. They have a league-worst rate of 0.7 penalty yards per play; the league average is 0.4 yards per play.

Share Tweet

steelersgab.com

Oct 11, 2012

Wide receiver REGGIE WAYNE of the Indianapolis Colts, defensive tackle RANDY STARKS of the Miami Dolphins and kicker SHAUN SUISHAM of the Pittsburgh Steelers are the AFC Offensive, Defensive and Special Teams Players of the Week for games played the fif…

Share Tweet

Steelers Gab 2012 Week 6 NFL Preview — Pittsbugh at Tennessee

steelersgab.com

Oct 11, 2012

It's an early start to week six for the Steelers, as they play their what seems to be annual Thursday night game on the road against the Titans. Last season it was the Browns at home, and the year before, the Panthers at home, so playing on the road on

Share Tweet

Collier: Thursday game a money-maker and a bad idea

NFL's Thursday night games fly in face of safety concerns, among other things.

Share Tweet

Steelers eager to close deal on Heinz seating

The Steelers say a project to add 3,000 seats at Heinz Field for next football season could be in jeopardy.

Share Tweet

Big Ben all about winning

Oct 11

Pittsburgh Steelers QB Ben Roethlisberger may not put up flashy statistics, but he does have a proven track record of winning. Kurt Warner digs deeper into the two-time Super Bowl champion's will to win.

Big Ben breaking records

Oct 11

Pittsburgh Steelers quarterback is 287 yards away from breaking former Steelers quarterback Terry Bradshaw's passing record. Will he be considered a better than his predecessor?

Video: Titans-Steelers review

Oct 11

Paul Kuharsky and Jamison Hensley put some finishing touches on the Titans' upset of the Steelers.

Titans Rally To Top Steelers

Oct 11

Last second field goal lifts Titans past Steelers.