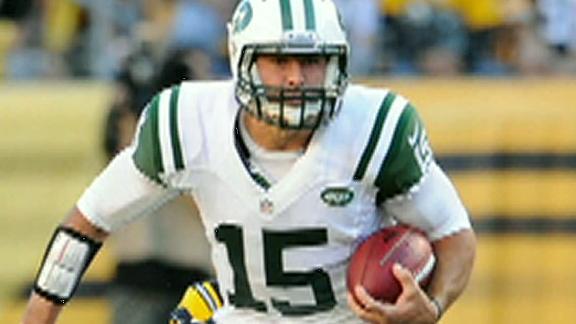 Handicapping AFC North after two weeks

Matt Williamson, of ESPN.com, assesses the AFC North after two games. It's an Insider article, so you'll need a subscription to read the entire piece. But here's some excerpts: PITTSBURGH STEELERS Williamson: [Roethlisberger] can carry this team. He is …

Share Tweet

Revisiting the Pittsburgh Steelers' 27-10 win over the New York Jets on Sunday at Heinz Field: When Mike Wallace reported to the Steelers after missing all of the offseason workouts, training camp and the preseason, the big question was how long it woul…

Share Tweet

When Officials Blew A Call Even After Looking At The Replay, Rex Ryan Was Flabbergasted

deadspin.com

Sep 17, 2012

Late in yesterday's Steelers-Jets matchup, New York challenged a play in which Steelers running back Isaac Redman was ruled down on a tackle by safety Yeremiah Bell. Rex Ryan challenged the call, believing Bell might have forced a fumble, but several re…

Share Tweet

Wake-up: Already tight at top of AFC North

Trying to decipher the Week 2 results in the AFC North is like trying to decode the Rosetta Stone. Well, at least Ben Roethlisberger knows what I mean. The Steelers won despite not having James Harrison and Troy Polamalu. The Ravens lost even though the…

Share Tweet

nytimes.com

Sep 17, 2012

The Jets showed a lack of focus for much of the game, and Ben Roethlisberger tormented them on third downs.

Share Tweet

The Steelers bounced back from a season-opening loss to do what they always seem to do, win their home opener and beat the N.Y. Jets, 27-10.

Share Tweet

The Steelers get a win, but after two games they're still searching for a running game.

Share Tweet

Gene Collier: For defenses, cooler heads prevailed

The emotional thermostats along the second and third levels of both defenses had reached dangerous levels early in this Steelers-Jets game.

Share Tweet

What to take away from New York Jets-Pittsburgh Steelers

Sep 17

Michael Lombardi joins "NFL AM" to give his take on the Pittsburgh Steelers 27-10 victory against the New York Jets.

GameDay: Jets vs. Steelers highlights

Sep 17

Ben Roethlisberger throws for 275 yards and two touchdowns in the Pittsburgh Steelers' 27-10 victory over the New York Jets.