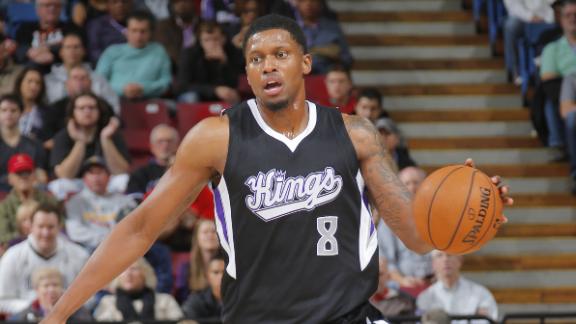 Blazers rally in fourth, beat depleted Thunder

ESPN.com

Oct 30 (2 days ago)

LaMarcus Aldridge had 27 points, and the Portland Trail Blazers rallied in the fourth quarter to beat the injury-depleted Oklahoma City Thunder 106-89 on Wednesday night in the season opener for both teams.

Upvote Share Tweet

GIF: Russell Westbrook Caps Dominant First Half With Buzzer-Beating Dunk

dimemag.com

Oct 30 (2 days ago)

So much for Russell Westbrook struggling with Kevin Durant sidelined. The Oklahoma City Thunder's wildly talented point guard enjoyed a breathtaking first half in his team's season-opener at the Portland Trail Blazers, scoring 26 points (7-13 FGs) and d…

Upvote Share Tweet

Lillard Beats LaMarcus Aldridge In Over-The-Backboard Shot Contest

dimemag.com

Oct 27 (5 days ago)

NBA players contend against one another in games all the time. But not just just basketball games, dribbling games, card games, video games, it doesn't matter so long as they're competing in something. Blazers teammates and fellow all-stars Damian Lilla…

Upvote Share Tweet

dimemag.com ESPN.com

Oct 24

Portland Trail Blazers owner Paul Allen recently donated $26 million to help curb the sweeping, deadly impact of Ebola. A few days later, the billionaire Microsoft co-founder has quadrupled his efforts – he's pledging an additional $100 million. I'm com…

Upvote Share Tweet

With talent and depth, Blazers look to take next step

nba.com

Oct 21

Not a whole lot has changed for the Portland Trail Blazers.

Upvote Share Tweet

Nolan Smith Throws Towel While Walking To Bench, Infuriates Coach

deadspin.com

Oct 19

Former Trail Blazers pick Nolan Smith was pissed when he was subbed out of Galatasaray Liv Hospital's game against Banvit. He threw a towel in the direction of head coach Ergin Ataman, and Ataman immediately confronted him.Read more...

Upvote Share Tweet

Damian Lillard Previews Signature Shoe After #4BarFriday Rap

dimemag.com

Oct 17

When adidas invited us out to Las Vegas to unveil their newest creations, the Crazylight Boost and D Rose 5 Boost, Blazers all-star Damian Lillard was part of the unveiling after signing close to a $100 million extension to stay in three stripes. With t…

Upvote Share Tweet

yahoo.com

Oct 17

Last season went about as well as the Portland Trail Blazers organization and fans could have hoped. The team immediately outperformed preseason expectations with a 17-3 (and then 31-9) start to put itself in excellent position to grab a postseason bert…

Upvote Share Tweet

LaMarcus Aldridge: "I'm Definitely Going To Shoot More Threes"

dimemag.com

Oct 14

Prolific scorers that do their vast majority of damage from LaMarcus Aldridge are few and far between in the modern NBA. And considering the league's collective understanding of which shot attempts carry the most value has finally reached its zenith, th…

Upvote Share Tweet

Wesley Matthews: "I Think I'm The Best Two-Way Two-Guard In The NBA"

dimemag.com

Oct 14

Yesterday we gave you our list of the top 20 shooting guards in the NBA today. Blazers off-guard Wesley Matthews came in at No. 16, but we know Matthews thinks he should be higher after telling The Columbian's Erik Gunderson he was the "best two-way, tw…

Upvote Share Tweet

For Trail Blazers to take next step, defense must improve

nba.com

Oct 14

The Trail Blazers stunned the league out of the gates last season, then endured some slippage and some injuries to win 54 games, 21 more than the previous season for the biggest single-season turnaround in franchise history.

Upvote Share Tweet

Watch Damian Lillard Deliver The Pre-Game Proposal Pass Of The Night

dimemag.com

Oct 13

Damian Lillard didn't play in last night's exhibition game between the Blazers and Clippers. That didn't stop him from passing for the assist of the night, though. Here's Dame unveiling the engagement ring for his friend's shocked, soon-to-be fiancé. Yo…

Upvote Share Tweet

Will Damian Lillard Reach Elite Status This Season?

dimemag.com

Oct 11

The sophomore slump is a rite of passage for most second-year players. It's mostly precipitated by fatigue, as the slog of an 82-game season inevitably begins to take its toll. It often manifests itself in shooting droughts and/or nagging injuries. On t…

Upvote Share Tweet

dimemag.com

Oct 10

Before the Utah Jazz's Gordon Hayward posterized Joel Freeland for the dunk of the preseason in his team's game against the Portland Trail Blazers last night, teammate Alec Burks made a strong submission of his own. And while Burks' slam isn't quite on …

Upvote Share Tweet

yahoo.com

Oct 10

I'm a fan of Lang Whitaker's #MUSCLEWATCH feature, so I already knew that Utah Jazz swingman Gordon Hayward celebrated his four-year maximum contract extension by getting extra swole: Gordon Hayward said he's able to "bully" guys around more n…

Upvote Share Tweet

dimemag.com

Oct 9

The Chris Kaman web television show you've been waiting for is finally almost here. Wait, what? Nobody was waiting for that? Well, "Exploring Kaman" debuts on October 17 anyway, and looks unlike anything we've ever seen involving an NBA player. This tra…

Upvote Share Tweet

yahoo.com

Oct 8

Daryl Morey does not plan to improve steadily. When the Houston Rockets entered this offseason, fresh off 54 wins and a very tight but ultimately disappointing first-round series against the Portland Trail Blazers, they planned to build a conference fav…

Upvote Share Tweet

Kevin Garnett's Amusing Update On Rasheed Wallace

dimemag.com

Oct 6

For a certain generation of basketball fan, Rasheed Wallace is everything you've ever wanted in an NBA player. The former Pistons, Blazers and — on the downside of his career — Celtics and Knicks forward was eminently quotable and probably the most uniq…

Upvote Share Tweet

LaMarcus Aldridge Is "All In" With Trailblazers This Season and Beyond

dimemag.com

Oct 3

It's hard to imagine that it was just over a year ago that there were rumors floating around that All-Star forward LaMarcus Aldridge had demanded a trade, but that's exactly the scenario the Portland Trailblazers were facing after a disastrous end to th…

Upvote Share Tweet

Damian Lillard Is Feeling Benefits Of Summer Diet, Too

dimemag.com

Oct 2

The offseason diets and weight loss of LeBron James and Carmelo Anthony have made the most headlines, but they aren't the only All-Stars that cut back this summer to take a step forward this season. The Portland Trail Blazers' Damian Lillard also change…

Upvote Share Tweet

Lovable Weirdos Chris Kaman and Robin Lopez Are Right At Home in Portlandia

dimemag.com

Oct 1

Robin Lopez, or "ROLO" as he's affectionately called these days, became a fan favorite here in Portland almost overnight. Rip City loves its weirdos, and ROLO fits right in here with his unwieldy hair, his nerdist tendencies (comic books, video games, D…

Upvote Share Tweet

dimemag.com nba.com

Sep 30

"Hungry." That's the word Damian Lillard used to describe his mentality toward the coming season as the Portland Trailblazers opened training camp Monday at the Moda Center. Since bursting onto the scene two years ago, the intrepid point guard has quick…

Upvote Share Tweet

We Reminisce: The Raja Bell-Kobe Bryant Rivalry

dimemag.com

Sep 19

When you think about Kobe Bryant's greatest individual rivals, the list is pretty short. Ruben Patterson called himself "The Kobe Stopper," but the Blazers never defeated the Lakers in the playoffs. Tracy McGrady might have been a rival in terms of tale…

Upvote Share Tweet

Rudy Gay's Big Night Lifts Kings

Oct 31

Rudy Gay scored 40 points to lead the Kings past the Trail Blazers 103-94.

Blazers Cruise Past Thunder

Oct 29

The Blazers scored 31 points in the fourth quarter and went on to beat the Thunder 106-89.

Westbrook's Buzzer-Beating Throwdown

Oct 29

The Thunder's Russell Westbrook throws down a powerful slam with .02 seconds on the clock in the second quarter against the Trail Blazers.

Rookie Randle Lifts Lakers Past Blazers

Oct 22

Julius Randle scored a team-high 17 points in the Lakers' 94-86 win over the Blazers.