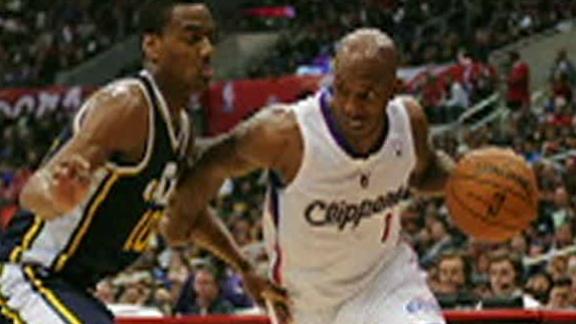 ESPN.com
Updated Apr 15, 2013
Los Angeles Clippers guard Chauncey Billups practiced Monday and is expected to start Tuesday against the Portland Trail Blazers.
Share
Tweet
dimemag.com

Apr 15, 2013

Here's a prime example of Andre Iguodala's skill set and athleticism on full display: Against the Portland Trail Blazers, he swoops in to stuff a J.J. Hickson dunk, then flies down the court to finish a Denver fast break with a huge dunk. For breaking

Share Tweet

Gary Trent, once a burly NBA power forward, is now a burly school 'intervention specialist'

yahoo.com

Apr 15, 2013

As a player, Gary Trent was a bad dude. Other members of the eventual Portland Jail Blazers, like Rasheed Wallace and Damon Stoudamire, achieved "bad dude" status for (this is not a joke) being caught in a yellow Hummer with pot and empty Smirnoff Ice

Share Tweet

Sports Columnists

Ian Thomsen: The Case For: George Karl as Coach of the Year

Apr 15

With the end of the regular season fast approaching, we're taking a closer look at each award race. We've already hit on the Sixth Man award, Most Improved and Defensive Player of the Year. Here, Ian Thomsen examines the race for Coach of the Year.