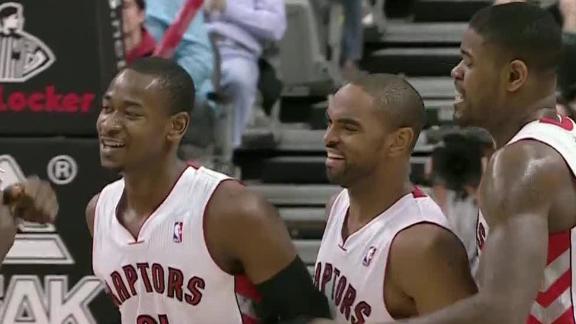 nba.com

Jan 2, 2013

The Washington Wizards' Bradley Beal and the Portland Trail Blazers' Damian Lillard today were named the Kia NBA Eastern and Western Conference Rookies of the Month, respectively, for games played in December.

Share Tweet

yahoo.com

Jan 2, 2013

The Los Angeles Lakers' one-step-forward, two-steps-back season returned to reverse on Tuesday night, as Mike D'Antoni's squad followed Friday night's comfortable 2012-ending win over the Portland Trail Blazers by opening 2013 with a sluggish 103-99 los…

Share Tweet

dimemag.com CNNSI.com

Jan 2, 2013

Every so often, the teacher becomes the student, and last night in Madison Square Garden, the return of Amar'e Stoudemire was overshadowed by Damian Lillard one-upping the ultimate clutch player, Carmelo Anthony, in winning time. If the NBA ever gets it

Share Tweet

Ross Propels Raptors To Eighth Win In Nine Games

Jan 2

Rookie Terrence Ross scores a career-high 26 points in Raptors' 102-79 win over Blazers.