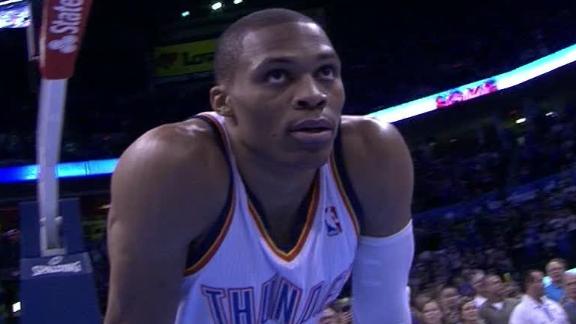 OKLAHOMA CITY (AP) So far, Kevin Martin considers it an easy transition into James Harden's old role as the Oklahoma City Thunder 's top bench player.
Share
Tweet
dimemag.com

Nov 2, 2012

The 2012-13 NBA regular season is finally upon us. For fans, this means it's time to re-up on your team's merchandise. Anyone can go to the nearest sporting goods store and pick up a brand new jersey or hat, but what about the unique collectibles that

Share Tweet

NBA Ink: Portland Trail Blazers Rookie Will Barton Breaks down His Tattoos

dimemag.com

Nov 2, 2012

Damian Lillard isn't the only Trail Blazers rookie to have his own video series. Three installments of Baltimore native and former Memphis standout Will Barton's "All or Nothing" were released yesterday and take viewers into Barton's neighborhoo

Share Tweet

Westbrook Drops 32 Points On Blazers

Nov 2

Russell Westbrook's 32 points lead Thunder to win over Trail Blazers.

THTV: Thunder Miss Harden

Nov 2

TrueHoop's Henry Abbott with Daily Thunder's Royce Young on the loss of James Harden, whether the Thunder are better now, and if they still can return to the NBA Finals.