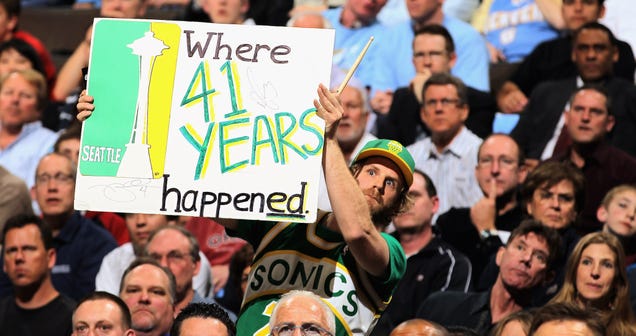 Seattle's Efforts To Bring Back An NBA Team Just Took A Significant Hit
deadspin.com
Updated May 3 (3 days ago)
Seattle was on the cusp of inheriting the Sacramento Kings three years ago, until a last-ditch arena effort in California's capital kept the team rooted . The city and local billionaire Chris Hansen have been trying to work to bring an NBA team back to …
Share
Tweet
dimemag.com ESPN.com

May 1 (5 days ago)

USA TODAY Sports It's no secret that Patrick Ewing wants an opportunity to coach in the NBA. Although the Hall of Famer isn't getting the time of day from his former team the Knicks, it appears as though at least one time is willing to give him a shot. …

Share Tweet

The Sacramento Kings have hired Ken Catanella as assistant general manager.

Share Tweet

yahoo.com dimemag.com

Apr 27

The Sacramento Kings received widespread praise on Tuesday for unveiling a sharp new set of logos as part of a franchise rebrand that will include new uniforms for the Kings to wear when they begin playing in their brand new arena this fall. But do you …

Share Tweet

The Kings Are Paying For Fans To Get A Tattoo Of Their New Logo

dimemag.com

Apr 26

Sacramento Kings As you may have seen earlier, the Sacramento Kings updated their logo to go all purple and gray. They're pretty slick, and a clear homage to the organization's more classic logo. Either way, if branding your body in ink is your deal, yo…

Share Tweet

Sources: McHale a candidate for Kings' vacancy

ESPN.com

Apr 25

Sources: McHale a candidate for Kings' vacancy

Share Tweet

Is This Leaked Version The New Sacramento Kings Logo?

dimemag.com

Apr 23

Via Sports Logos According to Sports Logos, the new Sacramento Kings Logo has been leaked. This happened because the NBA filed a European trademark. The new logo is black and white for now; the color scheme if this goes through will likely be rolled out…

Share Tweet

Report: Kings to interview Del Negro, Jackson, Mitchell

nba.com

Apr 20

The Sacramento Kings are starting the search for yet another head coach with three candidates who have extensive experience in the head chair.

Share Tweet

yahoo.com

Apr 15

Did you hear that, kids? The clasping crack of a League Pass suddenly shut and gone silent? The silencing of the Kings, the mellowing of the travails in New York, the end of those unwatchable Philadelphia 76ers? The first round of the playoffs is here. …

Share Tweet

ESPN.com nba.com dimemag.com deadspin.com

Apr 14

Kings fire Karl, search for 9th coach since '07

Share Tweet

This 'One Shining Moment' Video Brutally Savages The 2016 Lakers

dimemag.com

Apr 13

For all the talk about Wednesday being Kobe Bryant's final game, there's a bit of irony in that there's nearly zero buzz about the game itself. This makes sense, of course. The Lakers are b-a-d bad and the Jazz are praying Houston drops its home game ag…

Share Tweet

yahoo.com

Apr 12

The Houston Rockets need a win on Wednesday against the Sacramento Kings in order to clinch a playoff berth and salvage what has been a massively disappointing season. All hands need to be on deck, even against a Kings team resting DeMarcus Cousins and …

Share Tweet

Seth Curry Was All Kinds Of Awesome Mon. Night, But This Move Was Probably Inherited

dimemag.com

Apr 12

Seth Curry is 25 years old, and he's busted his butt on his odyssey through the D-League and into his NBA roster spot this year with the Kings. Against the Suns on Monday, the reserve guard finally got a chance to shine in a largely meaningless mid-Apri…

Share Tweet

The Other Curry Can Do Cool Basketball Shit Too

deadspin.com

Apr 12

Tonight, the Sacramento Kings and Phoenix Su—oh, who gives a shit? Both Pacific Division trashcans are in the midst of a tank-off and the Kings coaching staff didn't even know that Boogie Cousins wasn't playing until they couldn't find him on the plane.…

Share Tweet

Getting nostalgic as Kings close down Sleep Train Arena

nba.com

Apr 10

Farewell to Sleep Train Arena and the crowd noise and the leaky roof that caused a rain delay during an indoor basketball game and the small closet that visiting teams opened to learn it was actually their locker room and the cowbells and the college-fi…

Share Tweet

Kings saying farewell to longtime arena

nba.com

Apr 8

This time it truly will be goodbye for the Sacramento Kings and their longtime arena.

Share Tweet

Another Fan Won A Car By Hitting A Half-Court Shot At The Kings Game

dimemag.com

Apr 6

BREAKING: The NBA is now Oprah. Another fan hit another half-court shot and won another car, this time in the Kings' Tuesday night game against the Trail Blazers. Only about a month ago, a fan in Memphis won a car by sinking a half-court fling. The year…

Share Tweet

NBA Top Plays

Mar 20

Derrick Williams' posterizing, one-handed slam is the top play in the NBA.

Kings Cruise Past Hornets

Mar 20

The Kings topped the Hornets 101-91 to snap their four-game losing streak.

Hawks Put Away Kings For Third Straight Win

Mar 16

Paul Millsap recorded a double-double of 19 points and 10 rebounds in the Hawks' 110-103 win over the Kings.

Wizards Win Third Straight

Mar 14

John Wall led the way for the Wizards, scoring 31 points in Washington's 113-97 win over Sacramento.