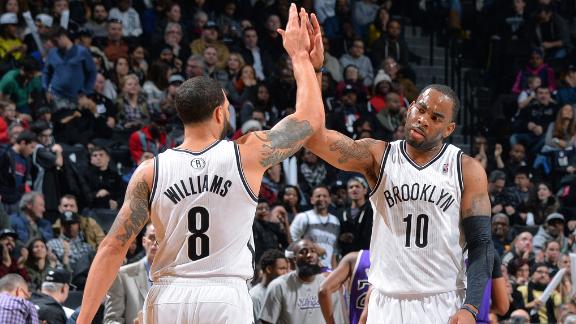 nba.com

Updated 15 hours ago

? Warriors coach Mark Jackson dropped a bit of a bombshell in his pre-game media session: All-Star guard Stephen Curry is fighting a minor strain in his right quad and will see limited minutes tonight against the Suns and in the foreseeable future. Curr…

Upvote Share Tweet

The Sacramento Kings say reserve forward Carl Landry will miss the remainder of the season with a medial meniscus tear in his right knee that will require surgery.

Upvote Share Tweet

Milwaukee Bucks forward Ersan Ilyasova has been suspended one game without pay for punching Sacramento Kings forward Reggie Evans in the stomach on Wednesday, the NBA announced Friday afternoon. Ilyasova will miss the Bucks' Friday night road game again…

Upvote Share Tweet

5 NBA Players Who Need Freedom

dimemag.com

Updated Mar 7 (3 days ago)

Jimmer Fredette was the poster boy for the "free him" campaign. The talented BYU alumni was underutilized and did not receive nearly enough minutes in the Kings system. Now not every frustrated player, feeling like he hasn't really got his shot, gets th…

Upvote Share Tweet

The Sacramento Kings have signed forward Royce White to a 10-day contract.

Upvote Share Tweet

The 10 Most Exciting Teams In NBA History

dimemag.com

Updated Mar 5 (4 days ago)

As an NBA fan, there is nothing worse than watching a boring basketball game. Every few years we get lucky to witness a team that displays an absurd amount of showmanship on the court; a current example is "The Lob City" Clippers. In a sport that is pla…

Upvote Share Tweet

nba.com CNNSI.com yahoo.com dimemag.com

Updated Mar 1

The Chicago Bulls and former BYU sensation Jimmer Fredette have tentatively agreed to a contract after he parted with the Sacramento Kings earlier in the week, a person familiar with the situation said Saturday.

Upvote Share Tweet

Ten Before Tip: NBA news from Friday

nba.com

Updated Feb 28

? The Suns are suddenly struggling, taking a three-game losing streak into tonight's game against the visiting Pelicans and leading the Grizzlies by just one-half game for the No. 8 spot in the Western Conference. A number of players, notably starting f…

Upvote Share Tweet

ESPN.com nba.com dimemag.com

Updated Feb 27

The Chicago Bulls are closing in on the signing of former Sacramento Kings guard Jimmer Fredette, according to sources close to the process.

Upvote Share Tweet

Despite a breakthrough year in which he garnered some All-Star consideration, Sacramento Kings big man DeMarcus Cousins has maintained his reputation as a malcontent and immature presence. That take has always been a little misguided and self-perpetuati…

Upvote Share Tweet

Report: Kings have interest in signing White

ESPN.com

Updated Feb 26

The Sacramento Kings are likely to sign free-agent forward Royce White to a 10-day contract, according to a USA Today report.

Upvote Share Tweet

nba.com

Updated Feb 26

? Rockets center Dwight Howard briefly left Tuesday's game against the Kings after a knee-to-knee collision, but he's set to play tonight when the Clippers host Houston at Staples Center in a potential first-round playoff preview. Howard could find hims…

Upvote Share Tweet

Harden soars with 43 in rout of Sacramento

ESPN.com

Updated Feb 26

James Harden scored a season-high 43 points before resting for all of the fourth quarter, and the Houston Rockets routed the Sacramento Kings 129-103 on Tuesday night.

Upvote Share Tweet

Nets Surge Past Kings

Mar 9

DeMarcus Cousins had 28 points and 20 rebounds, but Marcus Thornton scored 27 points off the bench to lead the Nets past the Kings 104-89.

Kings Fly By Bucks

Mar 5

The Kings beat the Bucks 117-102 for their second straight win.

Lakers Rally Past Kings

Feb 28

Jordan Farmar scored a career-high 30 points as the Lakers rallied past the Kings for a 126-122 win.

Kings, Fredette Nearing Buyout

Feb 25

Brian Windhorst discusses what a buyout of Jimmer Fredette's contract by the Sacramento Kings would mean for Fredette going forward.