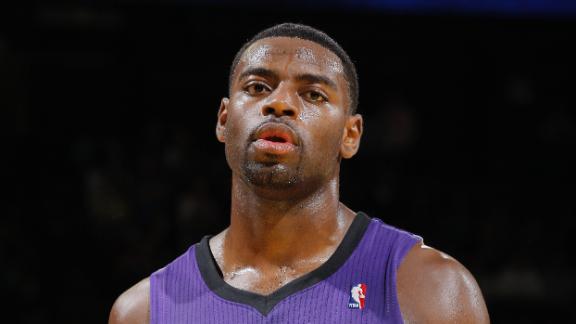 ESPN.com
dimemag.com
Updated Jul 3, 2013
Former NBA Rookie of the Year Tyreke Evans is ready to leave the Sacramento Kings, according to sources familiar with his thinking.
Share
Tweet
yahoo.com dimemag.com ESPN.com

Jul 3, 2013

Writing anything that credits a team for not signing a certain player runs the risk of dismissing and disrespecting the player in question. We like Andre Iguodala's game. Quite a bit, actually, and think that his defensive know-how and "you-first" offen…

Share Tweet
Sports Columnists
Ian Thomsen: Celtics' bold move for Stevens promises success where others …

Jul 3

The winner of the NBA's Most Interesting Person award is Celtics president Danny Ainge. Ten short days after he traded Doc Rivers to the Clippers, Ainge replaced him by hiring Butler's Brad Stevens.

Kyle Korver agrees to four-year, $24 million deal with Atlanta Hawks, acco…

Jul 3

Sources close to the situation told ESPN.com on Wednesday night that Kyle Korver has agreed to terms on a four-year deal with the Atlanta Hawks worth an estimated $24 million.