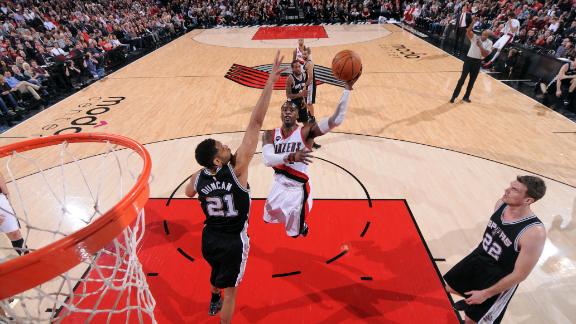 Spurs' skid to 4 as Matthews propels Blazers
ESPN.com
Updated Feb 26 (2 days ago)
\Wesley Matthews scored 31 points, LaMarcus Aldridge had 11 points and 13 rebounds, and the Trail Blazers beat the slumping Spurs 111-95 on Wednesday night for their first victory since the All-Star break.
Upvote
Share
Tweet
Sacramento Kings center DeMarcus Cousins is sitting out against the San Antonio Spurs because of a sprained left ankle and bruised left hip.

Upvote Share Tweet

No-Good, Terrible Defending Gives Monaco Commanding Lead On Arsenal

deadspin.com

Feb 25 (3 days ago)

"Hey Gunners," Dimitar Berbatov said with a wry grin, wheeling away towards the corner flag after some shockingly terrible defending sent the former Spurs and Red Devil striker free on goal to put Monaco up 2-0, "remember me?"Read more...

Upvote Share Tweet

ESPN.com

Feb 24 (4 days ago)

Trey Burke scored 23 points and the Utah Jazz beat San Antonio 90-81 on Monday night, extending the Spurs' losing streak to three since returning from the All-Star break.

Upvote Share Tweet

ESPN.com yahoo.com deadspin.com

Feb 21

Stephen Curry had 25 points and 11 assists, Klay Thompson scored 20 and the Golden State Warriors returned from the All-Star break to beat the San Antonio Spurs 110-99 on Friday night.

Upvote Share Tweet

Stephen Curry goes around the back in comfortable win over Spurs

yahoo.com

Feb 21

The Golden State Warriors came into Friday's game against the San Antonio Spurs with two losses at Oracle Arena over the season to date. One of them came against the Spurs in the seventh game of the season, back when the Warriors were just a playoff tea…

Upvote Share Tweet

Clippers turn back Spurs, boost lead in West

ESPN.com

Feb 20

DeAndre Jordan had 26 points and 18 rebounds, Jamal Crawford added 26 points, and the Clippers beat San Antonio 119-115 on Thursday night, increasing their lead over the Spurs to 1 1/2 games in the West.

Upvote Share Tweet

nba.com

Feb 18

Jerome Kersey, the versatile small forward who helped the Portland Trail Blazers reach two NBA Finals and won a title with the San Antonio Spurs in 1999, died Wednesday. He was 52.

Upvote Share Tweet

Kobe eyes career 'rebirth,' cites Spurs' title

ESPN.com

Feb 16

Kobe Bryant is not considering retiring despite his recent injury woes, saying instead that he is seeking a career "rebirth" after drawing inspiration from the Spurs' recent success.

Upvote Share Tweet

yahoo.com

Feb 13

NEW YORK — Tim Duncan didn't expect to be participating in yet another midseason classic at age 38, after 17 1/2 years and nearly 54,000 total pro minutes in his illustrous career. But the San Antonio Spurs legend is here for the 2015 NBA All-Star Game,…

Upvote Share Tweet

deadspin.com yahoo.com ESPN.com

Feb 10

Gregg Popovich won his 1,000th game tonight, becoming just the ninth coach—and only active one—to reach the mark. And at the risk of deifying the man, the way his Spurs beat the Pacers tonight was perfectly Popovich-ian. Tied with 15 seconds remaining, …

Upvote Share Tweet

yahoo.com

Feb 9

David Robinson should have won the 1994-95 NBA MVP award. The San Antonio Spurs center managed to outpace the previous year's winner, Houston's Hakeem Olajuwon, in points per minute, in rebounding rate, in turnover rate, in Player Efficiency Rating, Def…

Upvote Share Tweet

Spurs beat Heat in 1st meeting since Finals

ESPN.com

Feb 7

Kawhi Leonard had 24 points, and San Antonio beat the Miami Heat 98-85 on Friday night in the first meeting between the teams since the Spurs' dominating performance in the NBA Finals.

Upvote Share Tweet

Heat's Whiteside out vs. Spurs with sprained ankle

nba.com

Feb 6

Miami Heat center Hassan Whiteside is sitting out Friday night against the San Antonio Spurs with a sprained right ankle.

Upvote Share Tweet

Splitter, Gallinari to work Basketball without Borders camp

nba.com

Feb 5

Tiago Splitter of the NBA champion San Antonio Spurs and Denver's Danilo Gallinari are among the players who will work at the Basketball without Borders camp during All-Star weekend.

Upvote Share Tweet

Gregg Popovich Thinks Tim Duncan Will Play In 2015-2016

dimemag.com

Feb 4

This season might not be the last that Tim Duncan's All-Star selection is met with such scrutiny. In a story by Sam Amick of USA Today, San Antonio Spurs coach Gregg Popovich says he believes the five-time champion will play in 2015-2016. "No matter how…

Upvote Share Tweet

yahoo.com

Feb 4

Over the years, San Antonio Spurs head coach Gregg Popovich has become legendary not only for the tactical and player-development brilliance that have made him a five-time NBA champion and a three-time Coach of the Year, but also for his utter disdain f…

Upvote Share Tweet

Boris Diaw Buzzer-Beater Attempt Beans Gregg Popovich

deadspin.com

Jan 31

It's probably a bad idea to hit your coach in the head with a basketball, but somehow that happened tonight as Boris Diaw's poor attempt at a first-half buzzer-beater instead hit coach Gregg Popovich in the head as Pop headed toward the locker room, no …

Upvote Share Tweet

Spurs star Tim Duncan has filed a lawsuit contending that a series of investments enriched his financial adviser but were losing propositions for the NBA star, including $7.5 million in an entertainment company run by the adviser.

Upvote Share Tweet

Are Spurs' Championship Hopes Over?

Feb 26

Stephen A. Smith and Skip Bayless debate whether the Spurs are done after their recent struggles on the road.

Jump Shots Win Championships

Feb 26

The opposite is the conventional wisdom, but teams like the Spurs and the Hawks are part of an evolving NBA where good shooting wins.

Blazers Hand Spurs Fourth Straight Loss

Feb 25

Wesley Matthews scored a game-high 31 points and the Blazers connected on 50 percent of their 3-pointers in a 111-95 win over the Spurs.

Leonard Banks In Circus Shot

Feb 25

San Antonio Spurs forward Kawhi Leonard drove to the rim and made an off-balance shot while being fouled.