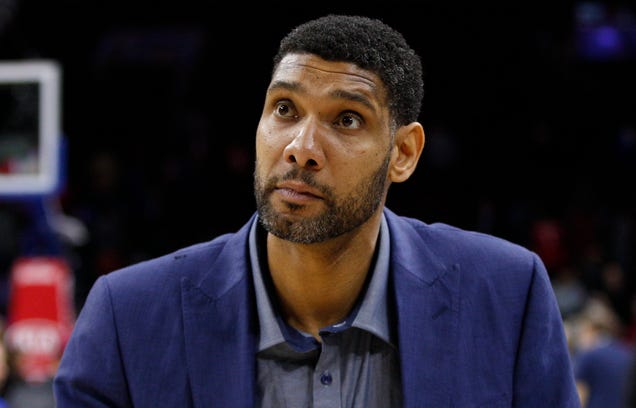 Tim Duncan Is The Spurs' New "Coach Of Whatever He Feels Like"
deadspin.com
Updated 23 hours ago
The Gregg Popovich-Tim Duncan relationship one has been magical for a long time:Read more...
Share
Tweet
What follows Tim Duncan? Spurs keep eyes on the prize

ESPN.com

5 hours ago

What follows Tim Duncan? Spurs keep eyes on the prize

Share Tweet

Gregg Popovich Continues To Lovingly Chide Tim Duncan Even After Retirement

dimemag.com

Sep 28 (yesterday)

Getty Image Tim Duncan and Gregg Popovich have developed a unique bond over the years. The infamously-acerbic Spurs coach proved he's just a big softy after getting choked up when talking about how he'd have dinner with Timmy over just about anyone else…

Share Tweet

yahoo.com

Sep 26 (4 days ago)

Tim Duncan points Kawhi Leonard in the direction of superstardom. (Getty Images) The NBA offseason has brought many changes to rosters, coaching staffs, and the list of championship contenders. As we draw closer to opening night, it's time to move our f…

Share Tweet

dimemag.com nba.com

Sep 16

Getty Image Monty Williams is returning to the NBA. Just over eight months after the tragic passing of his wife, the 44-year-old league veteran has joined the San Antonio Spurs' front office as vice president of basketball operations. The Spurs announce…

Share Tweet

dimemag.com yahoo.com

Sep 15

Getty Image Earlier this summer, Tim Duncan announced his retirement after 19 years with the San Antonio Spurs, but his time serving the franchise might not be over. According to Buck Harvey of the San Antonio Express-News, the Spurs believe that Duncan…

Share Tweet

yahoo.com

Sep 14

How deep is the Spurs bench, now that Tim Duncan is gone? (Frederick Breedon/Getty Images) Stars guide the NBA. Set your watch by LeBron James contending in June. Kevin Durant joined Stephen Curry, Klay Thompson and Draymond Green in Golden State, and w…

Share Tweet

Pau Gasol Says He Turned Down A Spurs Offer Two Years Ago

dimemag.com

Sep 6

Getty Image After Tim Duncan's retirement, the San Antonio Spurs moved decisively to fill the gap left by one Hall-of-Fame center with another, less legendary Hall of Fame center in Pau Gasol. The 36-year-old big man figures to slot right into the start…

Share Tweet

dimemag.com

Sep 2

Washington's football team has often been a team surrounded by turmoil and controversy in recent years. On top of all the issues involving their team name, the team has featured lightning rods such as owner Dan Snyder and quarterback Robert Griffin III.…

Share Tweet

Sources: Spurs pursuing Argentina's Laprovittola

ESPN.com

Aug 26

Sources: Spurs pursuing Argentina's Laprovittola

Share Tweet

yahoo.com

Aug 23

Mirotic averaged 11.8 points and 5.6 rebounds in eight Olympic games. (Getty Images) Luckily for all involved, the 2016 Olympics passed without any major injuries in the Men's Basketball realm. There will be a bit of fatigue – San Antonio Spurs fans wer…

Share Tweet

Remembering The Time Ben Wallace Was Benched Twice By Scott Skiles For Wearing A Headband

dimemag.com

Aug 15

Getty Image The mid-2000s were a strange time in the NBA. After the Detroit Pistons hastened the demise of the Shaq and Kobe Lakers, the reigning best team in the NBA was the San Antonio Spurs, whose dominance was superseded only by the public's percept…

Share Tweet

Tottenham Manager's Feelings Toward Players After Last Season's Collapse: "I Wanted To Kill All Of Them"

deadspin.com

Aug 12

When we last heard from Tottenham manager Mauricio Pochettino at the end of last season, he could barely contain his rage following Spurs' embarrassing defeat to Newcastle, which capped what was almost a perfect season with yet another humiliating St. T…

Share Tweet

Stephen Jackson Blames Tony Parker's Selfishness For The Spurs' 2012 Loss To The Thunder

dimemag.com

Aug 9

Getty Image Stephen Jackson is one of the more outspoken ex-NBA players around. It should come as no surprise, then, that he blamed San Antonio Spurs point guard and then-teammate Tony Parker for the squad's loss to the upstart Oklahoma City Thunder in …

Share Tweet

Gregg Popovich 'Can Never Retire' Because The Spurs Continue Finding Superstars

dimemag.com

Jul 21

USA TODAY Sports Tim Duncan has retired, and Gregg Popovich remains with the San Antonio Spurs. However, it was often thought that when Duncan walked away after his storied career, Popovich would follow closely behind. But now, Popovich, who is coaching…

Share Tweet

The City Of San Antonio Is Having 'Tim Duncan Day,' And Deals Are Everywhere

dimemag.com

Jul 21

Getty Image When Tim Duncan finally hung up his spurs with the – um – Spurs, he left a tall, stately hole in an organization and city that had spent 19 years with him at their center. The future still looks bright for the basketball team, but nobody is …

Share Tweet

yahoo.com

Jul 21

A banner thanking Tim Duncan that will hang in front of San Antonio City Hall until Sunday, July 24, 2016. (Photo via @RSantosTV) The outpouring of respect and praise for Tim Duncan — the legendary and iconic San Antonio Spurs big man and future Hall of…

Share Tweet

nba.com

Jul 20

The National Basketball Association (NBA) and Zignia Live announced today that the Phoenix Suns will take on the Dallas Mavericks and San Antonio Spurs in the first consecutive regular-season games in Mexico Jan. 12 and 14, respectively, at the Mexico C…

Share Tweet

Tim Duncan's League-Wide Respect Is Shown By The NBA Official Who Files Waiver Requests

dimemag.com

Jul 17

Getty Image Tim Duncan isn't going to play in the NBA anymore. Isn't that sad? People within the San Antonio Spurs organization obviously think so, but it goes higher than that. The league itself is shedding tears over Duncan's retirement, wishing it co…

Share Tweet

yahoo.com

Jul 15

Boban happy. (Layne Murdoch /Getty Images) Well, this is both extremely complicated and splitting hairs as it pertains to million-dollar athletes, but it's also an awfully interesting look inside the complexities of the NBA's salary cap restrictions. Yo…

Share Tweet

Not-So-Smart Ejection

Mar 20

Boston Celtics guard Marcus Smart was ejected from the game for flagrantly punching Spurs forward Matt Bonner below the belt.

Spurs Rout Celtics

Mar 20

Five Spurs scored in double figures in San Antonio's 101-89 win over Boston.

Knicks Stun Spurs In OT

Mar 17

SportsCenter Highlight of the Night: Langston Galloway and Alexey Shved combined to score 43 points in the Knicks' 104-100 overtime win against the Spurs.

D'Antoni's Favorite Things

Mar 16

Coach Mike D'Antoni talks about his favorite players, favorite food and most importantly favorite video coordinator.