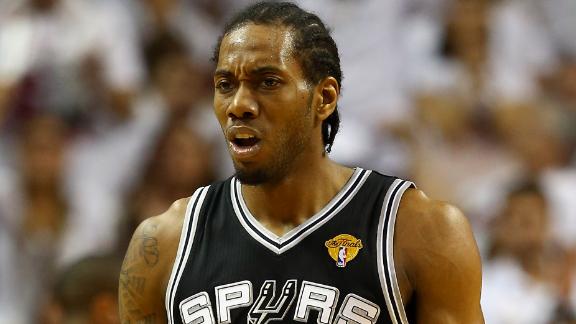 ESPN.com yahoo.com dimemag.com

Oct 28 (yesterday)

Tony Parker scored 23 points, Manu Ginobili had 20 and the San Antonio Spurs opened their title defense with a thrilling 101-100 victory over the Dallas Mavericks on Tuesday night.

Upvote Share Tweet

Kawhi Leonard's Sick New Jordan Brand Logo Is Based On "The Klaw"

dimemag.com

Oct 28 (2 days ago)

If this is the year Kawhi Leonard truly becomes a superstar, a signature logo for the reigning Finals MVP was released just in time. Riffing on the notoriously giant hands of the precocious San Antonio Spurs wing, Jordan Brand came up with a slick new s…

Upvote Share Tweet

yahoo.com

Oct 28 (2 days ago)

Not sure if you've heard, but with three days left to go before the two sides can agree on a contract extension, the San Antonio Spurs and Kawhi Leonard aren't seeing eye to eye on terms (no pun intended) of the potential deal! The same disconnect, weir…

Upvote Share Tweet

yahoo.com

Oct 28 (2 days ago)

It's been 136 days since the San Antonio Spurs put the finishing touches on their five-game demolition of the Miami Heat to win the 2013-14 NBA championship. Since then, we've seen a new decision that knocked over the dominoes that shifted the balance o…

Upvote Share Tweet

Report: Kawhi Leonard Seeks Max Extension, But No Progress In Spurs Talks

dimemag.com

Oct 27 (3 days ago)

Tim Duncan famously signed for less than he could command on the open market a few years back in an attempt to free up more room for the Spurs to get him some help. Conversely, 2014 NBA Finals MVP Kawhi Leonard, who will be a restricted free agent next …

Upvote Share Tweet

Gregg Popovich On Spurs' 2-5 Preseason After Loss Last Night: "We Look Very Poor"

dimemag.com

Oct 25 (5 days ago)

The defending champion San Antonio Spurs haven't had the best preseason. They're 2-5 after losing at in-state rivals Houston last night, 96-87, and their pithy coach didn't pull any punches when asked how they're coming together for Tuesday's regular se…

Upvote Share Tweet

Spurs fill out roster with Vaden and Edwin

nba.com

Oct 24 (6 days ago)

The San Antonio Spurs have signed forwards Robert Vaden and Fuquan Edwin. Per club policy, terms of the contract were not announced.

Upvote Share Tweet

Now a leader, LeBron is undisputed face of the NBA

nba.com

Oct 24 (6 days ago)

His shirt soaked with champagne after winning his fourth title in 2007, Tim Duncan had one more move before celebrating further with his Spurs teammates. He pivoted in a hallway inside Quicken Loans Arena, pulled 22-year-old LeBron James close and deliv…

Upvote Share Tweet

Grant Hill Says Handing Cavs Eastern Conference Title Is "A Bit Premature"

dimemag.com

Oct 24 (6 days ago)

The Cleveland Cavaliers are clear NBA title contenders, and perhaps favorites to win the Larry O'Brien Trophy. Sportsbooks across the betting world place Cleveland's odds to win the championship ahead of the reigning champion San Antonio Spurs'. And whi…

Upvote Share Tweet

Manu Ginobili Kicks Shot In From Beyond Mid-Court

dimemag.com

Oct 23

Spurs six man and Argentinian wing Manu Ginobili was having some at practice the other day. He was attempting to kick a basketball from beyond mid-court into the basket. This is no small feat. After an NBA camera caught one attempt bounce wildly off the…

Upvote Share Tweet

dimemag.com ESPN.com

Oct 22

According to those most in the know, the NBA's rich will be even richer after 2014-2015. In a wide-ranging, anonymous survey conducted by NBA.com's John Schumann, league general managers predict LeBron James to win MVP and the San Antonio Spurs to repea…

Upvote Share Tweet

NBA TV to salute San Antonio Spurs with special 'Champions Day' programming Monday, Oct. 27

nba.com

Oct 21

NBA TV will feature special daylong programming on Monday, Oct. 27, to celebrate the 2014 NBA Champion San Antonio Spurs. The network will premiere three original programs -- Champions Revealed: 2014 San Antonio Spurs, Open Court: NBA Champions Edition …

Upvote Share Tweet

Manu Ginobili Says He's Pain-Free But "Way Behind Basketball-Wise"

dimemag.com

Oct 19

No team's system is more effective or relentless than the San Antonio Spurs'. In the past two seasons alone, Gregg Popovich and company have turned cast-offs Danny Green, Boris Diaw, and Patty Mills into extremely valuable, role-playing cogs that helped…

Upvote Share Tweet

dimemag.com deadspin.com nba.com ESPN.com

Oct 19

Two days after Phoenix Suns owner Robert Sarver apologized to his fans for the San Antonio Spurs bringing a depleted team to an exhibition between the Western Conference foes, Gregg Popovich fired back in a way only he could. Calling Sarver's comments "…

Upvote Share Tweet

deadspin.com yahoo.com

Oct 17

The Spurs' starting five for last night's game against the Suns was a bit underwhelming: Matt Bonner, Aron Baynes, Tony Parker, Danny Green, and Kyle Anderson. Tim Duncan, Tiago Splitter, Manu Ginobili, Kawhi Leonard, and Patty Mills all sat out. Gregg …

Upvote Share Tweet

The Three Best "Bets" To Win The 2015 NBA MVP, Where LeBron Is Heavily Favored

dimemag.com

Oct 15

Last season Kevin Durant prevented LeBron James from winning this third straight MVP award. The Spurs prevented 'Bron from taking home his third straight NBA championship. This season, James is the overwhelming favorite to win MVP (5/6), and the Cavs ar…

Upvote Share Tweet

Best Point Guard In NBA?

Oct 29

Stephen A. Smith and Skip Bayless debate who is the best point guard in the NBA.

Robinson Talks Spurs

Oct 28

Former Spur and Hall of Famer David Robinson talks about the evolution of the team and its impact on the San Antonio community.

Will the REAL Mavs Please Stand Up?

Oct 28

ESPN Dallas' Craig Hoffman discusses just how good the Mavericks can be this season and whether Chandler Parsons was a worthwhile investment.

Dirk Motivated By Opener Against Rival Spurs

Oct 28

Dirk Nowitzki discusses his relationship with Tim Duncan and why he's excited to face the Spurs on opening night with the new-look Mavericks.

Sports Columnists

Sources: Cavs, Varejao close to 3-year deal

Oct 30

The Cleveland Cavaliers are nearing agreement on a contract extension with long-serving big man Anderson Varejao, according to league sources.

NBA: LeBron James wants to be hero in Cleveland

Oct 30

LeBron James has accomplished a lot in his career, but the one thing left to do is become a hero in Cleveland, writes Brian Windhorst.

Chicago Bulls couldn't have asked for a better season opener

Oct 30

Yes, the Knicks are ugly, but it was top-to-bottom domination for Chicago at Madison Square Garden, Michael Wilbon writes.