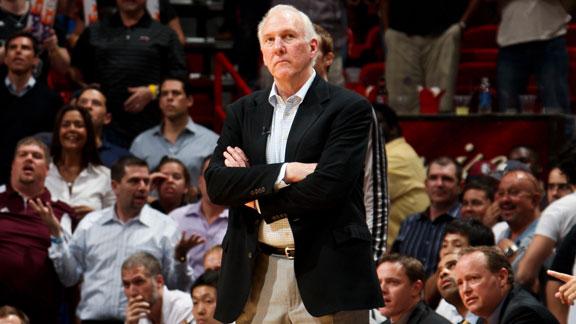 Cuban on Spurs fine: Should have been higher
Updated Dec 1, 2012
Share
Tweet
Mark Cuban believes the NBA was "absolutely" right to heavily fine the San Antonio Spurs because the Dallas Mavericks' owner considers protecting relationships with national television partners one of the league's top priorities.
Source:
ESPN.com
Updated Dec 1, 2012

Share Tweet

Gregg Popovich said Saturday night he doesn't know if the San Antonio Spurs will appeal a $250,000 fine from the NBA for sending his star players home to rest instead of playing them against the Miami Heat.

Updated Dec 1, 2012

Share Tweet

NBA fines Spurs $250,000 for resting players vs. Heat

Source:

CNNSI.com

Tim Duncan And Tony Parker Mock-Executed Their Referee Nemesis Joey Crawford On Halloween

Updated Dec 1, 2012

Share Tweet

From what we can tell, this photo only started making the rounds yesterday, even though the Spurs night out on Halloween had been well-documented otherwise. These are the same costumes Tim Duncan and Tony Parker wore then-Duncan as the Punisher, because

Source:

deadspin.com

The Spurs Pay Up Big For Sending Players Home; Russell Westbrook Has A Game Like No One Else

Updated Dec 1, 2012

Share Tweet

David Stern dropped a $250,000 fine on San Antonio on Friday afternoon, then said he doesn't want to talk about it any more. Good luck with that — the topic of what a coach can and can't do with his team will be white-hot because of mistakes both th

Source:

dimemag.com

Spurs Topple Grizzlies In OT

Dec 1

Tim Duncan and Tony Parker combined for 57 points to lead the Spurs over the Grizzlies in overtime 99-95.