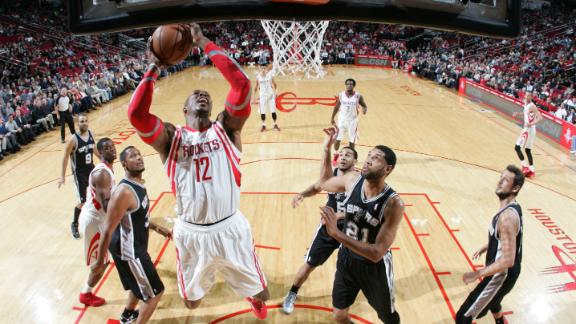 Houston's James Harden is out against the San Antonio Spurs with a bruised left thumb.

Upvote Share Tweet

Ten Before Tip: NBA news from Tuesday night

nba.com

Jan 28

? The Rockets will have to generate offense without their leading scorer when they host the Spurs tonight, as guard James Harden will sit out with a bruised left thumb. Jeremy Lin is expected to start in place of Harden, who suffered the injury during S…

Upvote Share Tweet

dimemag.com

Jan 28

Spurs reserve forward Matt Bonner does not light up the stat sheet, and barely sees run if Gregg Popovich thinks he'll get taken advantage of on the defensive end. But he's easily the best ginger in the NBA after Brian Scalabrine's retirement, and the "…

Upvote Share Tweet

Rockets Fly By Spurs

Jan 28

Dwight Howard led the Rockets with a game-high 23 points and 16 rebounds in Houston's 97-90 win over San Antonio.

Panic Time For San Antonio

Jan 28

Tim Legler talks about why the Spurs have struggled against the better teams.