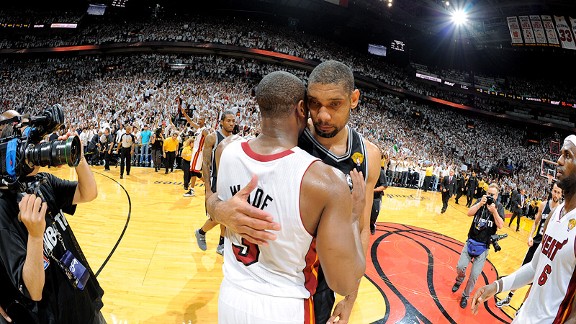 San Antonio didn't look like same team that brought it to Game 7 of NBA Finals.
Share
Tweet
Mario Chalmers beats third-quarter buzzer with 3-point bank shot in NBA Finals Game 7 (Video)

yahoo.com

Jun 20, 2013

After San Antonio Spurs guard Manu Ginobili broke down the Miami Heat defense off the dribble, weaved to his left and made a lovely layup to put his team ahead 71-69, just 5.2 seconds remained in the third quarter of Game 7 of the 2013 NBA Finals.Well, …

Share Tweet

Gregg Popovich's Classic Game 7 Pregame Press Conference

dimemag.com

Jun 20, 2013

Didn't we tell you that Gregg Popovich was a comedic genius? Check him out here as the Spurs coach finally had some fun in the pregame press conference before Game 7. What do you think? Follow Dime on Twitter at @DimeMag. Become a fan of Dime Magazine o…

Share Tweet

Gregg Popovich's Brevity: A Video Montage Of His Best Interview Moments

deadspin.com

Jun 20, 2013

Spurs coach Gregg Popovich has a prickliness that's been nearly as prominent an NBA storyline this season as his team's trip to the Finals. It makes him somewhat endearing, too.Read more...

Share Tweet

Heat-Spurs NBA Finals Game 7: 7 big questions

yahoo.com

Jun 20, 2013

LeBron James says he and his Miami Heat are ready for what's probably the biggest game of his life. Tim Duncan says he and his San Antonio Spurs are "ready to rock" and resume the pursuit of his fifth NBA championship after a gutwrenching defe…

Share Tweet

Game 7 between Heat and Spurs is the perfect farewell gift for NBA Commissioner David Stern 

nydailynews.com

Jun 20, 2013

David Stern never met an NBA Finals he didn't absolutely love, but as he presided over the final game of his last championship series on Thursday night, he really had to enjoy Miami-San Antonio as much as any series during his reign.

Share Tweet

dimemag.com

Jun 20, 2013

Fired up for Game 7 tonight?? You damn well should be. After Ray Allen knocked down that massively clutch three in Game 6, we thought we caught him saying something to the security and arena staff guys who had the court lined with yellow ropes for what …

Share Tweet

Everything Matters: How to Understand (and Enjoy) Game 7 of the NBA Finals

grantland.com

Jun 20, 2013

If you'll allow a mini-rant: The widespread use of the word choke on Wednesday irritated me. The Spurs choked, according to some talking heads and...

Share Tweet

Rough Shape

Jun 20

Ethan Sherwood Strauss predicts a Heat win, Graydon Gordian says Spurs. But there's a lot we don't know, like the true state of the players' health.

Legacy Impact To LeBron, Duncan

Jun 20

Stephen A. Smith discusses the impact a win in Game 7 would have on the legacies of LeBron James and Tim Duncan.

Who will be Champs?

Jun 20

J.A. Adande and Israel Gutierrez set the stage for the ultimate season finale between the Spurs and the Heat.

Predicting Game 7's Winner

Jun 20

Stephen A. Smith and Skip Bayless make their picks for Game 7 of the NBA Finals.