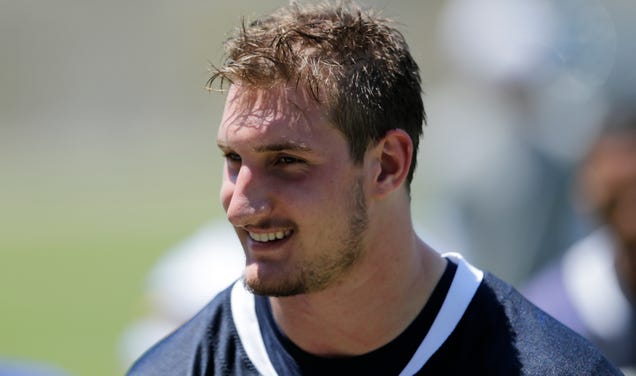 signonsandiego.com
profootballtalk.com
ESPN.com
nytimes.com
deadspin.com
chargersgab.com
yahoo.com
Updated 37 minutes ago
Head Coach Mike McCoy gives his assessment of Joey Bosa's first practice.
Share
Tweet
Can Farrow cushion loss of Oliver?

signonsandiego.com

1 hour ago

With Branden Oliver out for the season, Kenneth Farrow will get a close look Thursday.

Share Tweet

ESPN.com signonsandiego.com profootballtalk.com

2 hours ago

Chargers cut WR James Jones, waive QB Zach Mettenberger in cut down to 75

Share Tweet

signonsandiego.com

4 hours ago

Was what Niners QB did unpatriotic? Or as patriotic as you can get?

Share Tweet

Chargers WR Javontee Herndon has surgery

signonsandiego.com

5 hours ago

Go figure: Of all things, the veteran was injured while returning a punt.

Share Tweet

Focus: Chargers stadium pros and cons

signonsandiego.com

7 hours ago

Chargers say the team's stadium plan will yield world-class, multiuse facility. Critics say the Chargers stadium plan would sacrifice tourism, convention marketing.

Share Tweet

Slippery Vikings field & Bolts film nuggets

signonsandiego.com

11 hours ago

Chargers players had trouble with the footing at the new Vikings' field.

Share Tweet

Chargers release James Jones, cut others

signonsandiego.com

20 hours ago

The wide receiver couldn't get comfortable in team's offense under short turnaround.

Share Tweet

profootballtalk.com chargersgab.com

21 hours ago

The Chargers released veteran wide receiver James Jones on Monday. Jones had signed earlier this month following a tryout with other veteran wide receivers. The Chargers were looking for more experience in their receiving corps after losing Stevie Johns…

Share Tweet

Chargers claim a running back, place Chris Watt on reserve PUP

profootballtalk.com

Aug 29 (yesterday)

The Chargers have added a running back to the roster a day after Branden Oliver went down with an injured Achilles. The team announced that they have claimed running back Gus Johnson off of waivers from the Falcons. Johnson split last season between the…

Share Tweet

Chargers sweeten language of training-camp roster bonuses, signing bonus payout to get deal done

profootballtalk.com

Aug 29 (yesterday)

The Chargers and defensive end Joey Bosa finally found a middle ground. In the grand scheme of things, it wasn't much. For Bosa and the Chargers, it was everything. Per a league source with knowledge of the situation, the kicker came from the team's wil…

Share Tweet

Fox Football Announcers Shamelessly Stump For New Publicly Financed Stadium

deadspin.com

Aug 29 (yesterday)

During yesterday's preseason game between the San Diego Chargers and Minnesota Vikings, Fox announcers Kevin Burkhardt and John Lynch decided to shill on behalf of the people trying to steal $350 million from taxpayers so that they can build a new footb…

Share Tweet

ESPN.com

Aug 29 (yesterday)

Chargers' 53-man roster projection includes ex-CFL standout Dexter McCoil

Share Tweet

Spanoses, Bosas more alike than not

signonsandiego.com

Aug 29 (yesterday)

Chargers ownership, top draftee are family-oriented and not easily knocked off course.

Share Tweet

Charger players can't worry about Bosa contract situation

Jul 29

Field Yates details why Joey Bosa is not reporting to Chargers training camp, and Louis Riddick outlines the importance for the team to not let his absence become a distraction.

Peterson training with young bull Gordon

Jul 22

Vikings RB Adrian Peterson is getting a push from Chargers RB Melvin Gordon as they take part in offseason workouts together.

Actor Omari Hardwick's 'humbling' NFL career

Jul 16

Omari Hardwick, star of Starz's "Power," joins SportsCenter to talk about his "humbling" experience with the Chargers and to say a quick coast-to-coast hello to ESPN's Cari Champion.

On-time arrival for Chargers' training camp key for Joey Bosa

Jul 15

ESPN Chargers reporter Eric D. Williams discusses reasons Joey Bosa should sign his contact and report to Chargers' training camp on time.