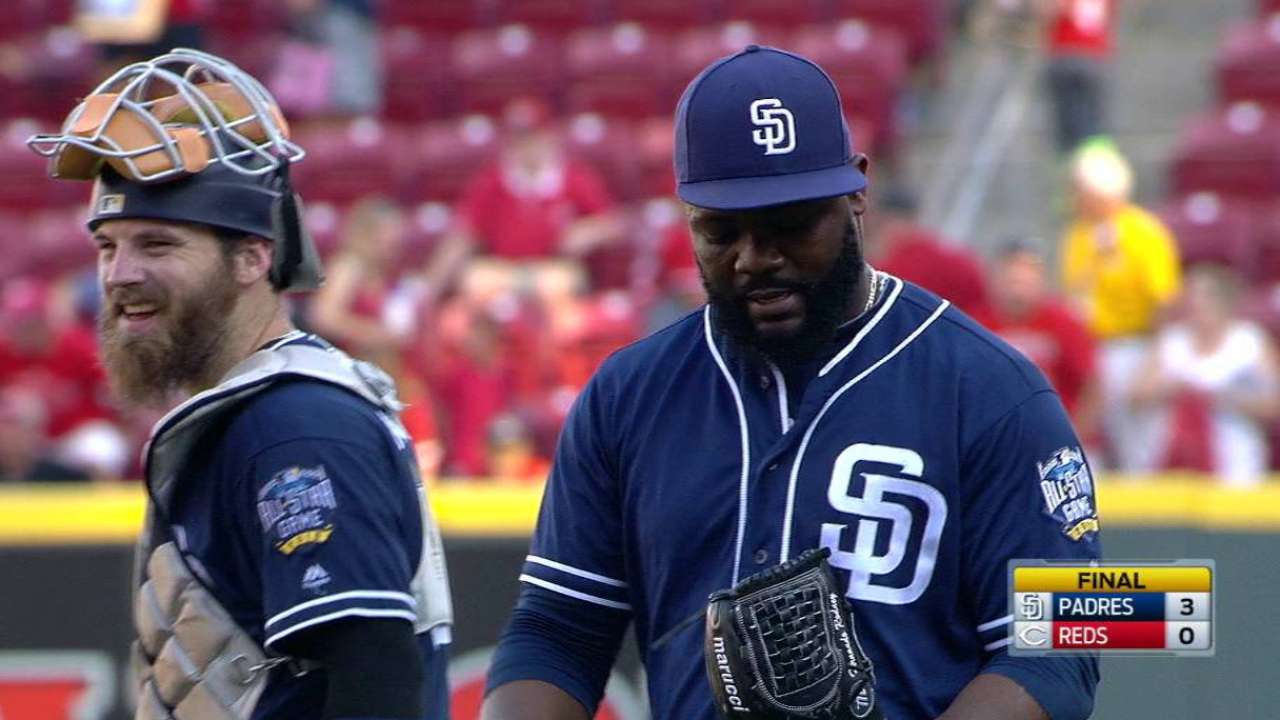 MLB.com
Updated 16 hours ago
The Marlins acquired veteran reliever Fernando Rodney from the Padres on Thursday in exchange for Class A right-hander Chris Paddack.
Share
Tweet
MLB.com

Jun 30 (yesterday)

James Shields picked up his first win as a member of the White Sox in what was easily his most effective start since being traded from the Padres, and Chicago survived a five-run Minnesota ninth to claim a 9-6 victory on Wednesday night at U.S. Cellular…

Share Tweet

Orioles win 7th straight, tie June HR record

MLB.com

Jun 29 (yesterday)

Mark Trumbo put a bow on Baltimore's historic June by launching the club's 55th homer of the month, as the Orioles completed a two-game sweep of the Padres with a 12-6 victory Wednesday afternoon at Petco Park.

Share Tweet

Trumbo Hits 23rd Homer, Has 4 RBIs as Orioles Beat Pads 12-6

nytimes.com

Jun 29 (2 days ago)

Mark Trumbo hit his major league-leading 23rd homer and drove in four runs for the AL East-leading Baltimore Orioles, who beat the San Diego Padres 12-6 Wednesday for their seventh straight win.

Share Tweet

Jay's forearm broken; OF placed on DL

MLB.com

Jun 28 (3 days ago)

Jon Jay, the Padres' most consistent offensive performer this season and one of their top trade chips, will likely miss at least a month with a broken right forearm. He will be placed on the disabled list Tuesday, and outfielder Alex Dickerson will be r…

Share Tweet

McGwire fondly remembers winning 1992 Derby in San Diego

MLB.com

Jun 27 (4 days ago)

When Mark McGwire put on a dazzling display of power during the 1992 Home Run Derby at Jack Murphy Stadium, most of the baseball world had to wait a few hours to watch it. McGwire, now the Padres' bench coach, ran away with that 1992 contest -- the last…

Share Tweet

DeSclafani shuts down Padres in Reds win

MLB.com

Jun 26 (5 days ago)

Anthony DeSclafani became the second Reds starter this season to pitch eight innings, and they were stellar, as he and his team blanked the Padres, 3-0, to salvage the final game of the four-game series.

Share Tweet

nytimes.com MLB.com

Jun 26 (5 days ago)

The only thing missing from Pete Rose's gala was a win by the Reds. Their top starter took care of it.

Share Tweet

Padres' bullpen developing into strong unit

MLB.com

Jun 26 (5 days ago)

After a rough start to the 2016 season, the Padres' bullpen has gradually developed into one of the stronger units in baseball.

Share Tweet

nytimes.com MLB.com

Jun 24 (6 days ago)

The Reds honored their greatest team, then watched the Padres crank out runs like a machine.

Share Tweet

Norris' 3-Run Homer Rallies Hot-Hitting Padres Over Reds 7-4

nytimes.com

Jun 23

It's been quite the month for Derek Norris and the Padres' offense.

Share Tweet

Jimenez Bounces Back to Help Orioles Beat Padres 7-2

nytimes.com

Jun 22

Ubaldo Jimenez interrupted his exile to the bullpen with a sharp performance in a starting role, and the Baltimore Orioles defeated the San Diego Padres 7-2 on Wednesday night for their 1,000th win at Camden Yards.

Share Tweet

yahoo.com

Jun 22

This new trend of catchers pitching really seems to be catching on. Backstop Christian Bethancourt has pitched twice this year for the San Diego Padres, once at the beginning of June, and once in mid-June. Now Pittsburgh Pirates catcher Erik Kratz has m…

Share Tweet

Rodney just misses out on Padres record

MLB.com

Jun 22

In the end, the only thing that came between Fernando Rodney and a 41-year-old Padres record was the back-right corner of the first-base bag at Camden Yards.

Share Tweet

nytimes.com MLB.com

Jun 22

Down by three runs and facing one of the best bullpens in the American League, the San Diego Padres revved up their suddenly potent offense.

Share Tweet

Rookie Schimpf enjoying contributing in bigs

MLB.com

Jun 21

There wasn't much of a grace period for Padres rookie infielder Ryan Schimpf upon his arrival to the big leagues one week ago.

Share Tweet

Padres hope Jay can avoid DL stint after HBP

MLB.com

Jun 21

Jon Jay was out of the lineup Tuesday night, two days after being hit in the right forearm by a Gio Gonzalez fastball, and it appears the Padres' center fielder won't be available the next couple days, as well.

Share Tweet

Hoffman highlights roster for All-Star softball tilt

MLB.com

Jun 20

Academy Award winner J.K. Simmons, swimsuit model Nina Agdal, "Fall Out Boy" bassist Pete Wentz, U.S. soccer legend Landon Donovan and former Padres great Trevor Hoffman are among the first round of participants announced Monday by Major Leagu…

Share Tweet

MLB.com nytimes.com

Jun 19

The Nationals showed off their home run swings from the first pitch as Michael Taylor went deep en route to a 4-for-4, two-homer game, but the Padres prevailed in the series finale, 6-3, on Sunday afternoon at Petco Park.

Share Tweet

Jay bruises right forearm on HBP; X-rays negative

MLB.com

Jun 19

Padres center fielder Jon Jay suffered a right forearm bruise on a hit-by-pitch in the fourth inning of Sunday's 6-3 win against the Nationals.

Share Tweet

yahoo.com

Jun 18

The Chicago White Sox had hoped they were adding a workhorse when they acquired veteran right-hander James Shields from the San Diego Padres. Instead, they've inherited a pitcher mired in one of the worst stretches in MLB history. That's not an overstat…

Share Tweet

MLB.com

Jun 18

Joe Ross, who was drafted by the Padres in 2011, won his first game at Petco Park on Friday and improved to 2-0 in his career against San Diego.

Share Tweet

Zimmerman, Murphy Homer to Back Ross in Nationals' 7-5 Win

nytimes.com

Jun 18

Ryan Zimmerman hit a two-run homer and Daniel Murphy homered and drove in three runs to help the Washington Nationals to a 7-5 victory over the San Diego Padres on Friday night.

Share Tweet

Matt Kemp Conversation

Mar 7

Padres outfielder Matt Kemp talks to Josina Anderson about moving on from the Dodgers' organization, preparing to play in a San Diego Padres uniform and addresses durability questions.

Shields Embracing Expectations

Feb 28

James Shields discusses his decision to sign with San Diego during the offseason, the mentality of going deep into games and facing expectations.

High Expectations For New-Look Padres

Feb 28

San Diego's big offseason acquisitions Justin Upton and Matt Kemp discuss the Padres' chemistry and share their expectations for the 2015 season.

Padres Land James Shields

Feb 9

Buster Olney discusses the report that the Padres and pitcher James Shields have agreed to a four-year deal and also talks about San Diego's busy offseason.