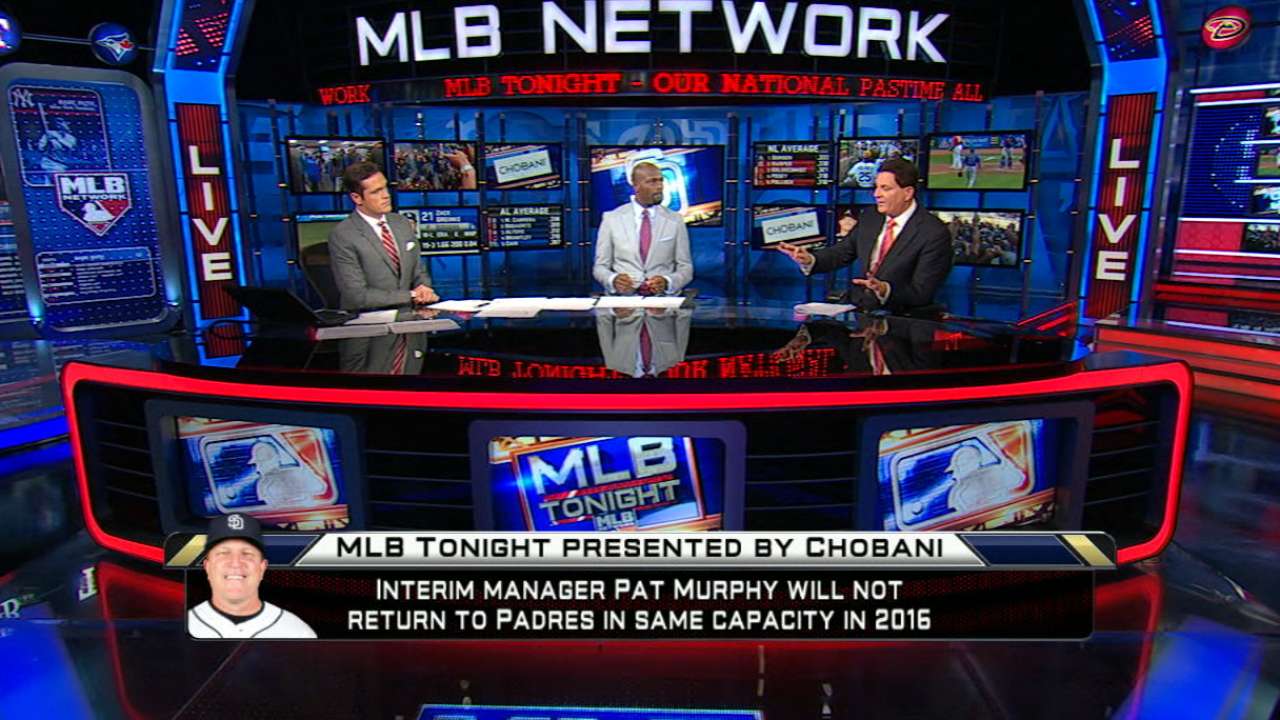 nytimes.com
MLB.com
ESPN.com
Updated Oct 5 (4 days ago)
Pat Murphy, the Padres' interim manager, was fired after the team finished fourth in the National League West.
Share
Tweet
nytimes.com yahoo.com MLB.com

Oct 4 (6 days ago)

By striking out seven Padres in just three and two-thirds innings, Kershaw finished the season with a 16-7 record and a strikeout total of 301, a nice exclamation point for a pitcher who has already won three Cy Young Awards and a most valuable player t…

Share Tweet

nytimes.com

Oct 4 (6 days ago)

Facing a shortened pitch count, Clayton Kershaw didn't waste any time going after his 300th strikeout.

Share Tweet

ESPN.com

Oct 3 (7 days ago)

Dodgers' Puig activated, will start vs. Padres

Share Tweet

nytimes.com MLB.com

Oct 1

Ian Kennedy struck out 11 in what was likely his final start with San Diego and Yangervis Solarte hit a two-run homer for the Padres, who beat Milwaukee 3-1 in their home finale on Thursday.

Share Tweet

MLB.com

Oct 1

Trevor Hoffman took the Padres' 2007 postseason flub hard, but he'll still go down as one of the greatest closer's in the history of the game.

Share Tweet

Bad Baseball Player Has Bad Thoughts About Foreign Players

deadspin.com

Sep 30

San Diego Padres pitcher Bud Norris makes a cameo in this rather odd USA Today story about how racial tensions may or may not be a driving force behind bench-clearing brawls. Let's just get right to Bud's take:Read more...

Share Tweet

MLB.com nytimes.com

Sep 30

Rookie pitcher Jorge Lopez picked up a victory in his Major League debut and Jean Segura hit a two-run home run Tuesday as the Brewers edged the Padres, 4-3, at Petco Park.

Share Tweet

yahoo.com

Sep 28

As expected, it didn't take long for Don Orsillo to find a new gig calling baseball games after being unceremoniously jettisoned from the Boston Red Sox's broadcast booth. ESPN.com's Gordon Edes reports that Orsillo will join the San Diego Padres' broad…

Share Tweet

Inciarte's 2 HRs, 4 Hits Lead Diamondbacks Over Padres

nytimes.com

Sep 27

Ender Inciarte had two home runs among his four hits, leading the Arizona Diamondbacks over the San Diego Padres 4-2 Sunday.

Share Tweet

Erlin Allows 2 Hits in 7 Innings, Padres Top Diamondbacks

nytimes.com

Sep 26

Robbie Erlin pitched two-hit ball for seven innings, leading the San Diego Padres past the Arizona Diamondbacks 3-0 on Saturday.

Share Tweet

nytimes.com MLB.com

Sep 25

Pinch-hitter Alexi Amarista's RBI single in the ninth inning lifted the San Diego Padres to a 5-4 victory over San Francisco Giants on Thursday night.

Share Tweet

yahoo.com

Sep 25

Every baseball parent has debated when to take their child to his or her first game. While we would normally advocate for as early as possible, these San Diego Padres' fans may have taken things a little too far Thursday. We welcomed a baby boy to the w…

Share Tweet

Oh my! Enberg to retire after next season

Padres televison broadcaster Dick Enberg announced during the on-air telecast of Wednesday night's game against the Giants that he will retire following the 2016 season as the primary play-by-play television host for Fox Sports San Diego.

Share Tweet

Padres give scouting department a makeover

The Padres have made a handful of changes to their professional and amateur scouting departments. Logan White, who was hired last offseason from the Dodgers to be the team's senior advisor to general manager A.J. Preller and run the team's pro scouting …

Share Tweet

Pagan's homer helps Giants gain ground

Trevor Brown made the most of his first Major League hit Tuesday and Angel Pagan hit a two-run home run as the Giants edged the Padres, 4-2, at Petco Park. San Francisco's faint postseason hopes improved as the Dodgers lost, cutting the Giants' National…

Share Tweet

Giants Beat Padres 4-2 to Gain a Game on Dodgers in NL West

nytimes.com

Sep 23

Rookie Trevor Brown's RBI double was his first major league hit and Angel Pagan had a two-run home run for the San Francisco Giants, who beat the San Diego Padres 4-2 on Tuesday night to pull within six games of first-place Los Angeles in the NL West.

Share Tweet

Matt Kemp Conversation

Mar 7

Padres outfielder Matt Kemp talks to Josina Anderson about moving on from the Dodgers' organization, preparing to play in a San Diego Padres uniform and addresses durability questions.

Shields Embracing Expectations

Feb 28

James Shields discusses his decision to sign with San Diego during the offseason, the mentality of going deep into games and facing expectations.

High Expectations For New-Look Padres

Feb 28

San Diego's big offseason acquisitions Justin Upton and Matt Kemp discuss the Padres' chemistry and share their expectations for the 2015 season.

Padres Land James Shields

Feb 9

Buster Olney discusses the report that the Padres and pitcher James Shields have agreed to a four-year deal and also talks about San Diego's busy offseason.

Sports Columnists

NBA - Blake Griffin wants to take his defense and the Clippers to another …

Oct 7

Blake Griffin is looking to become an elite defender and a vocal leader, and in turn take the Clippers to a championship, writes J.A. Adande.

NBA - Los Angeles Clippers must learn to play without DeAndre Jordan

Sep 25

The Clippers were able to re-sign DeAndre Jordan. With a more able reserve unit behind him, the team must now learn how to win without him, writes J.A. Adande.

See the rankings (Insider)

Sep 22

Chad Ford says the Knicks are managed by "a neophyte coach, a buffoonish owner and an unproven team president." Amazingly, New York still isn't last p...