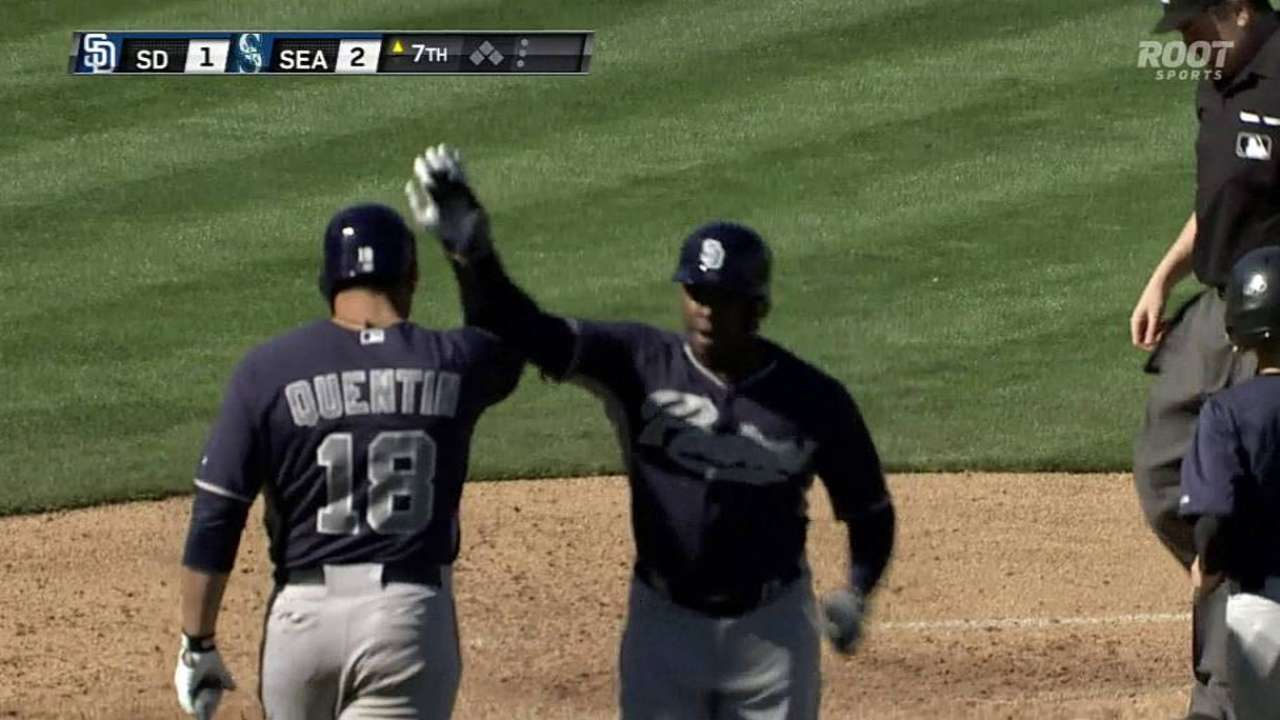 nytimes.com
MLB.com
Updated 17 hours ago
The process of turning talk into actual names unfolded in a series of bold strikes, and netted Matt Kemp, James Shields, Wil Myers and Justin Upton.
Upvote
Share
Tweet
Middlebrooks embraces fresh start with Padres

MLB.com

24 hours ago

Healthy and happy, Will Middlebrooks has impressed early in Padres camp, especially defensively. Middlebrooks would love nothing more than to get back to that place where he was in the second half of 2013, the year the Red Sox won the World Series.

Upvote Share Tweet

Souza impressing Cash with disciplined approach

MLB.com

Mar 3 (2 days ago)

Kevin Cash didn't know much about Steven Souza Jr. when the Rays acquired him in the three-way trade with the Padres and Nationals in December.

Upvote Share Tweet

MLB.com

Mar 3 (2 days ago)

Seahawks quarterback Russell Wilson, who has led his team to back-to-back Super Bowl appearances, will make his annual visit to the Rangers' camp on March 28 when they play the Padres.

Upvote Share Tweet

Versatile roster will keep Padres' infield in motion

MLB.com

Mar 2 (3 days ago)

Yangervis Solarte is a third baseman who also plays plenty of shortstop and second base. Clint Barmes spent parts of last season playing all four infield spots across the diamond. And Alexi Amarista has played at least five different positions in each o…

Upvote Share Tweet

MLB.com

Mar 2 (3 days ago)

Left-hander Carlos Rodon makes his Cactus League debut Friday when the White Sox take on the Padres, and the highly touted prospect doesn't seem overwhelmed or nervous about the opportunity.

Upvote Share Tweet

Wisler determined to build on educational 2014

MLB.com

Feb 28 (5 days ago)

After essentially breezing his way through the Padres' organization, three-plus seasons filled with dominant starts, Matt Wisler, the club's top pitching prospect, had his toughest challenge in Triple-A last season. Now he's in camp with his eyes on a r…

Upvote Share Tweet

Grandal catching on quickly at Dodgers camp

MLB.com

Feb 28 (5 days ago)

Camp Boomer, presided over by Dodgers coach Steve "Boomer" Yeager, just opened, but newcomer Yasmani Grandal -- the centerpiece in the Matt Kemp trade with the Padres -- already has opened eyes.

Upvote Share Tweet

Preller settles in for first spring as Padres GM

MLB.com

Feb 27 (6 days ago)

First-year Padres GM A.J. Preller spent a busy offseason revamping the roster, but he says he's constantly evaluating the team's makeup and looks forward to watching position battles play out in Spring Training.

Upvote Share Tweet

Amarista ready for challenge as Padres' everyday shortstop

MLB.com

Feb 27 (6 days ago)

The Padres will enter the 2015 season with a new starter at the shortstop position, as Alexi Amarista will take over the role after impressing the organization with his play in 2014,

Upvote Share Tweet

yahoo.com

Feb 26 (7 days ago)

Matt Kemp has never lacked confidence. Now in San Diego as part of the Padres' major roster overhaul, his charm and bluster have certainly not gone anywhere. Preparing to play in an outfield next to fellow offseason additions Justin Upton and Wil Myers,…

Upvote Share Tweet

As the full squad of his remodeled club stretched in front of him for the first time, Padres chairman Ron Fowler was asked about the flurry of offseason moves that have brought excitement and a record payroll to San Diego.

Upvote Share Tweet

Padres bring prospect Turner to Majors camp

MLB.com

Feb 24

The curious case of Trea Turner took another twist Tuesday when the Padres' 2014 first-round Draft pick arrived in Peoria, a surprise addition to big league camp. Turner is purportedly the player to be named and sent to the Nationals in the three-team t…

Upvote Share Tweet

Luebke, Johnson continue on road back from surgery

MLB.com

Feb 19

The Padres have gone to great lengths to build up their pitching depth for the upcoming season and, at some point in 2015, could actually add to that mix should Josh Johnson and Cory Luebke return from Tommy John surgery.

Upvote Share Tweet

Kemp arrives early, excited to get started with Padres

MLB.com

Feb 19

Position players won't report to Padres camp until Tuesday, but outfielder Matt Kemp has already been in Peoria a few days, popping in and out of the cage.

Upvote Share Tweet

Padres sign third baseman Bell to Minor League deal

MLB.com

Feb 16

The Padres' ties with the Dodgers keep rolling on, as the team signed former Los Angeles third base prospect Josh Bell to a Minor League contract.

Upvote Share Tweet

yahoo.com

Feb 13

James Shields said he joined the San Diego Padres because they're a team ready to win — but if that doesn't happen, Shields has an escape route. His contract with the Padres, which was finalized Wednesday, allows Shields to opt out after two years and r…

Upvote Share Tweet

Busy Preller catches his breath after flurry of moves

MLB.com

Feb 12

New Padres general manager A.J. Preller was asked Wednesday about the offseason -- his first as a GM -- as a whole and his thoughts on it. He smiled. There was a lot to digest, a lot to remember.

Upvote Share Tweet

MLB.com

Feb 12

As it stands today, the Padres could -- and likely should -- have as many as 11 new players as part of the 25-man roster on Opening Day. That's nearly half the roster and remarkable turnover. Grab some popcorn as we take a look at the most notable addit…

Upvote Share Tweet

Shields Embracing Expectations

Feb 28

James Shields discusses his decision to sign with San Diego during the offseason, the mentality of going deep into games and facing expectations.

High Expectations For New-Look Padres

Feb 28

San Diego's big offseason acquisitions Justin Upton and Matt Kemp discuss the Padres' chemistry and share their expectations for the 2015 season.

Padres Land James Shields

Feb 9

Buster Olney discusses the report that the Padres and pitcher James Shields have agreed to a four-year deal and also talks about San Diego's busy offseason.

Padres Complete Big Three With Upton Trade

Dec 19

Buster Olney discusses the excitement surrounding San Diego's new outfield after the Padres made deals to acquire Wil Myers, Matt Kemp and Justin Upton.