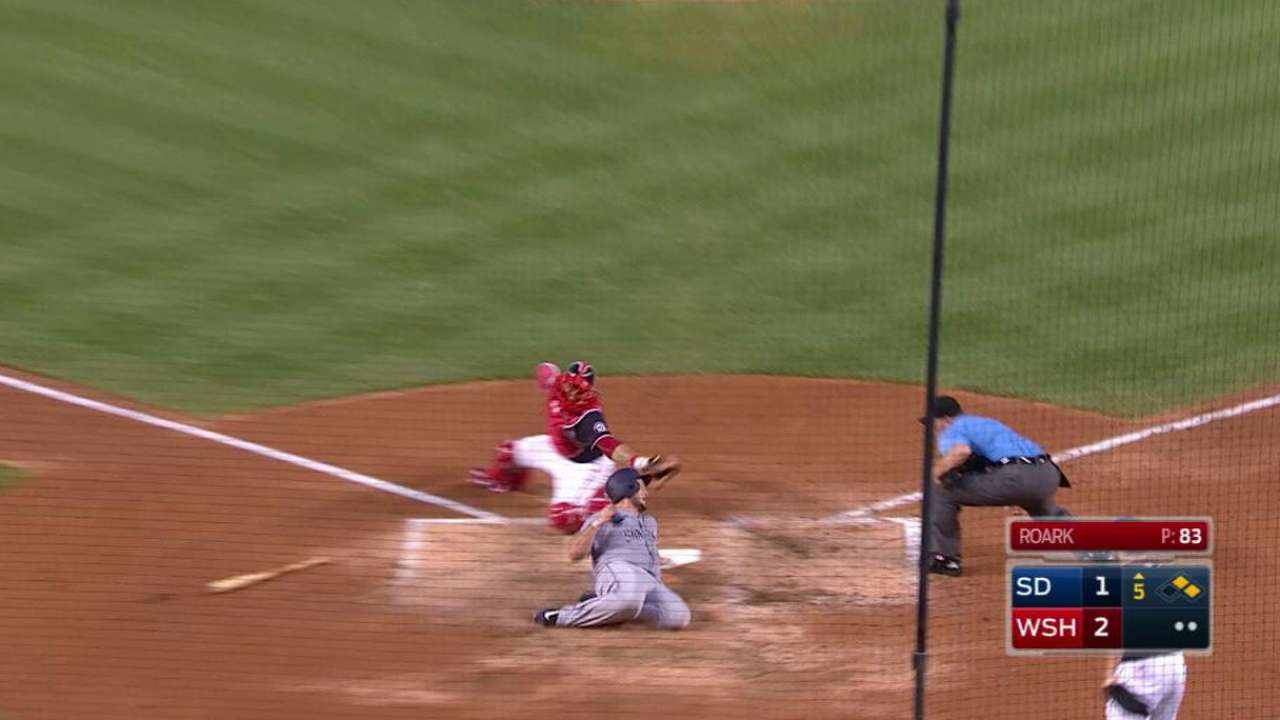 MLB.com
Updated 5 hours ago
Melvin Upton Jr. is joining the Blue Jays. Toronto acquired Upton from the Padres on Tuesday for a Class A prospect, right-hander Hansel Rodriguez, who is the Blue Jays' No. 18-ranked prospect.
Share
Tweet
nytimes.com MLB.com

16 hours ago

Aaron Sanchez pitched seven shutout innings to win his 10th consecutive decision, Kevin Pillar had three hits and the Toronto Blue Jays beat the San Diego Padres 4-2 on Monday night.

Share Tweet

yahoo.com

Jul 25 (yesterday)

On Sunday, Washington Nationals left fielder Jayson Werth was thrown a pitch he had no idea what to do with. In the bottom of the fifth inning of the Nationals' game against the San Diego Padres, Padres reliever Carlos Villanueva was pitching to Werth i…

Share Tweet

Padres storm past Nationals late in slugfest

MLB.com

Jul 24 (yesterday)

The Nationals and Padres found themselves in a slugfest on Sunday afternoon at Nationals Park. When it was over, the Padres outslugged the Nationals, 10-6.

Share Tweet

Schimpf's moonshot sends SD's HR streak to 21 games

MLB.com

Jul 24 (3 days ago)

The Padres' franchise-record home run streak is still alive. Ryan Schimpf's thunderous long-ball in the second inning of San Diego's 3-2 loss to the Nationals on Saturday gave the Padres their 21st consecutive game with a homer.

Share Tweet

AL East clubs discussing deals for Upton, Cashner

MLB.com

Jul 22 (4 days ago)

Melvin Upton Jr. could soon be on the move. The Padres are reportedly informing teams that they're close to trading the veteran outfielder, according to Jeff Passan of Yahoo Sports, who cautioned that the news "may ultimately be posturing" by San Diego.

Share Tweet

nytimes.com MLB.com

Jul 22 (4 days ago)

Matt Kemp homered twice and drove in four runs, rookie Luis Perdomo pitched seven solid innings and the San Diego Padres beat the Washington Nationals 5-3 on Friday night to snap a four-game losing streak.

Share Tweet

Matt Holliday's nose was grazed by a pitch from Andrew Cashner in the sixth inning of Thursday night's 6-5 win over the Padres. Though Holliday fell to the ground, he stood under his own power and walked to first base while talking to manager Mike Mathe…

Share Tweet

Cards walk off with win, four-game sweep

MLB.com

Jul 21 (5 days ago)

Aledmys Diaz hit a rocket to left field, and the Cardinals walked off with a 6-5 win and a four-game sweep of the Padres on Thursday night at Busch Stadium.

Share Tweet

Cardinals Rally for 6-5 Win Over Padres

nytimes.com

Jul 21 (5 days ago)

Aledmys Diaz learned a valuable lesson at the All-Star Game.

Share Tweet

nytimes.com

Jul 20 (6 days ago)

It's human nature to try harder against your old team. Jedd Gyorko is taking that to extremes.

Share Tweet

SoE: 'Biscuits & Garvey': Stars' next project?

MLB.com

Jul 19 (7 days ago)

A recent roast of former Padres Steve Garvey and Dave Winfield cast them as the leads in a new buddy cop adventure.

Share Tweet

MLB.com nytimes.com

Jul 19 (7 days ago)

Inclement weather washed out Tuesday's contest between the Padres and Cardinals at Busch Stadium -- with a makeup game between the two clubs slated for 1:15 p.m. CT on Wednesday.

Share Tweet

MLB.com

Jul 18

The Padres reinstated outfielder Melvin Upton Jr. from the bereavement list before Monday night's game against the Cardinals.

Share Tweet

MLB.com nytimes.com

Jul 17

Edwin Jackson took a no-hitter into the seventh inning of his Padres debut Sunday against the Giants, paving the way for a 5-3 San Diego victory and series sweep.

Share Tweet

nytimes.com MLB.com

Jul 17

Boston activated Pomeranz on Sunday, sending veteran starter Clay Buchholz into the team's bullpen. The Red Sox' Sunday opponent, the Yankees, have yet to make a deadline decision.

Share Tweet

deadspin.com MLB.com yahoo.com

Jul 17

What's the most embarrassing way to lose a baseball game? An extra-innings walk-off balk has certainly got to be up there, and that's precisely how the Giants lost to the Padres last night, when Santiago Casilla stumbled about the mound trying to throw …

Share Tweet

Matt Kemp Conversation

Mar 7

Padres outfielder Matt Kemp talks to Josina Anderson about moving on from the Dodgers' organization, preparing to play in a San Diego Padres uniform and addresses durability questions.

Shields Embracing Expectations

Feb 28

James Shields discusses his decision to sign with San Diego during the offseason, the mentality of going deep into games and facing expectations.

High Expectations For New-Look Padres

Feb 28

San Diego's big offseason acquisitions Justin Upton and Matt Kemp discuss the Padres' chemistry and share their expectations for the 2015 season.

Padres Land James Shields

Feb 9

Buster Olney discusses the report that the Padres and pitcher James Shields have agreed to a four-year deal and also talks about San Diego's busy offseason.