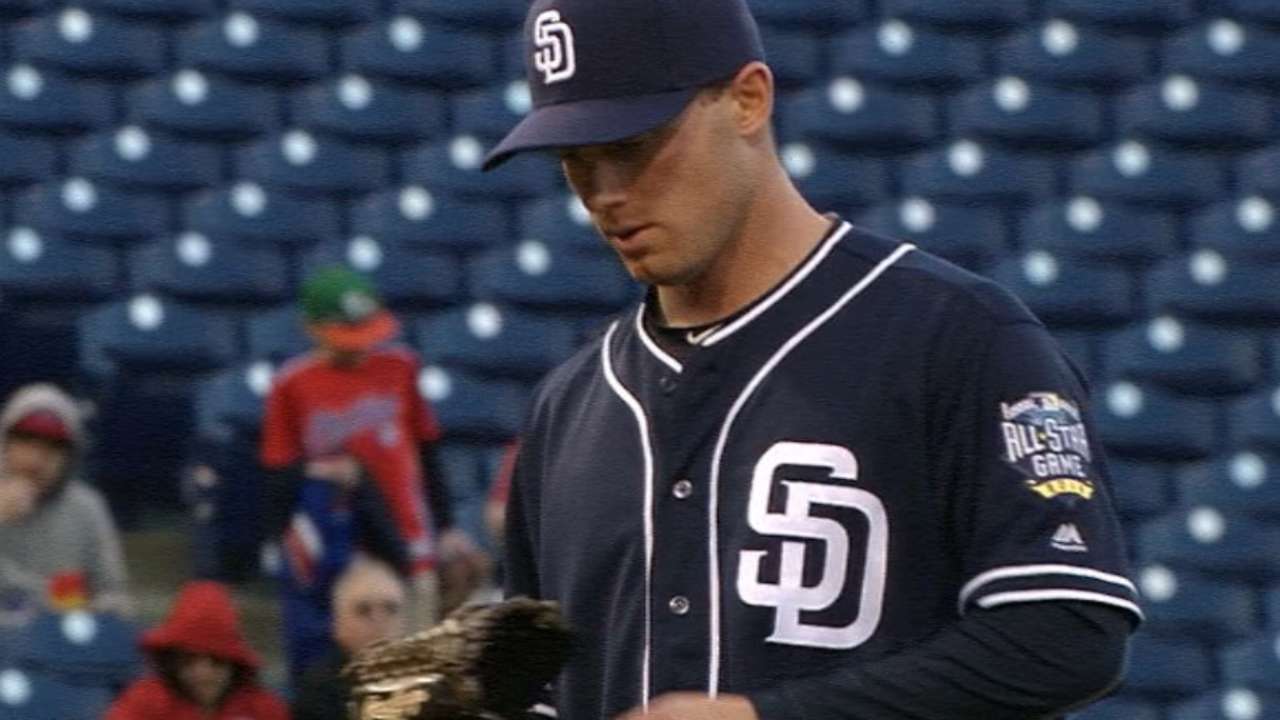 Erlin needs Tommy John surgery
MLB.com
Updated 2 hours ago
The Padres' worst fears regarding left-hander Robbie Erlin were realized on Tuesday, when an MRI exam on his left elbow revealed a partial tear of the ulnar collateral ligament. Erlin will undergo Tommy John surgery and miss the remainder of the 2016 se…
Share
Tweet
Kemp's 2-Run Double Enough for Shields, Padres vs Rockies

nytimes.com

20 hours ago

Matt Kemp's two-run double in the first inning was all James Shields needed for his first victory of the season.

Share Tweet

Stats of the Day: Kershaw does it all

MLB.com

May 2 (yesterday)

On Sunday, Clayton Kershaw hurled a three-hit shutout with 14 K's to defeat the Padres, 1-0. The lefty also drove in the Dodgers' only run, via a single in the third.

Share Tweet

MLB.com

May 1 (2 days ago)

Giants general manager Bobby Evans confirmed in a text message Sunday that his club will have a scout or representative present at Tim Lincecum's pitching showcase -- which, MLB Network's Jon Heyman reported, will take place Friday in Scottsdale, Ariz.

Share Tweet

Kershaw: 3-Hitter, 14 Ks, RBI Single, Dodgers Top Pads 1-0

nytimes.com

May 1 (3 days ago)

Clayton Kershaw pitched a three-hitter, struck out 14 and also singled home the game's only run, leading the Los Angeles Dodgers over the San Diego Padres 1-0 on Sunday.

Share Tweet

Extra Bases: Padres Count on a Career .200 Hitter to Guide Them to Contention

nytimes.com

Apr 30 (3 days ago)

The Padres, who have not reached the playoffs in a decade, gave Andy Green his first major league managing job last October.

Share Tweet

ESPN.com nytimes.com MLB.com

Apr 30 (4 days ago)

Dodgers' losing streak at five after defeat to Padres

Share Tweet

Giants outslug Padres en route to sweep

MLB.com

Apr 27 (6 days ago)

The entire San Francisco offense got into the fun Wednesday afternoon, as the Giants completed their sweep of the Padres with a 13-9 victory at AT&T Park. All nine starters either scored a run or drove one in, and the Giants set a season high with t…

Share Tweet

Myers pushes hit streak to 12 with long ball

MLB.com

Apr 27 (6 days ago)

Wil Myers loudly and emphatically tied his career-high 12-game hitting streak Wednesday, crushing a three-run home run into the left-field seats at AT&T Park during the seventh inning of the Padres' 13-9 loss to the Giants.

Share Tweet

MLB.com nytimes.com

Apr 27 (7 days ago)

Denard Span broke an offensive logjam Tuesday night with a fifth-inning RBI double as the San Francisco Giants handed a superb Johnny Cueto his 100th career victory with a 1-0 decision over the San Diego Padres.

Share Tweet

nytimes.com MLB.com

Apr 26

Healthy at last, Angel Pagan is thriving batting ninth and giving the Giants consecutive leadoff hitters capable of impacting a game with the bat or on the basepaths.

Share Tweet

MLB.com yahoo.com deadspin.com

Apr 25

A man who was stationed in the center-field batter's eye with binoculars during the ninth inning in Sunday's 8-5 loss to the Cardinals was a member of the Padres' security team, according to a club official.

Share Tweet

MLB.com nytimes.com

Apr 24

Matt Carpenter laced an RBI triple to break a tie and spark a three-run eighth inning and lift the Cardinals to an 8-5 win over the Padres on Sunday at Petco Park.

Share Tweet

Cards jump on Padres' bullpen in late innings

MLB.com

Apr 24

Jeremy Hazelbaker and Jedd Gyorko hit three-run homers and Aledmys Diaz had five hits to power the Cardinals past the Padres, 11-2, in the second of a three-game series at Petco Park on Saturday night.

Share Tweet

The Cardinals Lost Their Eighth Game

deadspin.com

Apr 23

Andrew Cashner threw six innings of three-hit ball and the Padres bullpen did the rest as San Diego beat St. Louis last night, 4-1.Read more...

Share Tweet

Myers Has 3 Hits, 3 RBIs Lead Padres to 4-1 Win vs Cardinals

nytimes.com

Apr 23

Wil Myers is turning out to be just the spark plug the San Diego Padres need him to be.

Share Tweet

MLB.com nytimes.com

Apr 22

Gerrit Cole was back in ace-caliber form for the first time in 2016, tossing six scoreless frames, as the Pirates won their series finale against the Padres, 11-1, on Thursday at Petco Park.

Share Tweet

Matt Kemp Conversation

Mar 7

Padres outfielder Matt Kemp talks to Josina Anderson about moving on from the Dodgers' organization, preparing to play in a San Diego Padres uniform and addresses durability questions.

Shields Embracing Expectations

Feb 28

James Shields discusses his decision to sign with San Diego during the offseason, the mentality of going deep into games and facing expectations.

High Expectations For New-Look Padres

Feb 28

San Diego's big offseason acquisitions Justin Upton and Matt Kemp discuss the Padres' chemistry and share their expectations for the 2015 season.

Padres Land James Shields

Feb 9

Buster Olney discusses the report that the Padres and pitcher James Shields have agreed to a four-year deal and also talks about San Diego's busy offseason.