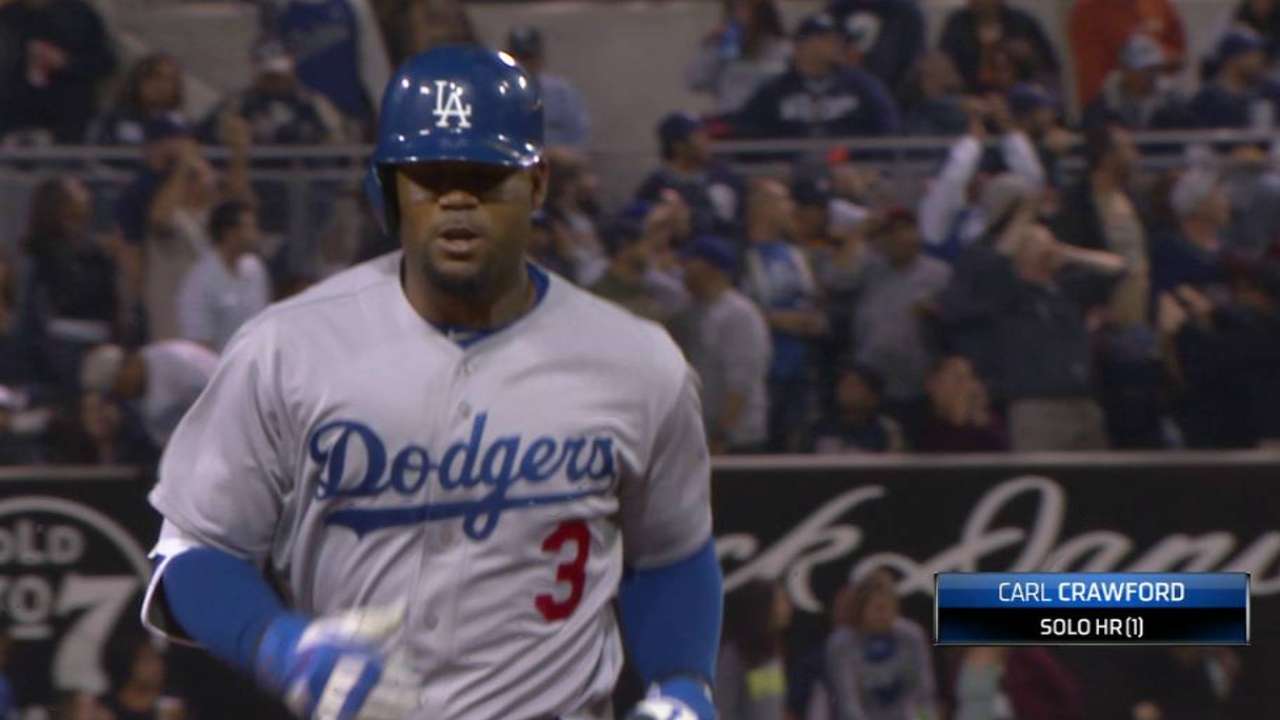 nytimes.com
MLB.com
Updated 13 hours ago
Zack Greinke extended his mastery of NL West opponents by holding the San Diego Padres to four hits in seven innings, and Carl Crawford homered to help the Los Angeles Dodgers to a 3-0 victory Friday night.
Share
Tweet
Puig exits after left hamstring flares up

MLB.com

13 hours ago

Dodgers right fielder Yasiel Puig was removed from Friday night's game against the Padres in the sixth inning with a left hamstring injury, the same ailment that cost him four starts last week.

Share Tweet

MLB.com nytimes.com

Apr 23 (yesterday)

Rockies outfielder Corey Dickerson homered for the third time in the past two games and right-hander Jordan Lyles forced 10 outs along the ground in a season-high 6 2/3 innings as the Rockies beat the Padres, 2-1, at Coors Field on Thursday in front of …

Share Tweet

Rockies' rested bullpen performs well vs. Padres

MLB.com

Apr 23 (yesterday)

Before Thursday's finale of a four-game set with the Padres, closer Adam Ottavino informed Weiss he was dealing with slight soreness in his right triceps. Weiss simply turned to John Axford, who fanned two in the ninth to preserve a 2-1 victory.

Share Tweet

Yonder paces Padres through NL West

MLB.com

Apr 23 (yesterday)

The Padres head home after completing their first tour through the National League West, and they're stacking up pretty well so far.

Share Tweet

Kennedy throws side session, may rejoin rotation Saturday

MLB.com

Apr 22 (3 days ago)

Padres right-hander Ian Kennedy took the final step to rejoining the rotation Wednesday, throwing a side session before the third game of a four-game set with the Rockies. If he responds well Thursday, he'll likely be penciled back into the rotation.

Share Tweet

Padres stage late rally, send Rockies to fifth straight loss

Derek Norris' two-run double broke an eighth-inning tie and gave the Padres their third straight victory -- 7-6 at Coors Field on Tuesday night over the Rockies, who have lost five straight.

Share Tweet

Off to strong start, Padres plating plenty of early runs

The Padres couldn't be happier with their start to the season. They entered Tuesday night's game 9-5 and in second place in the National League West, a year after starting the season in fourth place at 6-8. This year, the fast starts have begun in the f…

Share Tweet

CarGo donates $100K to Boys & Girls Clubs

Rockies outfielder Carlos Gonzalez, through his charitable foundation, donated $100,000 to the Boys & Girls Clubs of Metro Denver on Tuesday. Gonzalez and his family made the presentation during a ceremony in the Rockies' dugout at Coors Field befor…

Share Tweet

Kemp, Norris Lead Padres' 17-Hit Attack in Win Over Rockies

nytimes.com

Apr 21 (5 days ago)

Matt Kemp had three hits and four RBIs and the San Diego Padres scored nine runs in the first two innings of a 14-3 rout of the Colorado Rockies on Monday night.

Share Tweet

New teammates giving Alonso offensive boost

Padres first baseman Yonder Alonso credits his strong start at the plate to the veteran presences new teammates Justin Upton and Matt Kemp bring to the clubhouse and the dugout.

Share Tweet

Kennedy's extended spring start goes well

Ian Kennedy had a promising appearance Monday in extended spring camp in Arizona, throwing six innings and 81 pitches. He has been on the disabled list since leaving his start in the fourth game of the season after 2 1/3 innings and 33 pitches in the Pa…

Share Tweet

Rockies third baseman Nolan Arenado was scratched from the lineup Monday due to a sore left wrist and is listed day to day. Arenado had started the Rockies' previous 12 games and had played all but one inning.

Share Tweet

nytimes.com

Apr 19 (6 days ago)

Cubs newcomer Jon Lester made a nifty play with his glove but lost again as the San Diego Padres beat Chicago 5-2 Sunday.

Share Tweet

Starlin's single lifts Cubs past Padres in 11

MLB.com

Apr 18 (7 days ago)

Starlin Castro knocked in the game-winning run in the 11th inning with a bases-loaded single onSaturday as the Cubs edged the Padres, 7-6, before a crowd of 33,958 at Wrigley Field.

Share Tweet

nytimes.com MLB.com yahoo.com

Apr 18 (7 days ago)

On his second day with the Cubs, Kris Bryant played like the top prospect Chicago was expecting.

Share Tweet

Kemp launches first homer with Padres

MLB.com

Apr 18 (7 days ago)

It took 12 games and 46 at-bats, but Padres' right fielder Matt Kemp got his first home run as a Padre on Saturday at Wrigley Field.

Share Tweet

Without sharpest stuff, Shields aids winning effort

MLB.com

Apr 17

There were a few lamentable moments for Padres' pitcher James Shields to sort through in his first start at Wrigley Field on Friday, but he buckled down, struck out nine and came out ahead in San Diego's 5-4 win over the Cubs.

Share Tweet

Upton Homers in 8th to Give Padres 3-2 Win vs Diamondbacks

nytimes.com

Apr 15

Justin Upton homered with two outs in the eighth inning to give the San Diego Padres a 3-2 victory over the Arizona Diamondbacks on Wednesday night.

Share Tweet

Matt Kemp Conversation

Mar 7

Padres outfielder Matt Kemp talks to Josina Anderson about moving on from the Dodgers' organization, preparing to play in a San Diego Padres uniform and addresses durability questions.

Shields Embracing Expectations

Feb 28

James Shields discusses his decision to sign with San Diego during the offseason, the mentality of going deep into games and facing expectations.

High Expectations For New-Look Padres

Feb 28

San Diego's big offseason acquisitions Justin Upton and Matt Kemp discuss the Padres' chemistry and share their expectations for the 2015 season.

Padres Land James Shields

Feb 9

Buster Olney discusses the report that the Padres and pitcher James Shields have agreed to a four-year deal and also talks about San Diego's busy offseason.