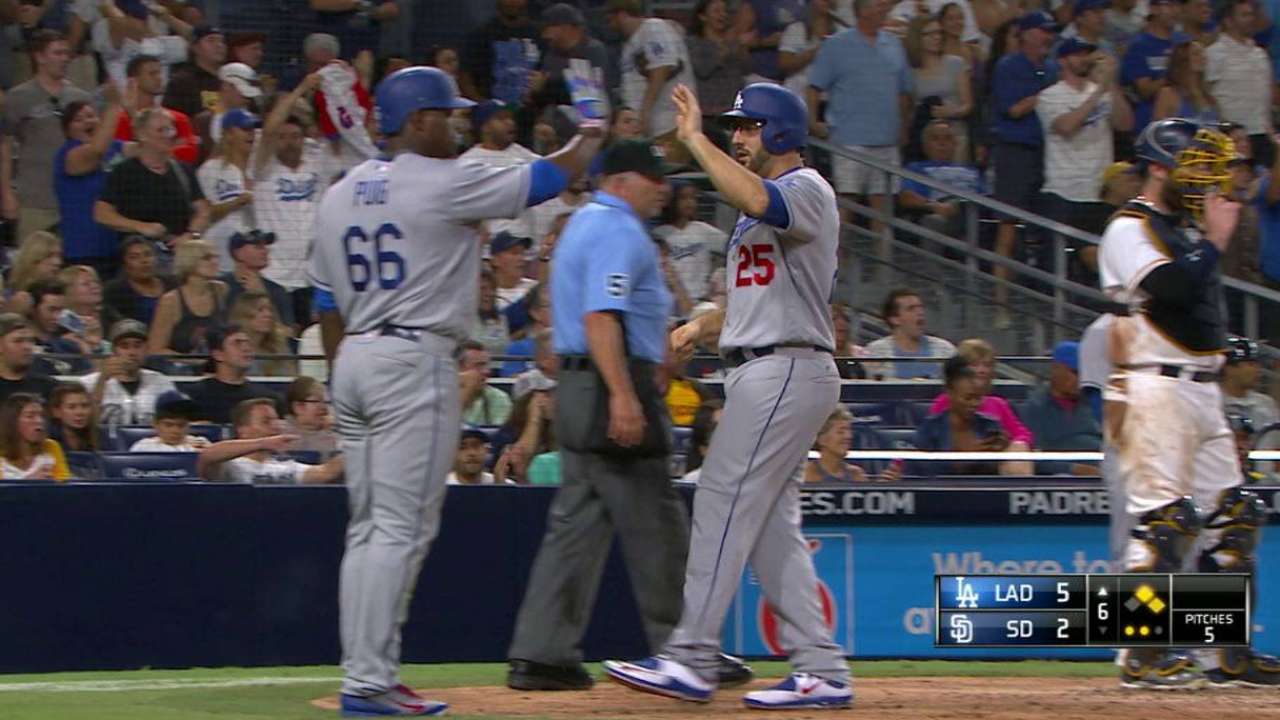 nytimes.com
MLB.com
Updated 7 hours ago
Rookie left-hander Julio Urias got a final tuneup for what he hopes will be a spot on the Los Angeles Dodgers' postseason roster.
Share
Tweet
Rookies Infuse Life Into Rebuilding Padres on Last Homestand

nytimes.com

6 hours ago

The rebuilding San Diego Padres went 6-4 on their final homestand, including splitting a four-game series with the San Francisco Giants and taking two of three from the NL West champion Los Angeles Dodgers.

Share Tweet

yahoo.com

22 hours ago

The Los Angeles Dodgers have been yanking their rookie pitcher Julio Urias around a bit this month. At the beginning of September, Urias was starting for the Dodgers. Then, on September 13, manager Dave Roberts said that they'd move Urias to the bullpen…

Share Tweet

deadspin.com yahoo.com MLB.com nytimes.com

18 hours ago

Padres outfielder Hunter Renfroe absolutely hammered a two-run homer in Wednesday's home game against the Dodgers. Send that baseball's family a wreath.Read more...

Share Tweet

Giants Blow 6-Run Lead Before Beating Padres 9-6 in 10

nytimes.com

Sep 25 (5 days ago)

As much as the San Francisco Giants have been through since the All-Star break, with all the blown leads and the offensive struggles, it would have been gut-wrenching if they hadn't pulled out a victory the way they did Saturday night against the lowly …

Share Tweet

Padres pull away, drop Giants behind Mets

MLB.com

Sep 24 (6 days ago)

While interested observers were dwelling on the San Francisco Giants' faulty relief pitching, their offense was starting to go bad. Now it's downright sour, as Friday night's 7-2 loss to the San Diego Padres demonstrated.

Share Tweet

Myers, Padres Beat Struggling Giants 7-2

nytimes.com

Sep 24 (6 days ago)

Wil Myers hit a three-run homer off rookie Albert Suarez in the first inning and the San Diego Padres beat San Francisco 7-2 on Friday night, their seventh victory in eight games against the struggling Giants since the All-Star break.

Share Tweet

deadspin.com

Sep 23 (7 days ago)

Los Angeles Dodgers play-by-play announcer Vin Scully will retire at the end of the regular season, but before he does, he's flexing his skills. Scully called Thursday's Rockies-Dodgers game while also keeping track of Giants-Padres.Read more...

Share Tweet

'Consistent' Samardzija gives Giants big outing

MLB.com

Sep 23

The power of Jeff Samardzija's pitching Thursday night created the distinct impression that he could have lasted into the 10th inning or beyond against the Padres.

Share Tweet

MLB.com nytimes.com yahoo.com

Sep 23

The Giants were able to capitalize on their schedule Thursday, taking the series opener against the Padres, 2-1, to move one-half game ahead of the idle Cardinals and remain tied with the Mets in the National League Wild Card spots.

Share Tweet

Padres set deadline for Rea's rehab program

MLB.com

Sep 22

Padres right-hander Colin Rea, who suffered a partially torn UCL in his right elbow in July, has resumed throwing with the hope that he'll be back to full strength by the beginning of December.

Share Tweet

Goldy rush: Goldschmidt hits 2 HRs in win

MLB.com

Sep 22

Paul Goldschmidt hit two home runs and Zack Greinke allowed two runs over six innings as the D-backs edged the Padres. Rookie Luis Perdomo allowed three runs over seven innings for the Padres, who got a home run from Wil Myers.

Share Tweet

Rosales Homers, Drives in 4 as Padres Top Diamondbacks 5-2

nytimes.com

Sep 21

Adam Rosales is embracing his role as a utilityman for the San Diego Padres, because it brings valuable playing time.

Share Tweet

Padres, D-backs start delayed by rain

MLB.com

Sep 20

Tuesday's contest between the D-backs and Padres was delayed by rain, which has been falling in San Diego since the early afternoon. No start time has been announced.

Share Tweet

Manfred: Penalty in Padres case 'speaks for itself'

ESPN.com

Sep 20

Manfred: Penalty in Padres case 'speaks for itself'

Share Tweet

MLB.com nytimes.com

Sep 20

Clayton Richard took a shutout into the seventh inning and Wil Myers hit his 26th home run of the season as the Padres opened their series against the D-backs with a win. Alexi Amarista knocked in two runs for the Padres, as Arizona rookie pitcher Brade…

Share Tweet

Matt Kemp Conversation

Mar 7

Padres outfielder Matt Kemp talks to Josina Anderson about moving on from the Dodgers' organization, preparing to play in a San Diego Padres uniform and addresses durability questions.

Shields Embracing Expectations

Feb 28

James Shields discusses his decision to sign with San Diego during the offseason, the mentality of going deep into games and facing expectations.

High Expectations For New-Look Padres

Feb 28

San Diego's big offseason acquisitions Justin Upton and Matt Kemp discuss the Padres' chemistry and share their expectations for the 2015 season.

Padres Land James Shields

Feb 9

Buster Olney discusses the report that the Padres and pitcher James Shields have agreed to a four-year deal and also talks about San Diego's busy offseason.