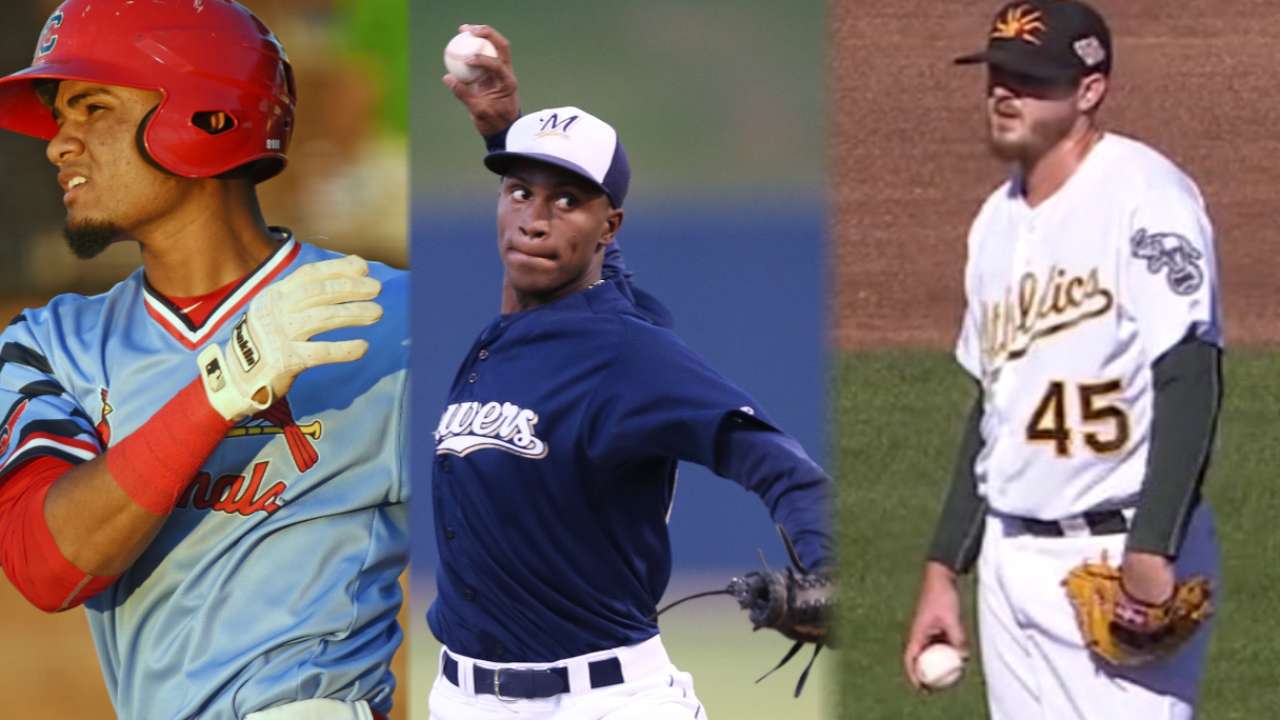 2016 Rule 5 Draft pick scouting reports
MLB.com
Updated Dec 8 (yesterday)
Jim Callis provides scouting reports for the 18 players selected in the Major League phase of the Rule 5 Draft, including former Brewers prospect Miguel Diaz, who was picked first by the Twins and then dealt to the Padres.
Share
Tweet
Top 3 picks of Rule 5 Draft end up on Padres

MLB.com

Dec 8 (yesterday)

The talk leading into Thursday's Rule 5 Draft was that the San Diego Padres, with just 33 players on their 40-man roster and having taken four players in last year's Major League phase, would be active again. That turned out to be true, albeit not in th…

Share Tweet

Padres fielding calls, but like young outfield mix

MLB.com

Dec 6 (4 days ago)

Speaking at the Winter Meetings outside Washington, D.C., on Tuesday, Padres general manager A.J. Preller said he's received multiple calls on his available outfielders. But as things currently stand, he feels there's plenty of playing time to go around…

Share Tweet

Preller capitalizes on CBA's final year

MLB.com

Dec 6 (4 days ago)

When all is said and done, the Padres will spend upwards of $70 million on international prospects during the current signing period. You won't see that again any time soon -- and certainly not within the next five years.

Share Tweet

After Ross decision, Padres seek more pitching

MLB.com

Dec 5 (5 days ago)

The Padres were in dire need of starting pitching before they decided not to tender a contract to Tyson Ross. Now? Well, their plight is the same. But they could be -- to borrow a phrase used by general manager A.J. Preller -- casting an even wider net,…

Share Tweet

yahoo.com

Dec 4 (6 days ago)

In a span of two years, A.J. Preller's Padres have gone from baseball's most aggressive team to not employing a million-dollar player. (Getty Images) Remember two years ago when the San Diego Padres were the most aggressive team in baseball under new ge…

Share Tweet

Welcome to The Stew's Hot Stove Digest, our daily rundown of MLB news, rumors and gossip for Hot Stove season. Here you'll find a quick recap of all the day's action and other fun stuff from around the internet that we think is worth your time. WELCOME …

Share Tweet

MLB.com

Dec 2

Tyson Ross' tenure with the Padres came to an abrupt and thoroughly surprising end on Friday, as the injured right-hander was among six players who were not tendered a contract by the club.

Share Tweet

yahoo.com

Nov 22

The Padres swung and missed with their new uniforms. (Getty Images/Denis Poroy) It's a tough time to be a San Diego Padres fan. The team finished with just 68 wins in 2016, and things don't look great for 2017. Our experts actually picked San Diego as t…

Share Tweet

MLB.com

Nov 18

With the Winter Meetings on the horizon, the Padres added four prospects to their 40-man roster on Friday, protecting them from the Rule 5 Draft.

Share Tweet

Padres' Rea has Tommy John surgery

MLB.com

Nov 11

The Padres were hoping pitcher Colin Rea wouldn't need surgery to repair his partially torn UCL. But Rea had Tommy John surgery on Thursday and will miss all of next season.

Share Tweet

Preller: Extension talks for Myers to begin

MLB.com

Nov 9

For the past few months, the Padres have talked openly about viewing Wil Myers as a centerpiece to build around for the next few years.

Share Tweet

MLB.com

Nov 7

Bud Black, who managed the Padres for eight-plus seasons and won the National League Manager of the Year Award in 2010, was named the seventh manager in Rockies history.

Share Tweet

Cosart has bone spurs removed from elbow

MLB.com

Oct 21

Jarred Cosart underwent successful surgery to clean up his right elbow, and the Padres remain hopeful that the 26-year-old right-hander will be fully recovered by the start of Spring Training.

Share Tweet

Padres hope Ross is ready for '17 after surgery

MLB.com

Oct 13

Tyson Ross started for the Padres on Opening Day in 2016 -- and then missed the remainder of the campaign because of shoulder inflammation. Now, his status for Opening Day '17 appears to be in question.

Share Tweet

yahoo.com nytimes.com

Oct 12

Mike Dee, former president and CEO of the San Diego Padres, before a baseball game in June 2016. (Getty Images) A messy season for the San Diego Padres seems to be turning into a messy offseason, as the Padres have decided to part ways with their presid…

Share Tweet

Golfer/MiLB owner Watson enjoying Meetings

MLB.com

Dec 14, 2015

Blue Wahoos and Bubba Watson? It's a perfect match.

Share Tweet

2017 Draft order: Twins to pick No. 1 overall

MLB.com

Oct 3

With the 2016 regular-season standing final, the order for the 2017 MLB Draft is set. By finishing with the worst record in baseball, the Twins will have the No. 1 pick in the 2017 Draft. They'll be followed by the Reds, Padres, Rays and Braves.

Share Tweet

Enberg says farewell following final broadcast

MLB.com

Oct 2

Following San Diego's 3-2 season-ending loss to the D-backs -- the final broadcast in Dick Enberg's legendary career -- the Padres' play-by-play man said he felt very much at peace. It's the end of a brilliant career for the 81-year-old Enberg, who has …

Share Tweet

Gosselin's RBI Single in 9th Lifts D-Backs Past Padres, 3-2

nytimes.com

Oct 2

Pinch-hitter Phil Gosselin's RBI single with two outs in the ninth inning lifted the Arizona Diamondbacks a 3-2 win over the San Diego Padres in the season finale on Sunday.

Share Tweet

D-backs' five-run first buoys Bradley vs. Padres

MLB.com

Oct 1

The D-backs got to Clayton Richard before the San Diego left-hander could even record an out Saturday night. Yasmany Tomas' team-high 31st homer capped a five-run, first-inning rally in a 9-5 win over the Padres at Chase Field.

Share Tweet

Goldschmidt, Owings Homer, D-Backs Beat Padres 5-3

nytimes.com

Oct 1

Paul Goldschmidt and Chris Owings each hit a two-run home run and the Arizona Diamondbacks opened their final series of a disappointing season with a 5-3 victory over the San Diego Padres on Friday night.

Share Tweet

Rookies Infuse Life Into Rebuilding Padres on Last Homestand

nytimes.com

Sep 30

The rebuilding San Diego Padres went 6-4 on their final homestand, including splitting a four-game series with the San Francisco Giants and taking two of three from the NL West champion Los Angeles Dodgers.

Share Tweet

nytimes.com MLB.com

Sep 30

Rookie left-hander Julio Urias got a final tuneup for what he hopes will be a spot on the Los Angeles Dodgers' postseason roster.

Share Tweet

Matt Kemp Conversation

Mar 7

Padres outfielder Matt Kemp talks to Josina Anderson about moving on from the Dodgers' organization, preparing to play in a San Diego Padres uniform and addresses durability questions.

Shields Embracing Expectations

Feb 28

James Shields discusses his decision to sign with San Diego during the offseason, the mentality of going deep into games and facing expectations.

High Expectations For New-Look Padres

Feb 28

San Diego's big offseason acquisitions Justin Upton and Matt Kemp discuss the Padres' chemistry and share their expectations for the 2015 season.

Padres Land James Shields

Feb 9

Buster Olney discusses the report that the Padres and pitcher James Shields have agreed to a four-year deal and also talks about San Diego's busy offseason.