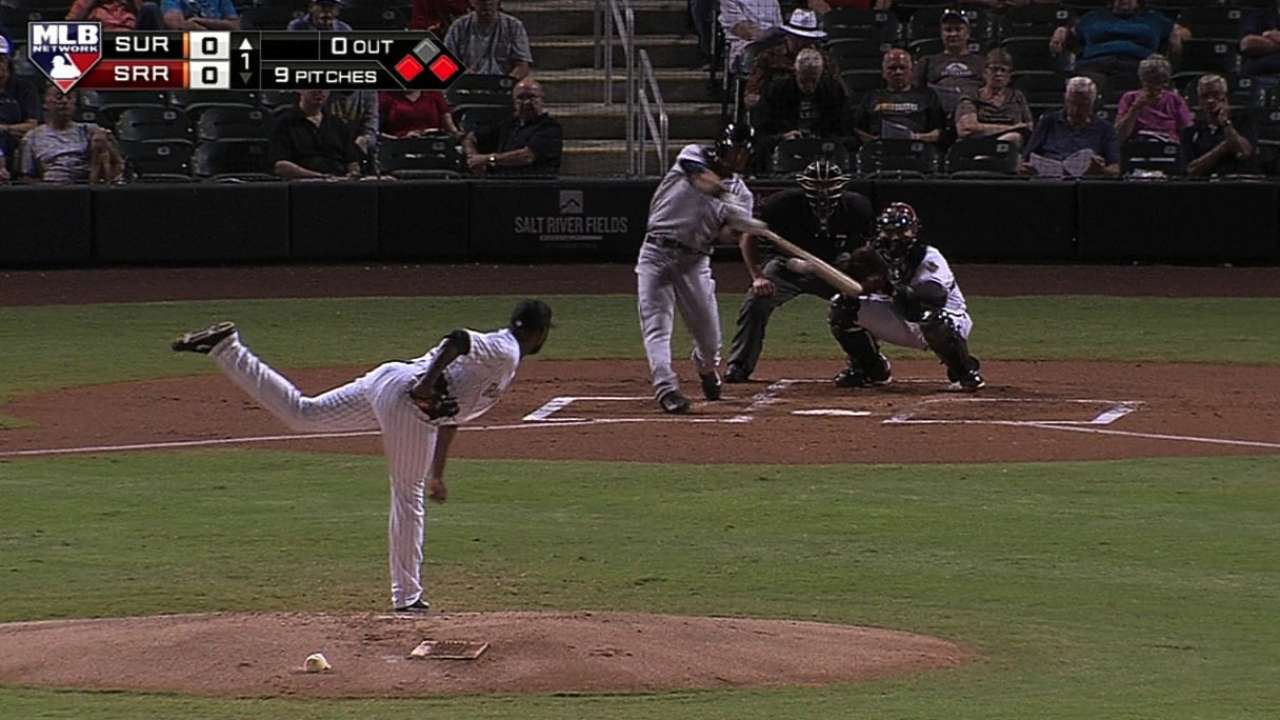 Speed is key for Padres farmhand in pitch-clock game
MLB.com
Updated 22 hours ago
San Diego prospect Mallex Smith, who swiped 88 bases in A ball this year, scored the go-ahead run in Surprise's 5-4 victory Thursday night. It was the ninth game using the 20-second pitch clock -- a pace-of-game initiative being tested at the Arizona Fa…
Upvote
Share
Tweet
The San Diego Padres have declined right-hander Josh Johnson's $4 million option for 2015.

Upvote Share Tweet

The Padres have hired Logan White from the Dodgers after 13 seasons to fill an unspecified role in the team's baseball-operations department, where he is expected to work closely with first-year general manager A.J. Preller.

Upvote Share Tweet

Phil Plantier is the latest hitting coach to be fired by the San Diego Padres.

Upvote Share Tweet

ESPN.com

Oct 17

New Los Angeles Dodgers president of baseball operations Andrew Friedman has spoken to former Diamondbacks and Padres general manager Josh Byrnes about the Dodgers' vacant GM position, according to team sources.

Upvote Share Tweet

MLB.com

Oct 17

Jake Peavy has witnessed Bruce Bochy manage since he was a 20-year-old pitcher just emerging with the Padres. Bochy is in his 20th season managing, 12 with the Padres and eight in San Francisco.

Upvote Share Tweet

Padres' Renfroe brings big bat to Fall League

MLB.com

Oct 10

Outfielder Hunter Renfroe, the 13th overall pick in the 2013 Draft and the Padres' No. 4 prospect, has gotten off to a hot start in the Arizona Fall League. On Thursday night, he went 2-for-4 with a two-run home run to help lead Surprise to a 7-4 victor…

Upvote Share Tweet

Padres name Kemp director of international scouting

MLB.com

Oct 6

When A.J. Preller was hired as gm of the Padres in August, Chris Kemp was excited for him, but in no way saw it as an opportunity to leave his own post with the Rangers for a job and a chance to be reunited with Preller in San Diego. But when Preller re…

Upvote Share Tweet

Bochy fondly recalls youth days spent in DC area

MLB.com

Oct 2

Bruce Bochy is in his eighth year managing the Giants. Before that he was the Padres' manager for a dozen seasons. Less known is that he has a strong geographical attraction to the Washington, D.C., area. His father was stationed at the Pentagon, moving…

Upvote Share Tweet

Giants Beat Padres 9-3, Gear Up for Wild-Card Game

nytimes.com

Sep 28

Buster Posey and Adam Duvall homered, and the San Francisco Giants geared up for the NL wild-card game by beating the San Diego Padres 9-3 in the regular-season finale Sunday.

Upvote Share Tweet

Roundup: Cardinals Lose but Secure at Least Tie for Division Title; Tigers Stay in First

nytimes.com

Sep 28

A grand slam in the 10th inning by the Reds' Ramon Santiago beat the Pirates and opened the door for the Cardinals.

Upvote Share Tweet

MLB.com nytimes.com

Sep 27

A reserve-laden lineup loaded the bases in the eighth inning Saturday for Brandon Crawford, whose two-run single was enough to back stellar pitching as the Giants defeated the Padres, 3-1, inside AT&T Park.

Upvote Share Tweet

MLB.com

Sep 27

For Giants right fielder Hunter Pence, preparing for the postseason took an unusual turn Saturday: resting. Pence wasn't in Saturday's lineup, ending his Major League-high streak of 331 consecutive starts.

Upvote Share Tweet

nytimes.com ESPN.com

Sep 26

The San Diego Padres rallied from six runs down and nearly spoiled San Francisco's delayed clinching party.

Upvote Share Tweet

MLB.com

Sep 26

The Giants scored in each of the first five innings, Pablo Sandoval drove in four runs and the Giants recovered from blowing a six-run lead en route to defeating the Padres, 9-8, inside AT&T Park on Thursday.

Upvote Share Tweet

MLB.com nytimes.com

Sep 25

With a 4-3 victory over Colorado -- the first career win for starter Joe Wieland -- the Padres wrapped up their most successful home campaign since 1998 and tied their third highest home win total ever.

Upvote Share Tweet

nytimes.com

Sep 24

Drew Stubbs hit a tiebreaking home run leading off the eighth and left fielder Brandon Barnes robbed Rene Rivera of a tying shot in the bottom of the inning to lead the Colorado Rockies to a 3-2 victory against the San Diego Padres on Tuesday night.

Upvote Share Tweet

MLB.com nytimes.com

Sep 23

Eric Stults didn't allow a run over 6 1/3 innings and Rene Rivera knocked in the only run of the game Monday as the Padres edged the Rockies, 1-0, before a crowd of 19,770 at Petco Park.

Upvote Share Tweet

MLB.com

Sep 22

The Padres officially put a finish to Tyson Ross' 2014 season on Monday, saying that he will not make another appearance during the team's final seven regular season games.

Upvote Share Tweet

Giants rookie Chris Dominguez finds cute message on first home-run ball

yahoo.com

Sep 22

A 27-year-old rookie with the San Francisco Giants, slugger Chris Dominguez enjoyed his first career hit — a towering home run at Petco Park — in his first major league start Sunday afternoon. The Giants fell to the San Diego Padres 5-2, further complic…

Upvote Share Tweet

Crawford Lifts Giants

Sep 27

Brandon Crawford hit a two-run single with two outs in the eighth inning to lift the Giants over the Padres 3-1.

Giants Clinch Playoffs, Rally Past Padres

Sep 25

After the Giants clinched a playoff berth with a Brewers loss, they needed three runs in the seventh to fight off the Padres 9-8.

Padres Hold Off Rockies

Sep 24

The Padres beat the Rockies 4-3 in their last home game of the season.

Rockies Slip Past Padres

Sep 23

Drew Stubbs' home run in the top of the eighth lifted the Rockies over the Padres 3-2.