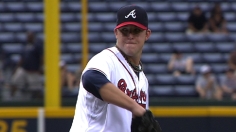 Maholm brilliant again as Braves top Padres
Updated Aug 15, 2012
Share
Tweet
Jason Heyward drilled two key doubles and Dan Uggla extended his recent surge with a three-run homer that gave Paul Maholm all the support he needed to lead the Braves to a 6-1 win over the Padres on Wednesday night at Turner Field.
Source:
MLB.com
Updated Aug 15, 2012

Share Tweet

The sale of the Padres by majority owner John Moores to a group that will be headed by long-time San Diego businessman Ron Fowler is on the agenda for Thursday's quarterly ownership meeting and must receive 75 percent of the votes from the 30 owners or …

Source:

MLB.com

Taylor Grey Meyer, Who Kindly Told The Padres To "Suck Her Dick," Is Here To Answer Your Questions

Updated Aug 15, 2012

Share Tweet

Everyone, meet Taylor Grey Meyer. Taylor, meet everyone. Taylor is the overqualified, underemployed 31-year-old who applied 30 different times for various jobs with the Padres, getting rejected or ignored each time. When they tried to hit her up for $50…

Source:

deadspin.com

Updated Aug 15, 2012

Share Tweet

Tim Hudson combined with three relievers for a five-hit shutout, Martin Prado hit a three-run homer, and the Atlanta Braves beat the San Diego Padres 6-0 on Tuesday night.

Source:

ESPN.com

Maholm Leads Braves Past Padres

Aug 15

Paul Maholm surrenders just one run over seven innings as Braves defeat Padres 6-1.

Mint Condition: Man Of Steal

Aug 15

Michele Steele is joined by Rickey Henderson to discuss his experiences in the memorabilia industry.