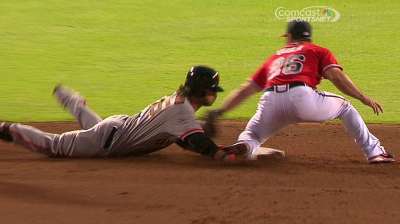 Updated Jun 17
Share
Tweet
When Brandon Crawford arrived at AT&T Park for Monday's game against the Padres, he found himself penciled into the No. 3 slot of the lineup for the first time this season as the Giants battle injuries and Buster Posey was given a day off.
Padres in holding pattern with Quentin, Cabrera

Updated Jun 17

Share Tweet

There were few answers to be had Monday in regard to the health of shortstop Everth Cabrera and left fielder Carlos Quentin. The news Monday on both was that they're still getting treatment and that a disabled-list stint is still a possibility.

The Week Ahead: Trio of clubs shifting scope of races

Updated Jun 17

Share Tweet

For Major League Baseball's hottest teams, this week offers an opportunity to add legitimacy to recent events. With plenty of division matchups on the docket, there is more ground to be gained -- or lost -- for the Padres, Royals and Blue Jays.