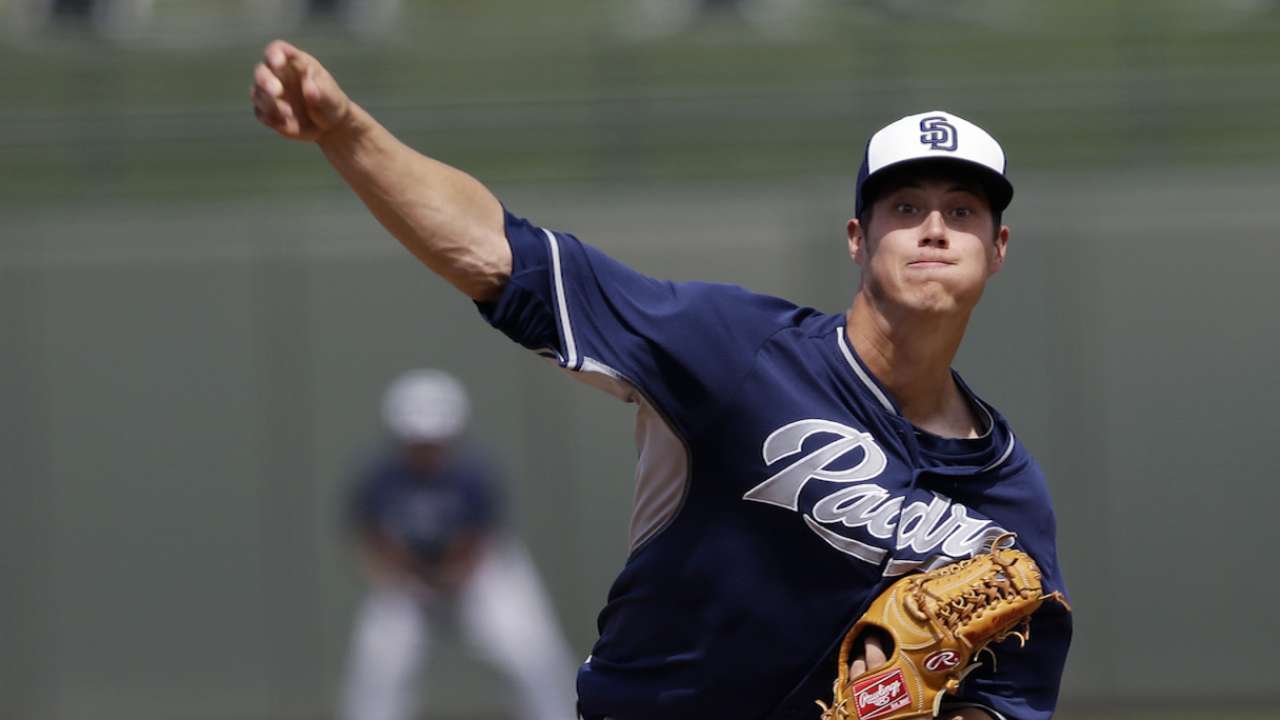 Wisler determined to build on educational 2014
MLB.com
Updated 7 hours ago
After essentially breezing his way through the Padres' organization, three-plus seasons filled with dominant starts, Matt Wisler, the club's top pitching prospect, had his toughest challenge in Triple-A last season. Now he's in camp with his eyes on a r…
Upvote
Share
Tweet
Grandal catching on quickly at Dodgers camp

MLB.com

8 hours ago

Camp Boomer, presided over by Dodgers coach Steve "Boomer" Yeager, just opened, but newcomer Yasmani Grandal -- the centerpiece in the Matt Kemp trade with the Padres -- already has opened eyes.

Upvote Share Tweet

A closer look at RB draft prospects

ESPN.com

12 hours ago

In need of an every-down running back, should they let Ryan Mathews go in free agency, the San Diego Chargers picked a good year to find one in this year's draft. "You can get those guys pretty much at any point in the draft that you want because there'…

Upvote Share Tweet

Is the old Q the new Q?

signonsandiego.com

13 hours ago

Momentum shifting to rebuilding Qualcomm Stadium where it sits - in Mission Valley

Upvote Share Tweet

signonsandiego.com

22 hours ago

Now that you have San Diego's attention, Carson, would you answer a few questions?

Upvote Share Tweet

Jarret Johnson talks Te'o, Ingam

Jarret Johnson said Chargers LB Manti Te'o became a more physical player in 2014.

Upvote Share Tweet

Preller settles in for first spring as Padres GM

MLB.com

Feb 27 (yesterday)

First-year Padres GM A.J. Preller spent a busy offseason revamping the roster, but he says he's constantly evaluating the team's makeup and looks forward to watching position battles play out in Spring Training.

Upvote Share Tweet

Amarista ready for challenge as Padres' everyday shortstop

MLB.com

Feb 27 (yesterday)

The Padres will enter the 2015 season with a new starter at the shortstop position, as Alexi Amarista will take over the role after impressing the organization with his play in 2014,

Upvote Share Tweet

ESPN vs Chargers: Who drafted best?

Who's the best NFL draft talent evaluator? The Chargers, Mel Kiper or Todd McShay?

Upvote Share Tweet

Charger Girls dynasty looks to reload

Every year, the Chargers bill the Charger Girls as the hottest dance team in the NFL.

Upvote Share Tweet

Top Off Your Batteries With These Discounted Anker Chargers

deadspin.com

Feb 27 (yesterday)

Anker makes some of the highest-rated gadget charging gear on the market, their products are among the most popular we've ever posted , and today, they're having a nice little sale on Amazon. The four included items are listed below; just be sure to not…

Upvote Share Tweet

yahoo.com

Feb 26 (yesterday)

Matt Kemp has never lacked confidence. Now in San Diego as part of the Padres' major roster overhaul, his charm and bluster have certainly not gone anywhere. Preparing to play in an outfield next to fellow offseason additions Justin Upton and Wil Myers,…

Upvote Share Tweet

Stadium expenses in perspective

Sure, a stadium might be costly, but not compared to some other uses of tax money.

Upvote Share Tweet

ESPN expert sees Bolts-Rams in L.A.

A longtime NFL reporter predicts that both the Rams and Chargers will move to Los Angeles.

Upvote Share Tweet

Chat: Benefits to Mission Valley stadium?

Matt Calkins takes questions on stadium, free agency, spring training and more.

Upvote Share Tweet

profootballtalk.com

Feb 26 (2 days ago)

Plenty of eyes are on Los Angeles right now with the Rams, Chargers and Raiders all in the mix for a move to the City of Angels and we'll be turning our attention in that direction during Thursday's PFT Live. NFL executive V.P. of NFL ventures and busin…

Upvote Share Tweet

Reggie Bush became available Wednesday but seems not a fit for the Chargers.

Upvote Share Tweet

Thoughts on King Dunlap's return

King Dunlap gave the Chargers a Pro Bowl-caliber season in 2014.

Upvote Share Tweet

Faulconer tries to QB new stadium for San Diego

"I'm going to get this done," Mayor Kevin Faulconer said. The topic of course was the Chargers stadium issue, and I saw no reason to believe our 11-month mayor wasn't speaking from his civic heart and gut.

Upvote Share Tweet

As the full squad of his remodeled club stretched in front of him for the first time, Padres chairman Ron Fowler was asked about the flurry of offseason moves that have brought excitement and a record payroll to San Diego.

Upvote Share Tweet

NFL Mock Draft 2015: Four rounds

Looking forward to the NFL Draft? Let us tell you what will happen.

Upvote Share Tweet

Shields Embracing Expectations

Feb 28

James Shields discusses his decision to sign with San Diego during the offseason, the mentality of going deep into games and facing expectations.

High Expectations For New-Look Padres

Feb 28

San Diego's big offseason acquisitions Justin Upton and Matt Kemp discuss the Padres' chemistry and share their expectations for the 2015 season.

Inglewood Clears Path For $2 Billion Stadium

Feb 25

Dan Graziano discusses whether Inglewood's approved stadium plans increase the likelihood that the Rams will return to Los Angeles.

San Diego Speeds Up Stadium Plan

Feb 24

Chargers reporter Eric D. Williams talks about the team forcing San Diego's hand with its plan to possibly move to Los Angeles.