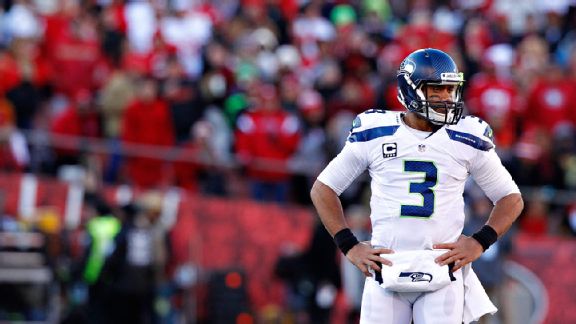 Updated 1 hour ago
Share
Tweet
SAN FRANCISCO -- In a span of days the Seahawks had traveled from one end of the competitive spectrum to the other. They had romped over the highly regarded Saints on a Monday night at home, then lost a heartbreaker to the 49ers six days later in Candle…
Sources:
CNNSI.com
ESPN.com
yahoo.com
profootballtalk.com
Batkid saves San Francisco again as the 49ers defeat the Seahawks

Updated 2 hours ago

Share Tweet

Holy smokes, San Francisco. Batkid saved the day again. You may know him as Miles Scott, a dynamic 5-year-old boy who recently darted around San Francisco to save Gotham through the Make-A-Wish Foundation. He is a leukemia patient who played hero for a …

Source:

yahoo.com

Updated 4 hours ago

Share Tweet

Although the San Francisco 49ers defeated the Seattle Seahawks on Sunday, preventing Seattle from clinching the NFC West title, cornerback Richard Sherman was unimpressed, blaming the loss on "questionable calls" from officials in the game.

Sources:

ESPN.com profootballtalk.com

Updated 14 hours ago

Share Tweet

The Seahawks lost for the second time this season on Sunday and the cost was more than a game off their lead in the NFC West. Coach Pete Carroll said after the game that linebacker K.J. Wright broke a bone in his foot during the 19-17 loss to the 49ers.…

49ers 19, Seahawks 17: San Francisco Demonstrates That It Has a Home-Field Advantage, Too

Updated 15 hours ago

Share Tweet

San Francisco kept themselves inside the wild-card playoff pursuit by edging Seattle, who they could meet again in January.

Source:

nytimes.com

Updated 15 hours ago

Share Tweet

GLENDALE, Ariz. -- In the rough and tumble NFC West division, one team was supposed to emerge as a sleeper capable of challenging the powerhouse Seahawks and 49ers. That team was on the field at the University of Phoenix Stadium on Sunday afternoon but …

Updated 17 hours ago

Share Tweet

The Ravens pulled off a dramatic win over the Vikes to stay alive in the playoff race. Plus, more Snaps.

Source:

CNNSI.com

Lynch borrowing teammate's helmet isn't an issue for the league

Updated 18 hours ago

Share Tweet

During Sunday's game between the Seahawks and the 49ers included a moment when running back Marshawn Lynch became separate from his helmet. So he grabbed a helmet from a teammate, put it on, and kept playing. In any other year, it would be an intriguing…

Updated 23 hours ago

Share Tweet

SANTA CLARA, Calif. -- As expected, standout left tackle Joe Staley is active and slated to start for the San Francisco 49ers against the Seattle Seahawks on Sunday. Staley sprained his right knee early against the Rams last week and he did not return. …

Updated Dec 8 (yesterday)

Share Tweet

Join our ESPN.com NFL experts as they break down the Seattle Seahawks' visit to the San Francisco 49ers. Contribute your thoughts and questions beginning at 4 p.m. ET. And, be sure to visit our NFL Nation Blitz page for commentary from every game, as we…

Statistically speaking, Seattle has edge

Updated Dec 8 (yesterday)

Share Tweet

RENTON, Wash. -- The Seahawks are a 3-point underdog Sunday at San Francisco, the first time this season Seattle hasn't been favored. However, statistically speaking, the 11-1 Seahawks are better than the 8-4 49ers in most categories, as the table shows…

Undercover officers to be present again at Candlestick Park

Updated Dec 8 (yesterday)

Share Tweet

As the Seahawks face the 49ers at Candlestick Park for the final time, police will be there. Again. According to KTVU-TV, officers will be wearing both Seahawks jerseys and 49ers jerseys. "Energized fans going at each other — totally in bounds, no probl…

Seahawks in uncommon role of underdogs Sunday at San Francisco

Updated Dec 7 (yesterday)

Share Tweet

Numerous Nevada sports books have made the 49ers 2.5-point favorites over the visiting Seahawks on Sunday in San Francisco, according to multiple line-monitoring websites. If you did a double-take seeing 11-1 Seattle as an underdog, you couldn't be blam…

Crabtree declares it's a "new day, new game"

Updated Dec 7 (yesterday)

Share Tweet

The last time the 49ers played the Seahawks, they didn't have receiver Michael Crabtree. And the Niners lost, 29-3. This time, Crabtree is back. And he thinks it will lead to an improved outcome for San Francisco. "Now it's different. New day, new game,…

Quarterbacks on Rise, and on Collision Course

Updated Dec 7 (yesterday)

Share Tweet

The Seahawks' Russell Wilson and 49ers' Colin Kaepernick appear to be quarterback stars in the making, but in many ways, they could not be more different.

Source:

nytimes.com

Updated Dec 7 (yesterday)

Share Tweet

In September, someone (possibly with the Eagles) was putting out the word that the Eagles nearly traded for 49ers quarterback Colin Kaepernick prior to the 2012 draft, and that the Eagles otherwise wanted to pick Seahawks quarterback Russell Wilson. Phi…

Marcus Lattimore's practice window ends on high note

Updated Dec 7 (2 days ago)

Share Tweet

By the time he carries the ball again, it will be a year and a half since the grisly knee injury that ended his college career. But after three weeks practicing with the 49ers, rookie running back Marcus Lattimore is convinced he'll be ready when his ti…

How has the NFC playoff picture changed?

Dec 9

The San Francisco 49ers beat the Seattle Seahawks and the New Orleans Saints knocked off the Carolina Panthers, so what did we learn about the NFC playoff picture? The "NFL GameDay Final" guys discuss.

GameDay: Seattle Seahawks vs. San Francisco 49ers highlights

Dec 9

San Francisco 49ers running back Frank Gore carries 17 times for 110 yards to lead his team over the Seattle Seahawks 19-17 on Sunday.

Sunday Blitz: 49ers-Seahawks Recap

Dec 8

Jim Basquil and Eric Allen break down the 49ers' Week 14 win over the Seahawks.

49ers Stun Seahawks Late

Dec 8

Phil Dawson's field goal with 26 seconds to go sent the 49ers to a 19-17 win, putting an end to the Seahawks' seven-game winning streak.