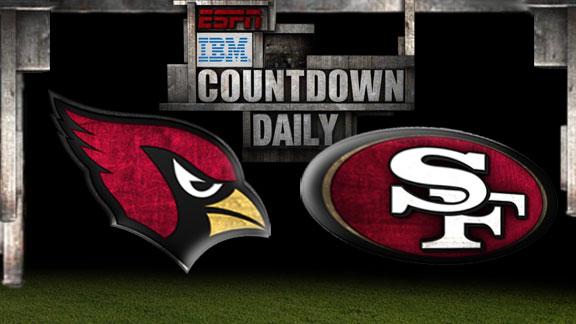 CNNSI.com
ESPN.com
profootballtalk.com
Updated Dec 28, 2012
SANTA CLARA, Calif. (AP) Vernon Davis is anxious to get back on the field with the San Francisco 49ers and help them build momentum for the playoffs during Sunday's regular-season finale against Arizona.
Share
Tweet
ESPN.com

Dec 28, 2012

Justin Smith cleared up confusion over his injury situation Friday. The San Francisco 49ers' Pro Bowl defensive lineman will require surgery to repair his injured triceps. However, Smith will wait until the offseason before undergoing the procedure. In …

Share Tweet

Updated look at odds for Super Bowl

ESPN.com

Dec 28, 2012

Week 17: Odds to Win Super Bowl The Seattle Seahawks have pulled nearly even with the San Francisco 49ers in terms of odds to win the Super Bowl this season. The chart shows the latest odds, courtesy of the online sportsbook Bovada. The 49ers were the f…

Share Tweet

Mike Shanahan: No one in NFL history has played at RG3"²s level

profootballtalk.com

Dec 28, 2012

Redskins coach Mike Shanahan was the head coach of a Broncos team that had a Hall of Fame quarterback in John Elway, and he was the offensive coordinator of a 49ers team that had two Hall of Fame quarterbacks in Joe Montana and Steve Young. But Shanahan…

Share Tweet

'Playbook': Arizona Cardinals vs. San Francisco 49ers

Dec 28

Can San Francisco 49ers linebacker Aldon Smith make history on Sunday? The "Playbook" experts explain what Smith needs to do to break Michael Strahan's NFL sacks record.

Sports Columnists

Peter King: Cowboys on familiar ground with win-or-go-home Week 17

Dec 28

In the offseason, Dallas coach Jason Garrett visited the Yankees' spring-training home in Tampa, and sought out Derek Jeter. Garrett was raised in Yankee country, so he has great respect for the Yankee shortstop, and he wanted to ask him about leadershi…

NFL - John Clayton's five most cherished NFL records

Dec 28

Football records might not resonate like those in baseball, but there are five NFL records that stand above the rest, John Clayton writes.