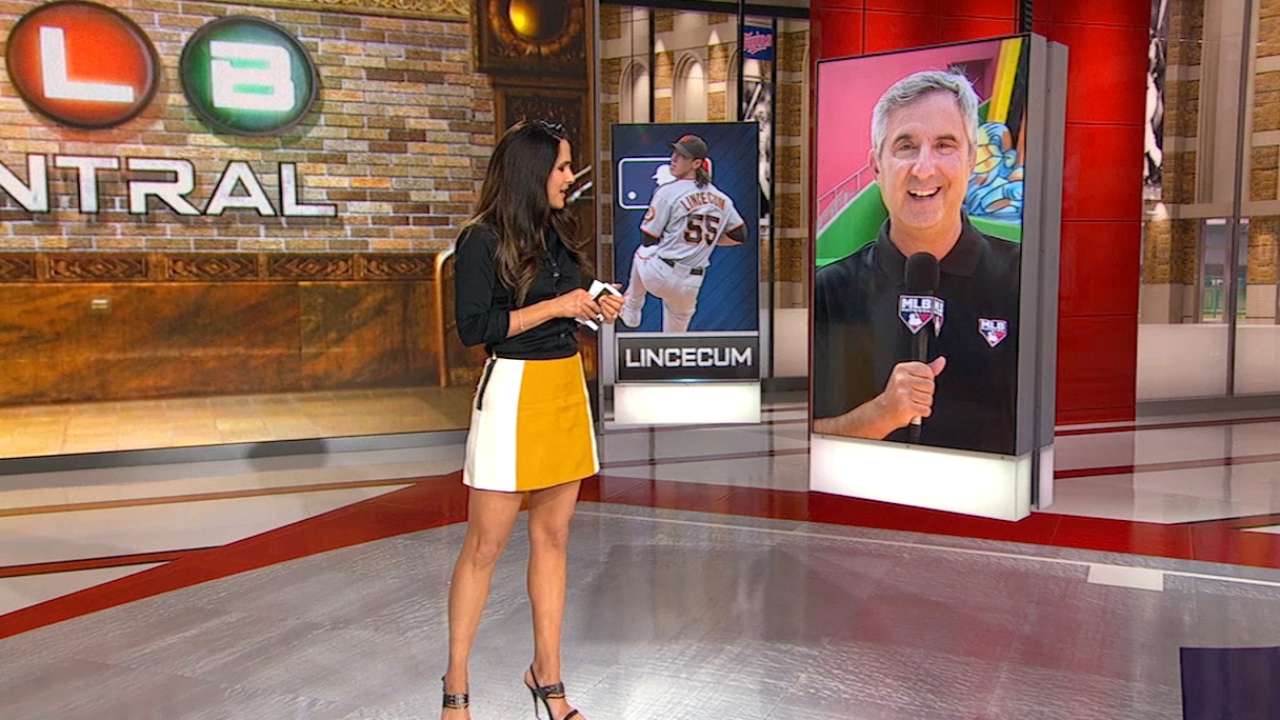 Lincecum to host showcase for potential teams
MLB.com
Updated 4 hours ago
Giants general manager Bobby Evans confirmed in a text message Sunday that his club will have a scout or representative present at Tim Lincecum's pitching showcase -- which, MLB Network's Jon Heyman reported, will take place Friday in Scottsdale, Ariz.
Share
Tweet
Giants 6, Mets 1: Giants Discover, and Exploit, a Weakness Against Syndergaard

nytimes.com

9 hours ago

San Francisco base runners were 3 for 3 in steal attempts against Noah Syndergaard and snapped the Mets' eight-game winning streak.

Share Tweet

MLB.com

9 hours ago

Scuffling throughout the second half of April, and in particular on the road, the Giants made sure not to leave Flushing without a parting gift. Madison Bumgarner outpitched Noah Syndergaard on Sunday, Hunter Pence clubbed a two-run homer and the Giants…

Share Tweet

yahoo.com

May 1 (yesterday)

Welcome to The Walk Off, the nightly MLB recap from Big League Stew. Here we'll look at the top performers of the night, show you a must-see highlight and rundown the scoreboard. First, we start with a game you need to know about. Does April have to end…

Share Tweet

Baseball Capsules: Michael Conforto and Wilmer Flores homered and th…

nytimes.com

May 1 (yesterday)

Michael Conforto and Wilmer Flores homered and the New York Mets won their eighth in a row, building an early lead for Jacob deGrom and holding off the San Francisco Giants 6-5 Saturday.

Share Tweet

Baseball celebrates life of trailblazer Irvin

MLB.com

May 1 (yesterday)

Monte Irvin was remembered with an inspirational "Celebration of Life" on Saturday morning at the South Orange Performing Arts Center, in the community where the Hall of Famer, Negro Leaguer, war veteran and New York Giants trailblazer grew up…

Share Tweet

nytimes.com

Apr 30 (yesterday)

Conforto continued to display his quiet talent, going 3 for 4 with three runs batted in, as the Mets topped the San Francisco Giants, 6-5, at Citi Field.

Share Tweet

nytimes.com MLB.com

Apr 29 (2 days ago)

For a while there, it seemed as though the New York Mets would never make another out.

Share Tweet

nytimes.com

Apr 27 (4 days ago)

Dustin Pedroia had a grand slam and a solo home run, David Ortiz passed two Hall of Fame Red Sox on the extra-base hitting list, and host Boston beat the Atlanta Braves, 9-4.

Share Tweet

Giants outslug Padres en route to sweep

The entire San Francisco offense got into the fun Wednesday afternoon, as the Giants completed their sweep of the Padres with a 13-9 victory at AT&T Park. All nine starters either scored a run or drove one in, and the Giants set a season high with t…

Share Tweet

Belt spearheads 'shifty' offense with 5-RBI day

Brandon Belt said he didn't pay much attention to the shift. Matt Duffy said it was the first time he tried to beat it. Either way, the approach worked as Belt recorded three hits and drove in five runs and Duffy added three hits, including a triple, in…

Share Tweet

Myers pushes hit streak to 12 with long ball

Wil Myers loudly and emphatically tied his career-high 12-game hitting streak Wednesday, crushing a three-run home run into the left-field seats at AT&T Park during the seventh inning of the Padres' 13-9 loss to the Giants.

Share Tweet

yahoo.com MLB.com nytimes.com

Apr 27 (5 days ago)

The San Francisco Giants are 11-11, which isn't exactly stunning for a team that has every bit of the talent necessary to win another World Series. But a .500 record for these Giants at this point? That actually isn't too bad at all. The Giants have had…

Share Tweet

nytimes.com MLB.com

Apr 26 (6 days ago)

Healthy at last, Angel Pagan is thriving batting ninth and giving the Giants consecutive leadoff hitters capable of impacting a game with the bat or on the basepaths.

Share Tweet

MLB.com nytimes.com

Apr 24

Displaying the type of durability that had eluded him this season, Giants right-hander Jake Peavy muted Miami's offense for seven innings Saturday night as he outperformed Marlins ace Jose Fernandez in San Francisco's 7-2 victory.

Share Tweet

Giants bats come alive to back strong Shark

MLB.com

Apr 23

After enduring a scarcity of scoring during a five-game losing streak, the San Francisco Giants ended both slumps Friday night by rapping 14 hits and receiving a balanced effort from right-hander Jeff Samardzija in an 8-1 triumph over the Miami Marlins.

Share Tweet

Righty Jeff Samardzija Drives in 3 Runs, Wins Home Debut

nytimes.com

Apr 23

When the Marlins intentionally walked Brandon Crawford to bring up pitcher Jeff Samardzija in the No. 8 hole, Giants manager Bruce Bochy second-guessed whether this might have been a night to bat his starter in the typical ninth slot.

Share Tweet

yahoo.com

Apr 22

Something changes in a man when he becomes a parent. Heck, maybe everything changes. Priorities get rearranged. Selfishness vanishes. And emotions he doesn't know even existed show themselves. And, particularly in the case of Buster Posey, the star catc…

Share Tweet

Leaving San Francisco Was Easy Call For Sandoval

Mar 9

ESPN SweetSpot blogger David Schoenfield discusses Pablo Sandoval's comments about feeling disrespected by the Giants.

No Surgery Needed For Hunter Pence

Mar 6

Stephania Bell looks at the road ahead for Hunter Pence and when he'll likely be able to return to the Giants' lineup after breaking his arm when he was hit by a pitch.

Hunter Pence Out Six To Eight Weeks

Mar 5

ESPN.com MLB writer/editor Christina Kahrl reacts to Hunter Pence's left forearm fracture, which will sideline him for six to eight weeks.

Posey On Giants' Focus, Preparations

Feb 23

Three-time World Series champion Buster Posey talks about his preparations for this season, how San Francisco's rotation will shake out and the competition within the division.