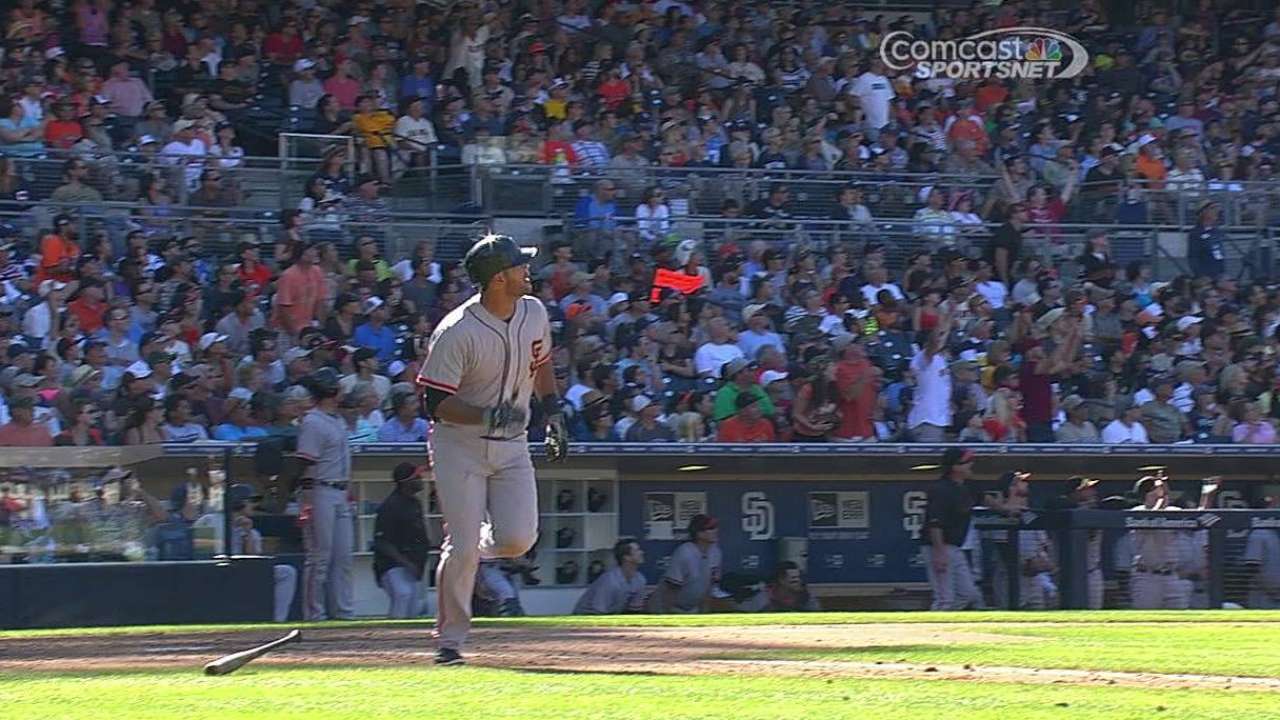 ESPN.com

20 hours ago

The two men who savagely beat a San Francisco Giants fan outside Dodger Stadium face up to 10 years in federal prison on firearms convictions.

Upvote Share Tweet

Hosmer looks back on Royals' 'incredible ride'

MLB.com

Jan 29 (yesterday)

Watching the Royals sweep their way through the early part of the postseason and into the World Series, it was apparent just how much the club's run energized the organization and Kansas City itself. After getting over the disappointment of the Royals' …

Upvote Share Tweet

yahoo.com

Jan 28 (2 days ago)

When Pablo Sandoval chose to leave the San Francisco Giants for the Boston Red Sox in free agency, he talked about wanting "new challenges." Maybe that meant hitting homers over the Green Monster. But maybe it also meant hitting half-court bas…

Upvote Share Tweet

MLB.com

Jan 28 (3 days ago)

Cuban teenage prospect Yoan Moncada has worked out privately for the Yankees, Red Sox, Dodgers, Padres, Giants, Rangers and Brewers, according to sources. The Rays, Cubs, Phillies and Cardinals have also shown interest. The question remains: When will M…

Upvote Share Tweet

Mays man of the hour as Giants return to New York

MLB.com

Jan 26 (4 days ago)

Willie Mays' appearance highlighted one of several events that the Giants scheduled last week to share the glory of the 2014 World Series triumph with fans in the franchise's original home.

Upvote Share Tweet

NYC fans endure winter weather to visit WS trophy

MLB.com

Jan 24 (6 days ago)

Fans withstood the 30-degree weather to line up on the snow-covered sidewalks hours before Finnerty's sports bar in New York opened in order to secure a chance for a picture with the Giants' coveted championship hardware.

Upvote Share Tweet

MLB.com yahoo.com nytimes.com ESPN.com

Jan 23

Ryan Vogelsong officially returned to the Giants on Friday, as the right-hander signed a one-year deal to remain with the team that first drafted him and to which he returned in 2011.

Upvote Share Tweet

Stow attacker pleads guilty to weapons charge

ESPN.com

Jan 22

A man who severely beat a San Francisco Giants fan outside Dodger Stadium has pleaded guilty to a federal weapons charge.

Upvote Share Tweet

The Giants have designated second baseman Marco Scutaro for assignment.

Upvote Share Tweet

yahoo.com MLB.com nytimes.com

Jan 20

Nori Aoki was introduced Tuesday as an official member of the San Francisco Giants, and the hoopla of joining the defending World Series champs had the outfielder feeling like a giant. So much so, that he had a rather interesting idea about how he could…

Upvote Share Tweet

MLB.com

Jan 20

As Alex Wood watched Madison Bumgarner lead the Giants to their latest World Series title with one of the most dominant postseasons ever fashioned by a pitcher, he recognized the same competitive fire he had witnessed while watching Bumgarner pitch in a…

Upvote Share Tweet

Giants reportedly ink Blanco to two-year deal

MLB.com

Jan 18

The Giants and outfielder Gregor Blanco have agreed to a two-year, $7.5 million contract to avoid arbitration, according to a report from the San Francisco Chronicle, which cited Venezuelan outlet Lider en Deportes.

Upvote Share Tweet

The Giants reached agreement on a one-year, guaranteed $4.7 million contract with free-agent outfielder Norichika Aoki.

Upvote Share Tweet

Giants in no rush to finish complementing roster

MLB.com

Jan 14

Anybody believing that Giants general manager Brian Sabean has hit the snooze button on this offseason hasn't paid attention. Sabean believes that time begins on Opening Day, to paraphrase the title of Thomas Boswell's book. Hence, waiting until mid-Jan…

Upvote Share Tweet

Buster's Blog: Importance Of Brandon Belt

Jan 29

With the loss of Pablo Sandoval, the Giants will need Brandon Belt to step up in production if the team hopes for any chance at repeating as champions.

Greatest Dynasties In Baseball History

Jan 26

Cary Chow and David Schoenfield look at the greatest baseball dynasties and pick out where the current Giants fit on the list.

Buster's Blog: Value Of A Good Righty

Dec 23

Buster Olney discusses the Giants and Sergio Romo agreeing to a new deal and why it is especially important because of the Padres' recent additions.

Giants Need To Make Splash To Avoid Being Offseason Losers

Dec 17

Buster Olney explains why the San Francisco Giants have been the offseason losers thus far after losing out on the bidding for pitcher Jon Lester and 3B Pablo Sandoval.