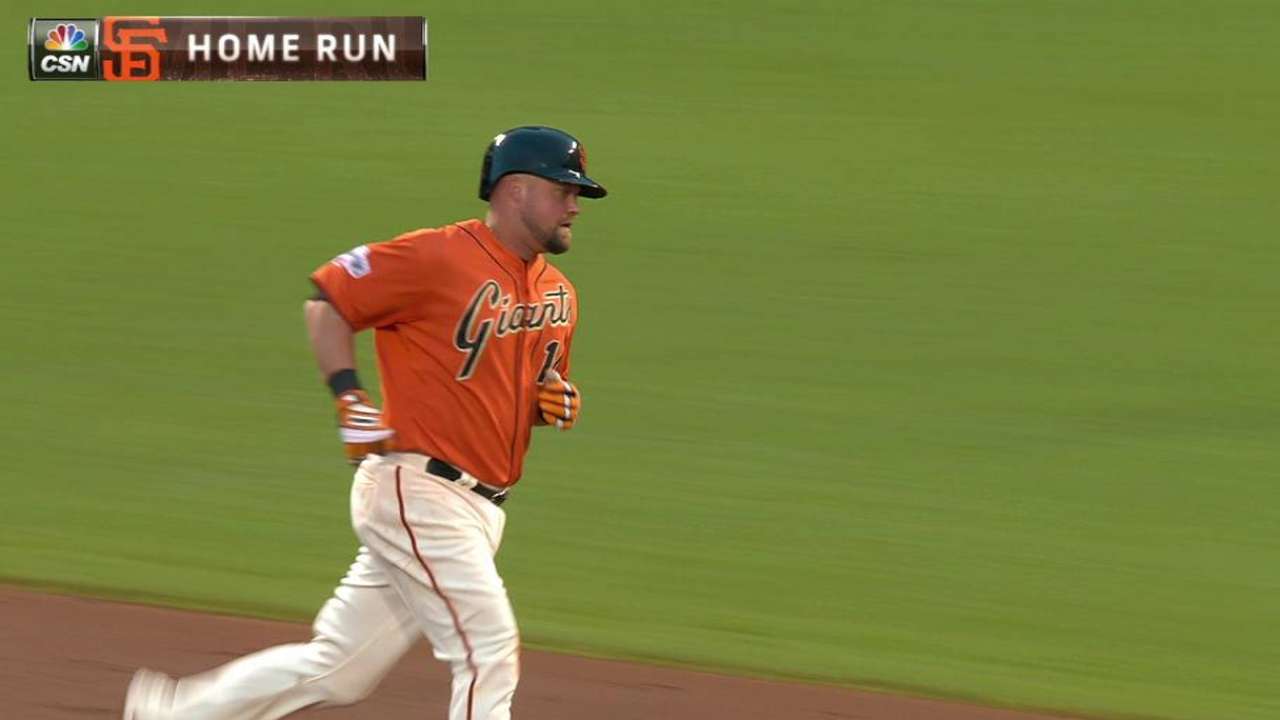 McGehee accepts assignment to Triple-A
MLB.com
Updated 8 hours ago
Bent on contributing to the Giants this season, third baseman Casey McGehee accepted his assignment to Triple-A Sacramento and was expected to be in the River Cats' lineup Tuesday night against Nashville and former San Francisco left-hander Barry Zito.
Share
Tweet
Bumgarner Notches Another Win, Giants Beat Brewers 6-3

nytimes.com

2 hours ago

Madison Bumgarner won another game in May and three San Francisco Giants homered in a 6-3 victory over the Milwaukee Brewers on Tuesday night.

Share Tweet

Giants-Dodgers: The race we deserve

MLB.com

15 hours ago

If we're going to have a Giants-Dodgers summer, we must be doing something right. Isn't this the living, breathing definition of a great rivalry? Isn't baseball better when they're both competitive? Who ya got?

Share Tweet

nytimes.com MLB.com

May 25 (yesterday)

Hamilton, who has been slowed by shoulder surgery, went 0 for 3, but he reached base on a throwing error in the seventh, a play that provided the decisive run.

Share Tweet

Braun blasts Miller Park's longest righty homer

MLB.com

May 25 (yesterday)

Ryan Braun's fifth-inning home run vs. the Giants sailed clear out of Miller Park on Monday, conjuring memories of Russell Branyan against Greg Maddux and Sammy Sosa in the All-Stat Home Run Derby more than a decade ago.

Share Tweet

MLB.com nytimes.com

May 24 (2 days ago)

An emphatic eight-run fourth inning and Chad Bettis' dominant mound performance were more than enough for the Rockies in their 11-2 win over San Francisco in Sunday's series finale at Coors Field.

Share Tweet

yahoo.com

May 24 (2 days ago)

The San Francisco Giants and Colorado Rockies had a long day at the ballpark on Saturday. The division rivals met up for a day/night doubleheader that was scheduled to begin at 2:10 and 7:10 pm respectively in Denver, but ended up way behind schedule th…

Share Tweet

Descalso's rare homer snaps Giants' streak

MLB.com

May 24 (3 days ago)

Daniel Descalso's two-run homer in Saturday night's sixth inning enabled the Colorado Rockies to inch ahead and helped them claim a 5-3 victory over the San Francisco Giants, ending the defending World Series champions' eight-game winning streak.

Share Tweet

Giants outlast Rockies for eighth straight win

MLB.com

May 23 (3 days ago)

A remarkable display of two-out hitting carried the San Francisco Giants to their eighth consecutive victory, a 10-8 decision Saturday over the Colorado Rockies in the first half of a day-night doubleheader.

Share Tweet

Sprained toe forces Lyles to exit vs. Giants

MLB.com

May 23 (3 days ago)

Rockies right-hander Jordan Lyles suffered a sprained toe on his left foot during Saturday's start against the Giants. He is listed as day to day.

Share Tweet

yahoo.com MLB.com nytimes.com

May 23 (3 days ago)

Just when you thought it was safe to party at Coors Field on a Friday night, Brandon Belt of the San Francisco Giants is here to crash it. Or at the very least make you reconsider your choices in life. During Friday's wild 11-8 victory against the Rocki…

Share Tweet

Home Run by Pitcher Madison Bumgarner Evokes a Bygone Era

nytimes.com

May 22 (5 days ago)

Clayton Kershaw, the Dodgers' ace and 3-time Cy Young Award winner, had never given up a home run to a pitcher until Thursday's 415-foot shot to left field by the Giants' Madison Bumgarner.

Share Tweet

yahoo.com

May 21 (5 days ago)

When the San Francisco Giants and Los Angeles Dodgers tangle, the baseball is usually a little bit different, a little more intense. They're the biggest rivals on the West Coast and they manage to give even early-season games a September feel. What happ…

Share Tweet

MadBum hits 415-foot HR off Kershaw

MLB.com

May 21 (5 days ago)

Madison Bumgarner gained the distinction of being the first pitcher to hit a home run off Dodgers ace Clayton Kershaw. San Francisco's Paul Bunyanesque left-hander, who bats right-handed, added to his resume of prodigious feats (see: 2014 postseason) by…

Share Tweet

Peavy not rushing back to Majors

MLB.com

May 21 (5 days ago)

Jake Peavy wants to go back to work. But the Giants' right-hander knows that there's no hurry. Sidelined since April 17 with back pain, Peavy's thrilled to begin his Minor League injury rehabilitation stint with Class A Advanced San Jose on Friday.

Share Tweet

MLB.com nytimes.com

May 21 (6 days ago)

Conjuring the magic he displayed during his Cy Young Award-winning years, Tim Lincecum allowed three hits in seven innings to lead the Giants to their second straight shutout victory over the Dodgers, a 4-0 verdict on Wednesday night. San Francisco has …

Share Tweet

Duffy relishes Giants-Dodgers rivaly

MLB.com

May 20 (6 days ago)

Giants rookie Matt Duffy, a native of Southern California, loves the intensity of the Dodgers-Giants rivalry.

Share Tweet

Pence makes a signature catch in home debut

MLB.com

May 20 (7 days ago)

Hunter Pence's catch of Adrian Gonzalez's sixth-inning drive to right-center field on Tuesday night might not have been the stuff of legend, but it was one of the most discussed events among those who witnessed the Giants' fifth victory in seven games t…

Share Tweet

Hudson leads combined shutout vs. Dodgers

MLB.com

May 20 (7 days ago)

Tim Hudson ended a mini-slump with an effectively stubborn 6 1/3-inning performance, and Buster Posey delivered a key run with a third-inning single Tuesday night as the Giants beat the Dodgers, 2-0, despite a solid start from Carlos Frias.

Share Tweet

Parallels link McCovey, Pence through years

MLB.com

May 18

A Giants middle-of-the-order hitter misses much of the early season with a broken arm. The club's offense struggles without him. He rejoins the lineup and almost immediately asserts himself by clobbering a home run. Such are the parallels between Willie…

Share Tweet

Price seeking consistency from rotation

MLB.com

May 18

It was certainly a bad weekend for a Reds rotation that was pummeled for three straight losses in the four-game series vs. the Giants. Monday's off-day was certainly welcomed as much as the knowledge ace Johnny Cueto is pitching Tuesday against the Roya…

Share Tweet

Leaving San Francisco Was Easy Call For Sandoval

Mar 9

ESPN SweetSpot blogger David Schoenfield discusses Pablo Sandoval's comments about feeling disrespected by the Giants.

No Surgery Needed For Hunter Pence

Mar 6

Stephania Bell looks at the road ahead for Hunter Pence and when he'll likely be able to return to the Giants' lineup after breaking his arm when he was hit by a pitch.

Hunter Pence Out Six To Eight Weeks

Mar 5

ESPN.com MLB writer/editor Christina Kahrl reacts to Hunter Pence's left forearm fracture, which will sideline him for six to eight weeks.

Posey On Giants' Focus, Preparations

Feb 23

Three-time World Series champion Buster Posey talks about his preparations for this season, how San Francisco's rotation will shake out and the competition within the division.