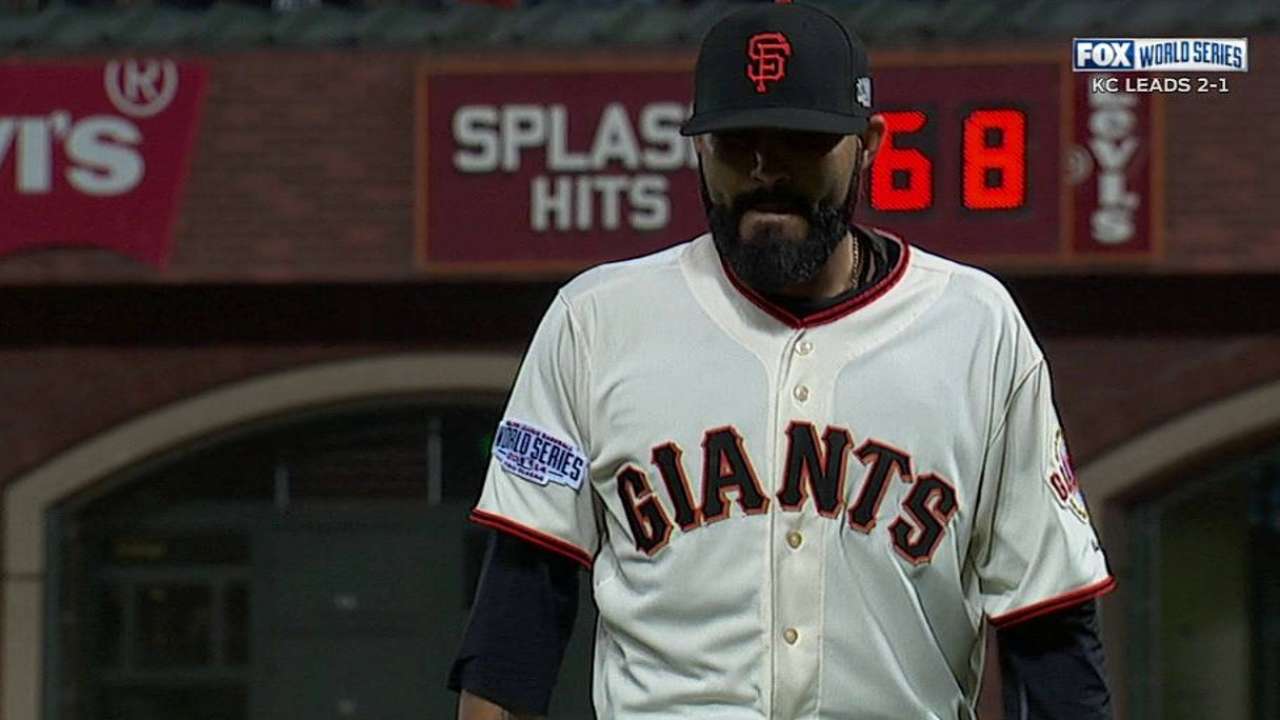 Giants re-sign reliever Romo to 2-year deal
MLB.com
Updated 3 hours ago
The Giants have re-signed right-handed relief pitcher Sergio Romo to a two-year contract, club Senior Vice President and General Manager Brian Sabean announced Monday. Per club policy, financial terms were not disclosed.
Upvote
Share
Tweet
Cain resurgence could be difference-maker in '15

MLB.com

Dec 21 (yesterday)

It's been a surprising, slow-to-develop Hot Stove season for the Giants. But all could be forgotten in a hurry next spring if Matt Cain returns strong to join Madison Bumgarner in one of baseball's best 1-2 combinations

Upvote Share Tweet

nytimes.com MLB.com ESPN.com yahoo.com

Dec 21 (yesterday)

Having acquired Martin Prado from the Yankees, Miami traded McGehee, a third baseman, to the San Francisco Giants for the minor league right-handers Kendry Flores and Luis Castillo.

Upvote Share Tweet

Active of late, Giants pondering next offseason move

MLB.com

Dec 20 (yesterday)

After sitting back and watching other teams swoop in on their free-agent targets earlier this offseason, the Giants have moved decisively in recent days. They answered their third-base question with Casey McGehee and will soon formally announce that the…

Upvote Share Tweet

nytimes.com yahoo.com MLB.com ESPN.com

Dec 19 (3 days ago)

The Giants are keeping a key member of their World Series rotation, bringing back Jake Peavy and one of the Southern boys who thrived on the big October stage alongside ace Madison Bumgarner.

Upvote Share Tweet

Bidding ends today for Korean slugger Kang

MLB.com

Dec 19 (3 days ago)

Major League organizations have until 5 p.m. ET on Friday to put in bids for Korean slugger Jung-Ho Kang, a shortstop who has reportedly drawn interest from the Giants, A's, Padres, Royals, Nationals and D-backs.

Upvote Share Tweet

The San Francisco Giants are finalizing a two-year, $15 million deal with reliever Sergio Romo, a source confirmed to ESPN.

Upvote Share Tweet

Report: Giants re-sign reliever Sergio Romo for two years, $15M

yahoo.com

Dec 17 (5 days ago)

The San Francisco Giants haven't done much this offseason beyond getting sized for their World Series rings. They earned the bronze medal in the Jon Lester sweepstakes. They haven't addressed their need in left field. They watched Pablo Sandoval leave f…

Upvote Share Tweet

Hometown shows pride for Panik after quick ascension

MLB.com

Dec 16 (6 days ago)

Joe Panik has been the talk of town in his suburban New York community since the Giants selected him in the first round of the 2011 First-Year Player Draft, but never more so than in recent months as he took the local-boy-makes-good narrative several st…

Upvote Share Tweet

Trade looking more likely as Giants eye third-base answer

MLB.com

Dec 15 (7 days ago)

The Giants might have to engineer a trade to obtain a third baseman, since the supply of capable free agents at that position dwindled sharply Monday.

Upvote Share Tweet

SAN DIEGO — For Jon Lester, it really wasn't about which team offered him the most money. Lester, the free-agent prize of the Winter Meetings, agreed Tuesday night to join the Chicago Cubs for $155 million, according to Yahoo Sports' Jeff Passan. But he…

Upvote Share Tweet

MLB.com

Dec 10

Giants ace Madison Bumgarner, who was named Sports Illustrated's 2014 Sportsman of the Year, offered a charming and humble acceptance speech Tuesday night in New York. His efforts were lauded by Commissioner-elect Rob Manfred and Magic Johnson, co-owner…

Upvote Share Tweet

Giants Need To Make Splash To Avoid Being Offseason Losers

Dec 17

Buster Olney explains why the San Francisco Giants have been the offseason losers thus far after losing out on the bidding for pitcher Jon Lester and 3B Pablo Sandoval.

Bochy, Giants Looking For Another Title

Dec 10

Giants manager Bruce Bochy joined Pedro Gomez to discuss getting ready for the 2015 season, including how the team plans to replace Pablo Sandoval.

Giants Out Of Lester Bidding

Dec 9

"Baseball Tonight" analysts Karl Ravech, Jim Bowden, Jerry Crasnick and Tim Kurkjian report from the winter meetings, including the latest on Jon Lester's free-agent decision and other pitchers available to the teams that don't sign Lester.

Bidding War For Jon Lester

Dec 9

Buster Olney discusses the latest news on free-agent pitcher Jon Lester, who has offers of at least $150 million from multiple teams.