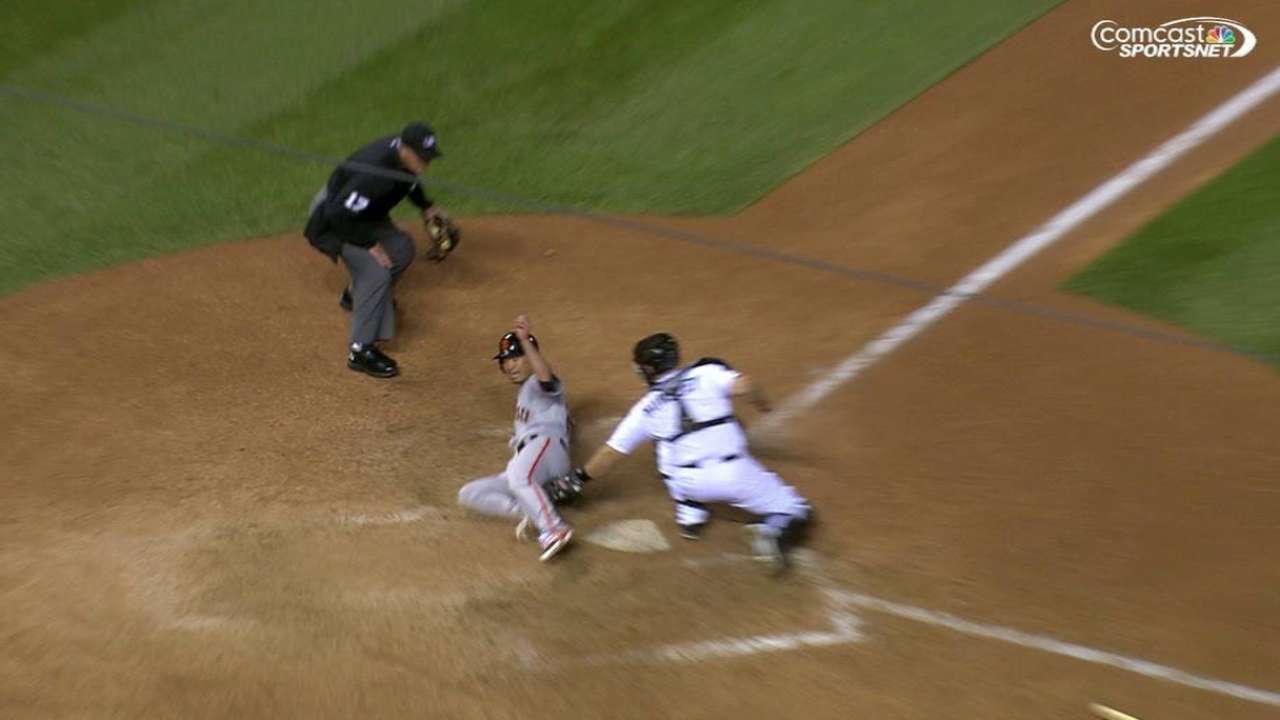 MLB.com
nytimes.com
Updated 6 hours ago
Nori Aoki scored the deciding run on a squeeze bunt by Joe Panik in the 11th inning as the Giants survived a Rockies rally in the ninth for a 5-4 win on Saturday night. Justin Maxwell's replay-reviewed two-run homer helped offset solo shots by Troy Tulo…
Share
Tweet
Ynoa, Butler Send Rockies to 6-4 Win Over Giants

nytimes.com

Apr 25 (yesterday)

Pinch-hitter Rafael Ynoa snapped a sixth-inning tie with an RBI double, Eddie Butler was backed by stellar defense over six shaky innings and the Colorado Rockies beat the San Francisco Giants 6-4 on Friday night.

Share Tweet

MLB.com

Apr 24 (yesterday)

Third baseman Nolan Arenado helped pitcher Eddie Butler avoid a big inning in the fourth Friday night and showed why he has won a National League Gold Glove at his position in each of his first two seasons.

Share Tweet

Trio of Giants stars make progress in rehab

MLB.com

Apr 24 (yesterday)

Three key Giants are making progress in their rehabilitation from early injuries. Hunter Pence played some soft toss and swung off a tee in the indoor batting cage before the opening game of the Giants' three-game series in Colorado.

Share Tweet

MLB.com nytimes.com

Apr 23 (2 days ago)

Justin Maxwell's one-out single Thursday shattered a 10th-inning deadlock and gave the San Francisco Giants a 3-2 triumph over the Los Angeles Dodgers, completing a three-game sweep for the defending World Series champions. It was the second straight wa…

Share Tweet

Pagan's aggressiveness leads to Giants' victory

MLB.com

Apr 23 (2 days ago)

Justin Maxwell applied the finishing touch to the Giants' 3-2, 10-inning victory over the Dodgers on Thursday, but it was Angel Pagan who applied the pressure.

Share Tweet

MLB.com

Apr 23 (2 days ago)

While the Giants may have finished off a sweep of the rival Dodgers on Thursday, they didn't get much going against Mike Bolsinger, who was effective in his Dodgers debut. The right-hander went 5 2/3 innings, allowing an earned run on five hits and two …

Share Tweet

Kendrick's great grab extends Dodgers' hopes

MLB.com

Apr 23 (3 days ago)

For a little while Thursday afternoon, it appeared Howie Kendrick would be the hero of the series finale between the Dodgers and Giants. The Giants needed to conjure up some ninth-inning magic after Kendrick made a superb defensive play in the previous …

Share Tweet

yahoo.com

Apr 23 (3 days ago)

Take a look around the league with Big League Stew's daily wrap up. We'll hit on all of the biggest moments from the day that you may have missed, while providing highlights, photos and interesting stats. A battle that started with Clayton Kershaw and M…

Share Tweet

After aces duel to draw, Giants walk off in ninth

MLB.com

Apr 23 (3 days ago)

Joe Panik's bases-loaded sacrifice fly snapped a ninth-inning tie Wednesday night and lifted the San Francisco Giants to their second straight victory over the Los Angeles Dodgers, a 3-2 decision.

Share Tweet

Vogelsong to start vs. Dodgers in Peavy's spot

MLB.com

Apr 22 (3 days ago)

Giants right-hander Ryan Vogelsong, who has endured a rocky beginning to the season, will receive a chance to improve his fortunes when he starts Thursday's series finale against the Los Angeles Dodgers.

Share Tweet

MLB.com nytimes.com

Apr 22 (4 days ago)

The San Francisco Giants received six solid innings from Tim Lincecum and scratched together enough offense to emerge with a 6-2 victory Tuesday night over the archrival Los Angeles Dodgers, halting the National League West leaders' seven-game winning s…

Share Tweet

Maxwell makes most of start with catch, big hits

MLB.com

Apr 22 (4 days ago)

Justin Maxwell, who started in right field Tuesday to give the Giants a right-handed-hitting presence against Dodgers lefty Brett Anderson, delivered a multifaceted effort in San Francisco's 6-2 triumph.

Share Tweet

Pence unlikely to return by end of month

MLB.com

Apr 21 (4 days ago)

Giants manager Bruce Bochy discounted the possibility of right fielder Hunter Pence recovering from his fractured left forearm in time to rejoin the lineup May 1, which has been the most optimistic estimate mentioned for his return.

Share Tweet

MLB.com

Apr 20 (6 days ago)

To this point, the Mets have performed like the 2002 Angels and last summer's Giants, using a dozen papercuts to bleed their opponents. But another downpour might undermine this team. Those with Mets memories may recall a sequence of injuries that occur…

Share Tweet

D-backs lift Hellickson to win over Giants

MLB.com

Apr 19 (6 days ago)

Paul Goldschmidt's first-inning homer gave Jeremy Hellickson enough offense as the right-hander worked 6 2/3 solid innings to break his 11-game winless streak. Chris Owings added a two-run single off Tim Hudson, whose Giants lost for the ninth time in 1…

Share Tweet

Goldschmidt Leads Diamondbacks Past Giants 5-1

nytimes.com

Apr 19

San Francisco nemesis Paul Goldschmidt hit a two-run homer to help Jeremy Hellickson get his first win with for Arizona in the Diamondbacks' 5-1 victory over the struggling Giants on Sunday.

Share Tweet

MLB.com nytimes.com

Apr 18

Josh Collmenter sent the defending World Series champions to their eighth straight loss with a four-hit shutout, the first complete game in the Majors this season. Giants starter Jake Peavy, battling a tight back, exited in the fourth inning after allow…

Share Tweet

nytimes.com

Apr 18

A look at what's happening all around the major leagues today:

Share Tweet

Leaving San Francisco Was Easy Call For Sandoval

Mar 9

ESPN SweetSpot blogger David Schoenfield discusses Pablo Sandoval's comments about feeling disrespected by the Giants.

No Surgery Needed For Hunter Pence

Mar 6

Stephania Bell looks at the road ahead for Hunter Pence and when he'll likely be able to return to the Giants' lineup after breaking his arm when he was hit by a pitch.

Hunter Pence Out Six To Eight Weeks

Mar 5

ESPN.com MLB writer/editor Christina Kahrl reacts to Hunter Pence's left forearm fracture, which will sideline him for six to eight weeks.

Posey On Giants' Focus, Preparations

Feb 23

Three-time World Series champion Buster Posey talks about his preparations for this season, how San Francisco's rotation will shake out and the competition within the division.