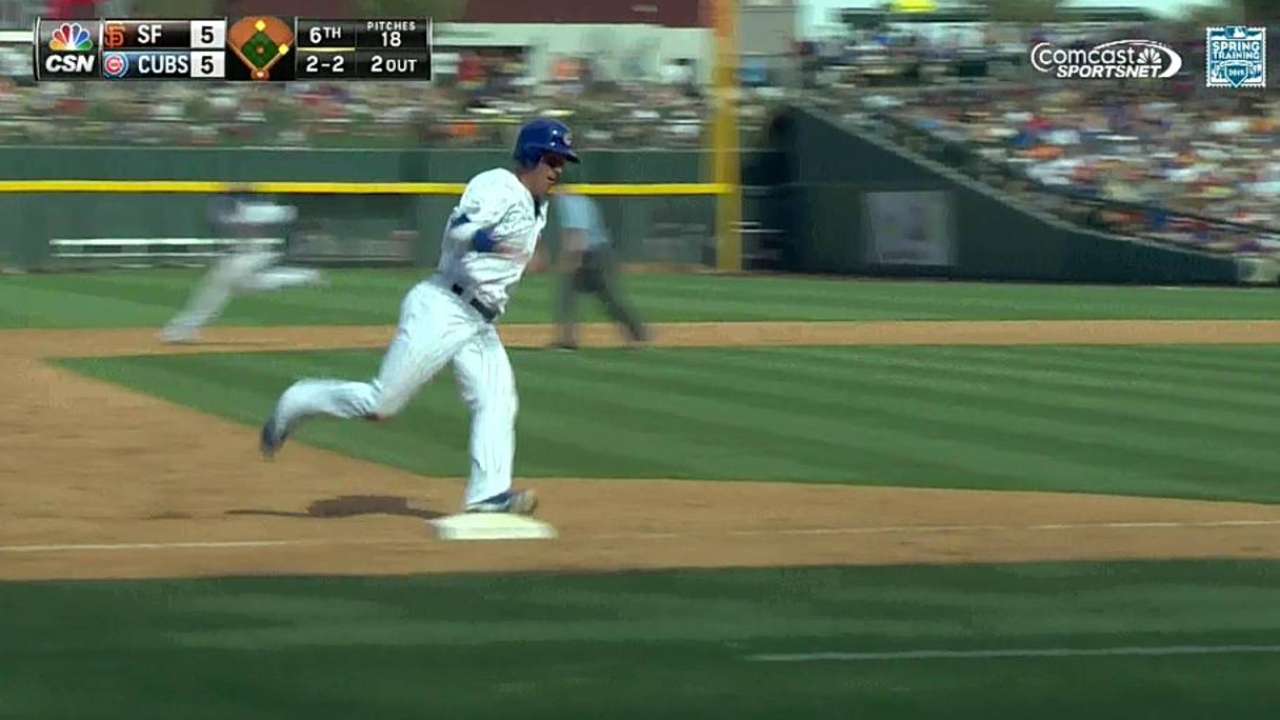 nytimes.com
MLB.com
Updated 4 hours ago
Chicago Cubs starter Kyle Hendricks gave up his first runs against big league batter this spring after extending his scoreless streak to 12 innings in an 8-5 win over the San Francisco Giants on Monday.
Share
Tweet
nytimes.com

Mar 29 (yesterday)

Matt Cain gave up three runs in four innings, Buster Posey and Angel Pagan each had two hits and drove in two runs and the San Francisco Giants beat a Los Angeles Dodgers split-squad 11-9 on Sunday.

Share Tweet

Dodgers' Greinke Struggles in 8-4 Loss to Giants

nytimes.com

Mar 28 (3 days ago)

Zack Greinke struggled with his command in his fourth spring start, allowing five hits in 3 2-3 innings as the Los Angeles Dodgers fell to the San Francisco Giants 8-4 on Friday night.

Share Tweet

nytimes.com MLB.com

Mar 27 (4 days ago)

The manager of the San Francisco Giants on life after the World Series.

Share Tweet

Concussions behind him, Sanchez working hard

MLB.com

Mar 27 (4 days ago)

Giants catcher Hector Sanchez has gone from feeling awful to a feel-good story. Last year, Sanchez wasn't completely sure he'd play baseball again. The lingering effects of two concussions, which he sustained in a span of less than a month, brought the …

Share Tweet

Chavez shows ability to work out of jams

MLB.com

Mar 27 (4 days ago)

Back on the bump against the Giants on Thursday night after vacating camp for a day to welcome his third daughter, Dannie Rae, into the world, right-hander Jesse Chavez was thrown right into traffic, weaving his way in and out of several jams.

Share Tweet

MLB.com nytimes.com

Mar 27 (4 days ago)

Eric Sogard's two-run triple snapped a sixth-inning tie and led the A's to a 6-4 Cactus League victory over the Giants on Thursday night. San Francisco, the reigning World Series champions, fell to a Major League-worst 6-19 this spring. The Giants have …

Share Tweet

'Amazing' Betancourt battling for Rockies roster spot

Six days after being hit in the jaw by a line drive, ageless reliever Rafael Betancourt took another major step along the comeback trail by pitching a scoreless eighth inning for the Rockies on Wednesday in their 5-2 win over the Giants at Salt River Fi…

Share Tweet

Aoki gathering speed heading into season

Giants outfielder Nori Aoki has batted .400 (6-for-15) in his last four Cactus League games after hitting .118 (4-for-34) in his first 12. Aoki continued his surge Wednesday against Colorado with a scorching fifth-inning triple that scored Brandon Crawf…

Share Tweet

Scully's lone Cactus League appearance to come Friday

Hall of Fame broadcaster Vin Scully will make his lone Arizona appearance of Spring Training when he does play-by-play of Friday night's Dodgers-Giants game from Camelback Ranch on SportsNet LA.

Share Tweet

Tulowitzki Homers, Butler Strong in Rockies' Win Over Giants

nytimes.com

Mar 25 (5 days ago)

Troy Tulowitzki hit his third home run of the spring, Eddie Butler threw five effective innings in an audition for a rotation spot, and the Colorado Rockies beat the San Francisco Giants 5-2 on Wednesday.

Share Tweet

Pablo Sandoval says weight regimen contributed to him leaving Giants

yahoo.com

Mar 25 (5 days ago)

Pablo Sandoval's departure from the San Francisco Giants continues to get ugly. Sandoval has already made waves this spring, saying he felt disrespected by his former club, and never intended to re-sign with them. Well, he's doubled down on those commen…

Share Tweet

Brandon Moss Powers Indians to 9-5 Win Over Giants

nytimes.com

Mar 25 (6 days ago)

Brandon Moss showed off the power that persuaded Cleveland to trade for him, hitting a three-run homer against Ryan Vogelsong that helped the Indians beat the San Francisco Giants 9-5 on Tuesday night.

Share Tweet

Sands shows off home-run power as he fights for roster spot

MLB.com

Mar 25 (6 days ago)

Outfielder Jerry Sands showed off some impressive power Tuesday night, launching a tape-measure home run off San Francisco's Ryan Vogelsong to help the Indians claim a 9-5 Cactus League victory over the Giants at Goodyear Ballpark.

Share Tweet

MLB.com

Mar 24 (6 days ago)

Throwing out the ceremonial first pitch at Mets camp was supposed to be a fun outing for New York Giants running back Rashad Jennings. But a fleeting moment of stress overtook him when he thought back on the Mets' most erratic first pitch of last summer…

Share Tweet

yahoo.com

Mar 24 (6 days ago)

If anyone deserved a well-needed rest after the postseason, it was San Francisco Giants pitcher Madison Bumgarner. After racking up a ridiculous 52 2/3 innings in October, bringing his yearly total to an astouding 270 innings, no one would have blamed B…

Share Tweet

Nick Peters, a former Spink Award winner who covered the San Francisco Giants for 47 years and loved to mentor young writers, has died. He was 75.

Share Tweet

MLB.com nytimes.com

Mar 23

Giants pitcher Jake Peavy used the modest setting of Monday's Royals-Giants exhibition at Scottsdale Stadium as a personal classroom. At catcher Buster Posey's urging, Peavy tried throwing a four-seam changeup for the first time in his life.

Share Tweet

With 'tons of confidence,' Belt ready to soar

MLB.com

Mar 23

Having played four Major League seasons at a relatively early age, Giants first baseman Brandon Belt brings experience and optimism into the 2015 season.

Share Tweet

Richards twirls four no-hit innings in Triple-A start

MLB.com

Mar 23

Angels right-hander Garrett Richards threw four no-hit innings against the Giants' Triple-A team in Scottsdale, Ariz., on Monday afternoon in the latest, most positive step in his extensive recovery from left knee surgery.

Share Tweet

Finnegan among nine players Royals send to Minors

MLB.com

Mar 22

The Royals made a round of nine roster cuts after Sunday's 4-2 victory over a Giants split-squad at Surprise Stadium, and the biggest name was left-hander Brandon Finnegan, who was optioned to Double-A Northwest Arkansas.

Share Tweet

Hosmer, Moustakas, Rios Lead Royals Past Giants 4-2

nytimes.com

Mar 22

Eric Hosmer, Mike Moustakas and Alex Rios each had two hits as the Kansas City Royals defeated a San Francisco Giants split squad 4-2 Sunday.

Share Tweet

Leaving San Francisco Was Easy Call For Sandoval

Mar 9

ESPN SweetSpot blogger David Schoenfield discusses Pablo Sandoval's comments about feeling disrespected by the Giants.

No Surgery Needed For Hunter Pence

Mar 6

Stephania Bell looks at the road ahead for Hunter Pence and when he'll likely be able to return to the Giants' lineup after breaking his arm when he was hit by a pitch.

Hunter Pence Out Six To Eight Weeks

Mar 5

ESPN.com MLB writer/editor Christina Kahrl reacts to Hunter Pence's left forearm fracture, which will sideline him for six to eight weeks.

Posey On Giants' Focus, Preparations

Feb 23

Three-time World Series champion Buster Posey talks about his preparations for this season, how San Francisco's rotation will shake out and the competition within the division.