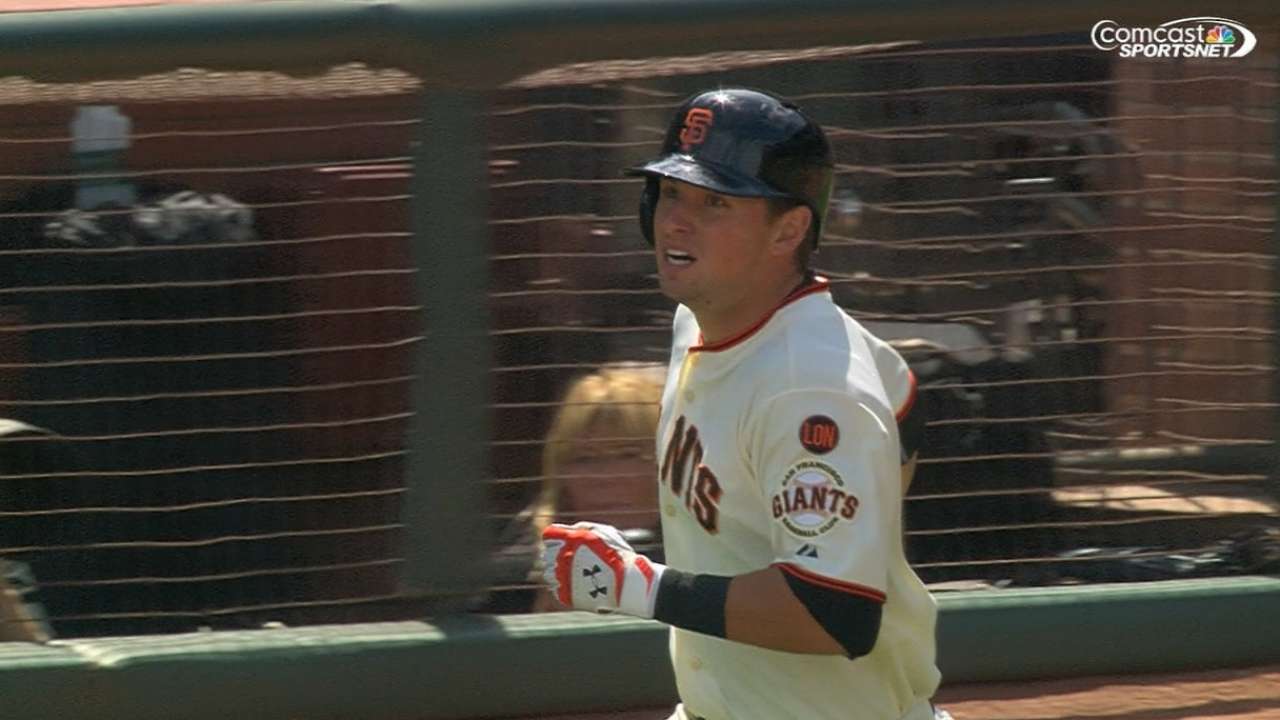 Giants' Cain on health: Everything's feeling good

ESPN.com

Feb 12 (yesterday)

Giants' Cain on health: Everything's feeling good

Share Tweet

deadspin.com

Feb 11 (3 days ago)

Most recently Tim Flannery was the crazy third base coach who windmilled home San Francisco Giants runners en route to three World Series victories, but the majority of his baseball career took place in San Diego. He played alongside Bruce Bochy as the …

Share Tweet

nytimes.com

Feb 11 (3 days ago)

First baseman Brandon Belt agreed to a one-year, $6.2 million contract with the Giants.

Share Tweet

5 bats could shape how NL West is won

MLB.com

Feb 10 (4 days ago)

The Dodgers and Giants have ruled the National League West in recent seasons with dominant pitching, but the division also houses some serious offense. The Rockies and D-backs scored the most runs in the league in 2015, with the Giants coming in fifth. …

Share Tweet

Giants' annual FanFest set for Saturday

MLB.com

Feb 7 (6 days ago)

Virtually every square inch of AT&T Park will be thrown open to the public on Saturday, when the Giants conduct their annual FanFest.

Share Tweet

X (10) Super baseball things from 50 years ago

MLB.com

Feb 6

This weekend, football's final fling until after baseball's All-Star break, is all about number 50. Not the 50-yard line or Ken Strong of the New York Giants of the 1930s and '40s, the only player for whom No. 50 is retired, but for the 50th Super Bowl.…

Share Tweet

yahoo.com

Feb 5

Welcome to The Stew's Hot Stove Digest, our daily rundown of MLB news, rumors and gossip for Hot Stove season. Here you'll find a recap of all the day's action and other fun stuff from around the Internet. EXPENSIVE: The Giants have talked to Juan Uribe…

Share Tweet

Susac leads crowded backup catcher's field in SF

MLB.com

Feb 3

On paper, a scramble for the Giants' backup catcher's job appears imminent. In reality, Andrew Susac should reclaim the role with minimal fuss.

Share Tweet

MLB.com

Jan 28

It is almost time for Zack Greinke to suit up for the D-backs, Todd Frazier for the White Sox, David Price for the Red Sox, Justin Upton for the Tigers, Johnny Cueto for the Giants, Jason Heyward for the Cubs, and all those other new faces in new places…

Share Tweet

yahoo.com

Jan 27

Remember MySpace? For people of a certain age it was their introduction to the online communities and social networks that are prevalent throughout the Internet today. Remember when Tim Lincecum was arguably the most dominant pitcher in baseball? He won…

Share Tweet

Beede, Arroyo among Giants' camp invites

MLB.com

Jan 26

The Giants have extended non-roster invitations for Major League Spring Training to 21 players, including right-hander Tyler Beede and shortstop Christian Arroyo.

Share Tweet

Giants' resurgent Richmond affiliate supplies studs, lessons

MLB.com

Jan 22

A quick look back at last year's exploits of the Giants' Double-A Richmond affiliate gives them more reason to look forward to the near future. They went from a 3-17 start to a 72-68 finish, and three key players could occupy essential roles for San Fra…

Share Tweet

Ishikawa getting a fresh start with Seattle

MLB.com

Jan 19

Next month, Travis Ishikawa will continue his series of fresh starts when he reports to Spring Training with the Mariners. Since his stretch of 10 consecutive seasons In the Giants' system ended in 2011, he has played for six different organizations, in…

Share Tweet

Source: Mariners sign Ishikawa to Minors deal

MLB.com

Jan 16

Travis Ishikawa, an eight-year Major League first baseman who starred in the 2014 National League Championship Series for the Giants, has signed a Minor League deal with the Mariners with an invitation to big league camp, according to a source. The club…

Share Tweet

Belt, Kontos exchange figures with Giants

MLB.com

Jan 15

First baseman Brandon Belt and right-hander George Kontos met with the expected differences of value Friday when they continued the salary arbitration process by exchanging suggested figures on one-year contracts with Giants management.

Share Tweet

D-backs acquire righty reliever Hall from Giants

MLB.com

Jan 13

The D-backs added a reliever Wednesday, trading for right-handed pitcher Cody Hall. Hall was designated for assignment last week by the Giants, who will receive a player to be named or cash considerations in the deal.

Share Tweet

nytimes.com

Jan 12

Hall of Famer Monte Irvin, a power-hitting outfielder who starred for the New York Giants in the 1950s in a career abbreviated by major league baseball's exclusion of black players, has died. He was 96.

Share Tweet

Busy Giants have right formula

MLB.com

Jan 10

The Giants aren't about flash. They are about fit. They don't look to grab headlines in the offseason. They look to find the player who will fill a void and blend into the roster. It's about teamwork at AT&T Park.

Share Tweet

nytimes.com yahoo.com MLB.com

Jan 8

Denard Span is all-too-familiar with what the Giants are capable of accomplishing come October having lost in the Division Series to San Francisco in 2014.

Share Tweet

MLB.com

Jan 7

Another outfielder came off the free-agent market on Thursday when the Giants agreed to a three-year deal with Denard Span, which could have a ripple effect on the Hot Stove.

Share Tweet

Junior shared more than No. 24 with Mays

MLB.com

Jan 7

Ken Griffey Jr. wasn't afraid of unfair comparisons to Willie Mays when he chose to wear the Say Hey Kid's No. 24 as a 19-year-old Mariners rookie in 1989, and an examination of his Hall of Fame career shows he lived up to the Giants' legend.

Share Tweet

Leaving San Francisco Was Easy Call For Sandoval

Mar 9

ESPN SweetSpot blogger David Schoenfield discusses Pablo Sandoval's comments about feeling disrespected by the Giants.

No Surgery Needed For Hunter Pence

Mar 6

Stephania Bell looks at the road ahead for Hunter Pence and when he'll likely be able to return to the Giants' lineup after breaking his arm when he was hit by a pitch.

Hunter Pence Out Six To Eight Weeks

Mar 5

ESPN.com MLB writer/editor Christina Kahrl reacts to Hunter Pence's left forearm fracture, which will sideline him for six to eight weeks.

Posey On Giants' Focus, Preparations

Feb 23

Three-time World Series champion Buster Posey talks about his preparations for this season, how San Francisco's rotation will shake out and the competition within the division.