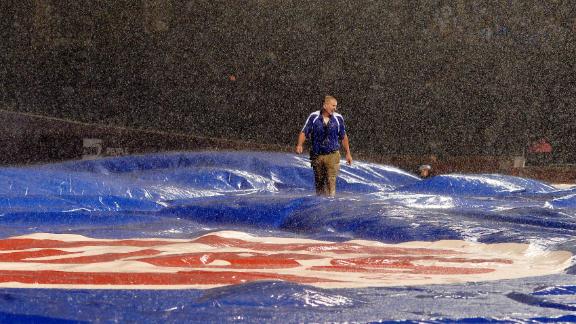 The Wrigley Field grounds crew encountered difficulty during Tuesday's game between the Cubs and Giants, leading to a four-hour, 34-minute delay that ultimately led to the game getting called early because of unplayable field conditions.
Upvote
Share
Tweet
Giants handed rain-shortened loss after lengthy delay

MLB.com

2 hours ago

After a rain delay Tuesday night exceeding 4 1/2 hours and after indications that action would resume, the Giants suddenly were dealt a 2-0 loss to the Chicago Cubs when it was decided that the game would not be restarted.

Upvote Share Tweet

MLB.com nytimes.com

3 hours ago

The Cubs snuck away with a 2-0, rain-shortened win over the Giants to open a three-game series at Wrigley Field on Tuesday. The Cubs rode Anthony Rizzo's 29th homer to victory -- a two-run shot in the first that reached Sheffield Avenue.

Upvote Share Tweet

Giants worry as C Sanchez concussed again

ESPN.com

8 hours ago

San Francisco Giants catcher Hector Sanchez might miss the remainder of the season after suffering a second concussion in a matter of weeks, and as general manager Brian Sabien told reporters, "he should be very concerned."

Upvote Share Tweet

MLB.com nytimes.com

Aug 17 (2 days ago)

The Giants' 5-2 victory against the Phillies on Sunday was the team's second consecutive at AT&T Park, where they hadn't won back-to-back games since a five-game home win streak May 27-June 8. With the Dodgers getting swept by the Brewers in Los Ang…

Upvote Share Tweet

Panik button: Rookie helps key comeback win

MLB.com

Aug 16 (3 days ago)

Joe Panik went 2-for-3 with a walk and an RBI and scored the game's winning run on Gregor Blanco's single, as the Giants came back to beat the Phillies, 6-5, at AT&T Park on Saturday. With the Pirates' loss, the win gave San Francisco sole possessio…

Upvote Share Tweet

Blanco Helps Giants Beat Phillies 6-5

nytimes.com

Aug 16 (4 days ago)

Gregor Blanco hit a tiebreaking RBI single in the eighth inning, helping the San Francisco Giants rally for a 6-5 victory over the Philadelphia Phillies on Saturday.

Upvote Share Tweet

Belt to get another opinion on concussion

MLB.com

Aug 15 (4 days ago)

Brandon Belt won't be taking the field for the Giants anytime soon. Manager Bruce Bochy said concussion specialist Michael "Micky" Collins in Pittsburgh will evaluate Belt next week while the Giants are in Chicago for a three-game set against the Cubs.

Upvote Share Tweet

San Francisco says goodbye to Candlestick

ESPN.com

Aug 15 (5 days ago)

San Francisco said goodbye Thursday to Candlestick Park -- the stadium where the city's beloved Giants and 49ers celebrated some of their greatest triumphs.

Upvote Share Tweet

From all corners, Sandoval a Gold Glove candidate

MLB.com

Aug 14 (5 days ago)

Pablo Sandoval wasn't always a strong defender, but he is now, so much so that the Giants third baseman will be considered for a Gold Glove Award.

Upvote Share Tweet

nytimes.com MLB.com ESPN.com

Aug 13 (6 days ago)

The Giants scored seven runs in the seventh inning after a video review led umpires to overturn an out call at home, and San Francisco beat the White Sox, 7-1.

Upvote Share Tweet

MLB.com nytimes.com

Aug 13

Adam Dunn hit a two-run homer in the first inning and ace left-hander Chris Sale struck out 12 over eight scoreless innings, but the White Sox needed Gordon Beckham's two-out RBI single in the 10th to secure a 3-2 victory over the Giants, who rallied in…

Upvote Share Tweet

Giants fans support Pence with own signs

MLB.com

Aug 12

The Hunter Pence sign craze continued Tuesday, with fans toting humorous, ironic or enigmatic declarations scrawled on cardboard about their beloved Giants right fielder.

Upvote Share Tweet

ESPN.com

Aug 12

The Chicago White Sox reinstated reliever Matt Lindstrom from the 15-day disabled list in advance of Tuesday night's game at San Francisco Giants.

Upvote Share Tweet

yahoo.com

Aug 11

Looking back at the life and career of actor/comedian Robin Williams — as many people are Monday evening, after news of his death at age 63 from an apparent suicide — it will be hard to forget his energy. Williams brought feverish enthusiasm to everythi…

Upvote Share Tweet

Gordon, Perez Homer, Royals Beat Giants 7-4

nytimes.com

Aug 10

Alex Gordon and Salvador Perez each homered and Danny Duffy pitched into the seventh inning as the Kansas City Royals beat the San Francisco Giants 7-4 Sunday to extend their winning streak to seven games.

Upvote Share Tweet

MLB.com

Aug 10

It was Alex Gordon Bobblehead Day at Kauffman Stadium on Sunday and so, naturally, the man himself belted a two-run homer to help the Royals to a 7-4 victory over the San Francisco Giants.

Upvote Share Tweet

Giants Rally Past Phillies

Aug 16

Gregor Blanco drove in two runs to lead the Giants past the Phillies 6-5.

Ventura's Meltdown On Home Plate

Aug 14

White Sox manager Robin Ventura is ejected in the bottom of the seventh inning for arguing with the umpire after a review of play overturns a call that gave the Giants a run.

Giants Cruise Past White Sox

Aug 13

The Giants beat the White Sox 7-1 to snap their five-game losing streak.

MLB Daily Download: Wednesday

Aug 13

Antonietta Collins recaps Tuesday night's action from around the league, including the Angels rallying for a seven run inning and an unbelievable night for a fan who caught two home runs from the same player.