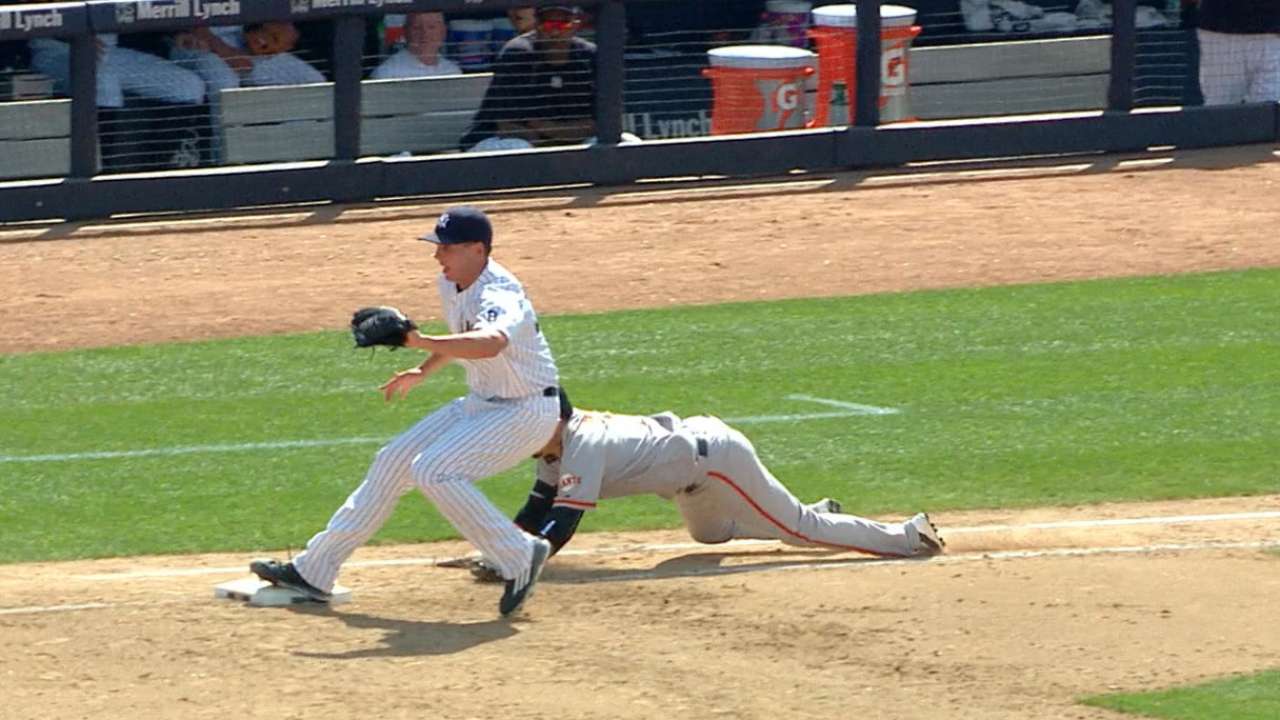 nytimes.com

20 hours ago

A look at what's happening all around the majors Monday:

Share Tweet

MLB.com nytimes.com

Jul 24 (yesterday)

Carlos Beltran and Mark Teixeira homered to support Nathan Eovaldi, who threw a season-high 118 pitches to lead the Yankees to a 5-2 victory over the Giants on Sunday at Yankee Stadium, securing a winning homestand for the club as it attempts to block o…

Share Tweet

MLB.com

Jul 24 (yesterday)

Jeff Samardzija gets the ball for the first-place Giants in his Yankee Stadium debut this afternoon in the rubber game of an Interleague series against the Yankees.

Share Tweet

MLB.com nytimes.com

Jul 23 (yesterday)

Mac Williamson capped an eventful Saturday by drilling a 12th-inning, tiebreaking RBI single that propelled the Giants past the New York Yankees, 2-1, and ended San Francisco's six-game losing streak.

Share Tweet

Giants 2, Yankees 1, 12 innings: Giants Eventually Capitalize on an Opportunity to Beat the Yankees

nytimes.com

Jul 23 (yesterday)

Both teams squandered plenty of chances before Mac Williamson, who had an eventful day, drove in what proved to be the winning run.

Share Tweet

yahoo.com

Jul 23 (2 days ago)

The Arizona Diamondbacks have been one of baseball's biggest disappointments this season, and now the focus is on manager Chip Hale's future. Expected to push the San Francisco Giants and Los Angeles in the National League West, the D-backs are last in …

Share Tweet

nytimes.com yahoo.com

Jul 23 (3 days ago)

Bumgarner, who batted in Oakland last month instead of the San Francisco Giants using a designated hitter, was limited to the mound at Yankee Stadium.

Share Tweet

Yankees send Giants to sixth straight loss

MLB.com

Jul 23 (3 days ago)

The San Francisco Giants' losing streak reached a season-high six games Friday night as the National League West leaders endured an eighth-inning collapse in a 3-2 setback against the New York Yankees.

Share Tweet

Foul off foot forces Posey to leave game

MLB.com

Jul 22 (3 days ago)

The Giants' luck continued to plummet as catcher Buster Posey left Friday night's 3-2 Interleague loss to the New York Yankees with a bruised right foot.

Share Tweet

MLB.com nytimes.com yahoo.com

Jul 21 (5 days ago)

Fenway Park was the place to be Wednesday night, with the Red Sox and Giants engaging in a classic slugfest while fans of both teams tried to shout each other down.

Share Tweet

Bases loaded, no outs: Sox escape jam

MLB.com

Jul 21 (5 days ago)

In a seesaw battle between the Giants and Red Sox during Wednesday night's series finale at Fenway Park, the game reached a boiling point in the sixth inning when San Francisco loaded the bases with none out down by one run.

Share Tweet

Dodgers reportedly in market for big trade

MLB.com

Jul 20 (5 days ago)

The Dodgers, who currently hold the first National League Wild Card spot but are looking to make a major push to catch the Giants in the NL West, are reportedly considering significant moves in advance of the Aug. 1 non-waiver Trade Deadline, according …

Share Tweet

Porcello stays perfect as Sox gain ground

MLB.com

Jul 19 (6 days ago)

Continuing to make this season a memorable one for themselves, Rick Porcello worked 6 1/3 innings to match a 38-year-old club standard and David Ortiz defied time by clobbering another home run Tuesday night as the Boston Red Sox rolled past the San Fra…

Share Tweet

nytimes.com

Jul 19 (6 days ago)

David Ortiz hit a three-run homer and Rick Porcello remained unbeaten at home as the Boston Red Sox beat the struggling San Francisco Giants 4-0 on Tuesday night.

Share Tweet

MLB.com nytimes.com

Jul 17

Edwin Jackson took a no-hitter into the seventh inning of his Padres debut Sunday against the Giants, paving the way for a 5-3 San Diego victory and series sweep.

Share Tweet

MLB.com

Jul 17

Giants right fielder Hunter Pence left the initial game of his injury rehabilitation stint after three innings Saturday, two innings earlier than planned. But Giants general manager Bobby Evans said in a text message that Pence "seems OK" and …

Share Tweet

yahoo.com

Jul 17

Just when you thought this crazy week at Petco Park San Diego couldn't get any crazier, the craziest thing possible happens. The Padres defeated the Giants 7-6 in 10 innings on Saturday night, scoring the winning run when closer Santiago Casilla lost hi…

Share Tweet

Leaving San Francisco Was Easy Call For Sandoval

Mar 9

ESPN SweetSpot blogger David Schoenfield discusses Pablo Sandoval's comments about feeling disrespected by the Giants.

No Surgery Needed For Hunter Pence

Mar 6

Stephania Bell looks at the road ahead for Hunter Pence and when he'll likely be able to return to the Giants' lineup after breaking his arm when he was hit by a pitch.

Hunter Pence Out Six To Eight Weeks

Mar 5

ESPN.com MLB writer/editor Christina Kahrl reacts to Hunter Pence's left forearm fracture, which will sideline him for six to eight weeks.

Posey On Giants' Focus, Preparations

Feb 23

Three-time World Series champion Buster Posey talks about his preparations for this season, how San Francisco's rotation will shake out and the competition within the division.