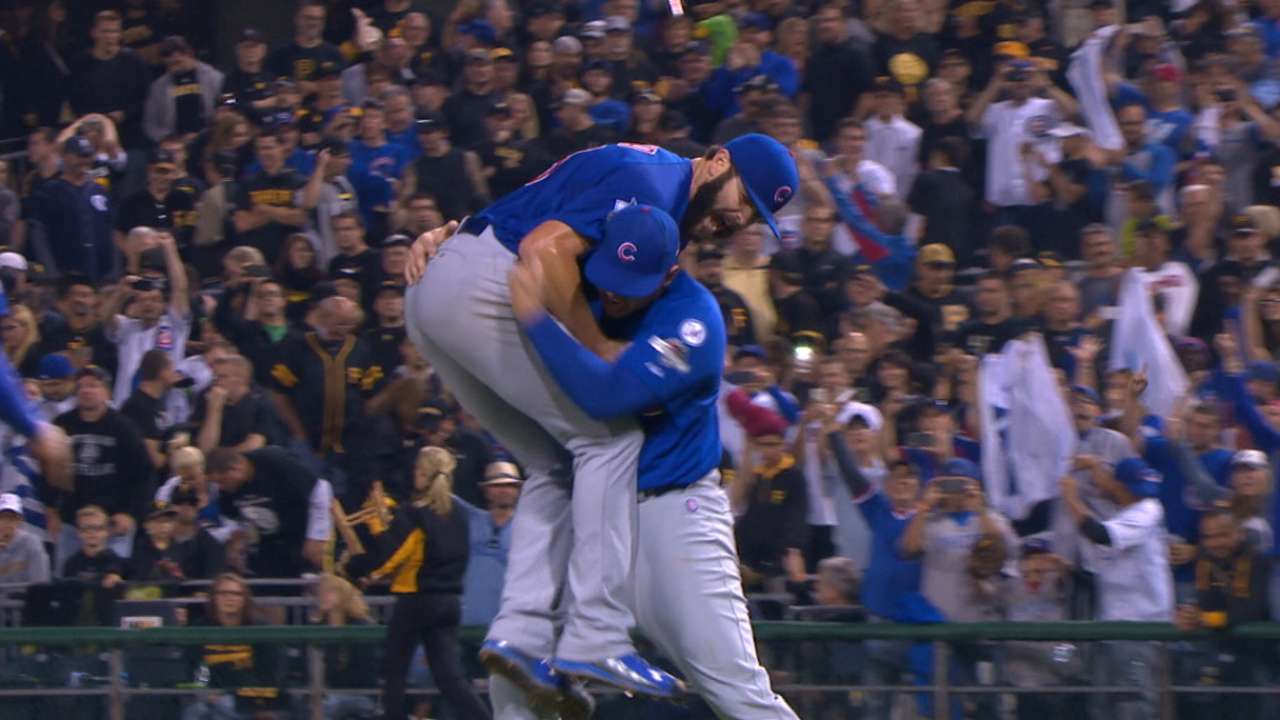 MLB.com
Updated Oct 10 (2 days ago)
Jake Arrieta reprised the role of Madison Bumgarner on Wednesday night, almost single-handedly willing the Cubs to a National League Wild Card Game win in Pittsburgh the way Bumgarner did for the Giants a year ago. What followed was an unprecedented run…
Share
Tweet
MLB.com

Oct 8 (5 days ago)

At PNC Park, Jake Arrieta went the distance on a four-hitter, with 11 strikeouts and no walks, as the Cubs defeated the Pirates, 4-0. He is the 37th pitcher to hurl a shutout in his postseason debut, and the first since the Giants' Tim Lincecum in Game …

Share Tweet

Dickerson, Morneau, Rockies Rally for 7 in 9th, Beat Giants

nytimes.com

Oct 4

Corey Dickerson hit a three-run homer, pinch-hitter Justin Morneau delivered a two-run single and the Colorado Rockies rallied for seven runs in the ninth inning Sunday to beat the San Francisco Giants 7-3.

Share Tweet

Emotions soar as Giants bid Affeldt farewell

MLB.com

Oct 4

Laughter mixed with tears Sunday as the Giants saluted Jeremy Affeldt, the left-hander who's retiring from baseball.

Share Tweet

Tomlinson's Inside-The-Park Homer Sparks Giants' Win

nytimes.com

Oct 3

As he rounded third base, running out of gas and headed for home, San Francisco Giants second baseman Kelby Tomlinson could think of only one thing.

Share Tweet

Giants Back Peavy With 3 Homers in 3-2 Win Over Rockies

nytimes.com

Oct 3

Jake Peavy pitched five innings for his fifth consecutive win, rookie Kelby Tomlinson hit an inside-the-park home run and the San Francisco Giants beat the Colorado Rockies 3-2 on Saturday.

Share Tweet

yahoo.com

Oct 2

After their loss to the Los Angeles Dodgers earlier this week, the defending champion San Francisco Giants were mathematically eliminated from the MLB postseason, meaning that they've effectively come to end of the road in their 2015 season. As we've do…

Share Tweet

yahoo.com

Oct 2

Baseball is a game built on tradition. One of the sport's most familiar customs is the seventh-inning stretch. So, when the cast of "Fuller House" showed up at the San Francisco Giants/Los Angeles Dodgers game didn't follow the usual seventh-i…

Share Tweet

nytimes.com

Oct 1

The Rangers are a win or a loss away from their first division title since winning two straight and going to the World Series in 2010-11.

Share Tweet

yahoo.com

Oct 1

The San Francisco Giants plan to honor retiring pitcher Tim Hudson on Saturday but waiting for that celebration just wasn't going to do for anyone at AT&T Park on Thursday when Hudson made the final start of his career. It didn't go the way he proba…

Share Tweet

Brett Anderson Pitches Division-Champion Dodgers Past Giants

nytimes.com

Oct 1

Brett Anderson pitched two-hit ball into the eighth in his final regular-season start, and the NL West champion Los Angeles Dodgers wrapped up their road schedule with a 3-2 victory over the San Francisco Giants on Thursday.

Share Tweet

nytimes.com yahoo.com

Sep 30

Clayton Kershaw pitched the big-money Dodgers to their third straight NL West title, tossing a 1-hitter as Los Angeles beat the San Francisco Giants 8-0 on Tuesday night.

Share Tweet

Clinchin' Kershaw: LA wins West, KOs Giants

MLB.com

Sep 30

Reigning MVP Clayton Kershaw pitched the Dodgers to their third consecutive NL West title Tuesday night, beating Madison Bumgarner with a one-hit masterpiece and 8-0 shutout over the defending world champion and arch-rival Giants.

Share Tweet

nytimes.com

Sep 29

Pinch-hitter Alejandro De Aza's sacrifice fly scored Marlon Byrd from third base in the bottom of the 12th inning Monday night as the San Francisco Giants kept their slim playoff hopes alive by beating the Los Angeles Dodgers 3-2.

Share Tweet

Hernandez activated from disabled list

MLB.com

Sep 28

The Dodgers reinstated utilityman Enrique Hernandez to the active roster from the 15-day disabled list on Monday for the opener of their series with the Giants.

Share Tweet

MLB.com

Sep 27

The Rockies overcame a three-run deficit on Sunday, with Nolan Arenado's three-run homer and career-high five RBIs keying a 12-5 victory and three-game series sweep over the Dodgers, whose magic number for a third consecutive division title remained stu…

Share Tweet

yahoo.com

Sep 27

Take a look around the league with Big League Stew's daily wrap up. We'll hit on all of the biggest moments from the day that you may have missed, while providing highlights, photos and interesting stats. What started out as a throwback pitching matchup…

Share Tweet

Leaving San Francisco Was Easy Call For Sandoval

Mar 9

ESPN SweetSpot blogger David Schoenfield discusses Pablo Sandoval's comments about feeling disrespected by the Giants.

No Surgery Needed For Hunter Pence

Mar 6

Stephania Bell looks at the road ahead for Hunter Pence and when he'll likely be able to return to the Giants' lineup after breaking his arm when he was hit by a pitch.

Hunter Pence Out Six To Eight Weeks

Mar 5

ESPN.com MLB writer/editor Christina Kahrl reacts to Hunter Pence's left forearm fracture, which will sideline him for six to eight weeks.

Posey On Giants' Focus, Preparations

Feb 23

Three-time World Series champion Buster Posey talks about his preparations for this season, how San Francisco's rotation will shake out and the competition within the division.

Sports Columnists

NBA - Blake Griffin wants to take his defense and the Clippers to another …

Oct 7

Blake Griffin is looking to become an elite defender and a vocal leader, and in turn take the Clippers to a championship, writes J.A. Adande.

NBA - Los Angeles Clippers must learn to play without DeAndre Jordan

Sep 25

The Clippers were able to re-sign DeAndre Jordan. With a more able reserve unit behind him, the team must now learn how to win without him, writes J.A. Adande.

See the rankings (Insider)

Sep 22

Chad Ford says the Knicks are managed by "a neophyte coach, a buffoonish owner and an unproven team president." Amazingly, New York still isn't last p...