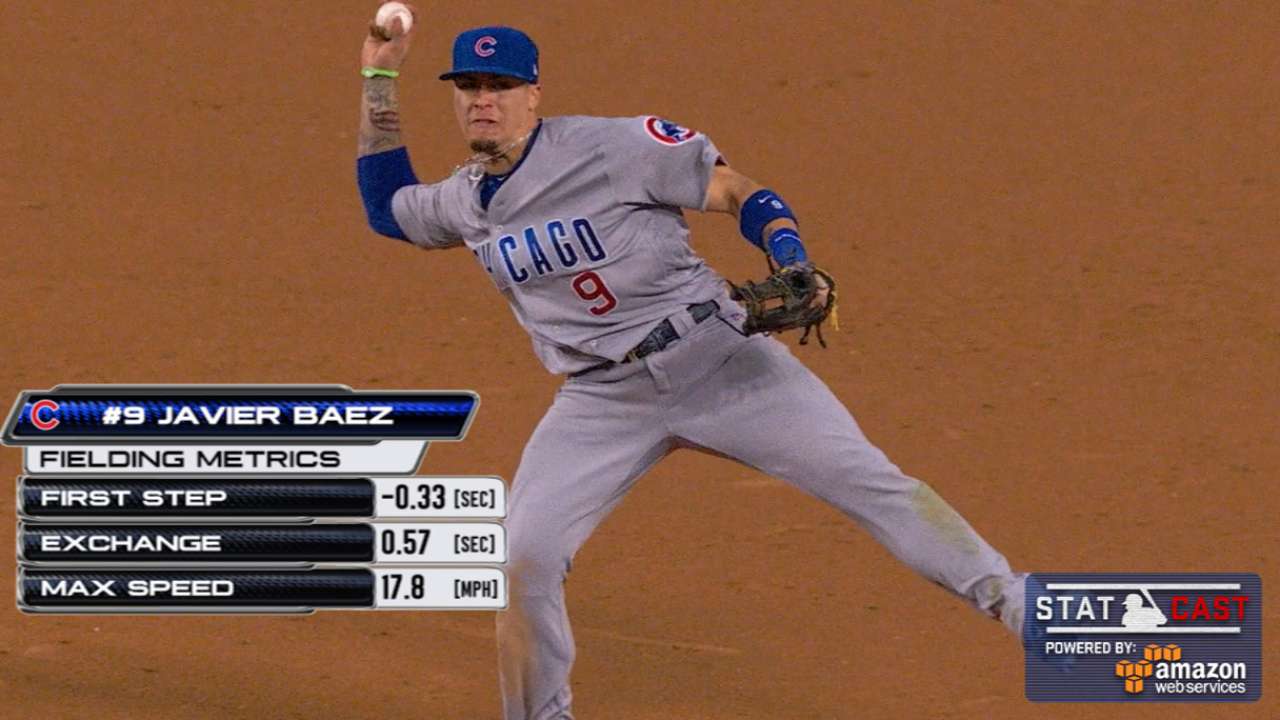 MLB.com
Updated Oct 21 (3 days ago)
Javier Baez seemed to be a star in the making early on this postseason, helping the Cubs dispatch the Giants with multiple game-winning hits and several defensive gems. Now, he is playing like a star already made.
Share
Tweet
Old Man Rich Hill Pitched A Gem Tonight

deadspin.com

Oct 18 (5 days ago)

The Chicago Cubs came into the NLCS fresh off a dominant regular season and a soul-crushing defeat of the San Francisco Giants. Since a Game 1 win, they haven't scored a run. Clayton Kershaw shut them out in Game 2, which is understandable since he's Cl…

Share Tweet

MLB.com

Oct 16

On a stage that so often produces surprising October stars, Javier Baez nudged his way into the postseason spotlight in the Cubs' National League Division Series win over the Giants, and he now seems to have planted himself there after another standout …

Share Tweet

yahoo.com

Oct 15

Is Taylor Swift to blame for the Giants early playoff exit? We wouldn't dare ask Madison Bumgarner for his opinion. (AP Photos) If you enjoy a good conspiracy theory, you'll like how some San Francisco Giants fans are attempting to explain the team's lo…

Share Tweet

MLB.com nytimes.com yahoo.com

Oct 14

In the National League Championship Series last year, Mets pitchers stifled the Cubs and swept the series. Now that the Cubs have ousted the Giants in the NL Division Series, they need to regroup for the next round, which starts Saturday vs. the Dodgers…

Share Tweet

MLB.com

Oct 12

The Cubs' dramatic 6-5 win over the Giants on Tuesday night pushed the National League's top seed into the NL Championship Series, which begins at Wrigley Field on Saturday night. Chicago's opponent, however, remains undetermined.

Share Tweet

yahoo.com

Oct 12

Sorry, Jimmy Dugan, but there is crying in baseball. And when it happens, it's just as sad and depressing as you might expect. The San Francisco Giants' Game 4 loss to the Chicago Cubs in the National League Division Series must have been tough for a lo…

Share Tweet

Even-Year Bullshit Is Dead

deadspin.com

Oct 12

The San Francisco Giants' success in even years has run its course, and we can all breathe easy that there is in fact no higher power devoted to San Francisco baseball.Read more...

Share Tweet

yahoo.com

Oct 12

When it ended, with the Chicago Cubs celebrating on the field at AT&T Park and with the San Francisco Giants learning what it felt like to lose a postseason series for the first time this decade, it didn't take too long for the second-guessing to be…

Share Tweet

The Giants Blew It: The San Francisco Giants spent the latter half of…

deadspin.com

Oct 12

The San Francisco Giants spent the latter half of the year tumbling headfirst down the standings, forgetting how to hit the ball, and watching their bullpen blow any games they managed to keep close. It's somewhat fitting that their season ended with a …

Share Tweet

Leaving San Francisco Was Easy Call For Sandoval

Mar 9

ESPN SweetSpot blogger David Schoenfield discusses Pablo Sandoval's comments about feeling disrespected by the Giants.

No Surgery Needed For Hunter Pence

Mar 6

Stephania Bell looks at the road ahead for Hunter Pence and when he'll likely be able to return to the Giants' lineup after breaking his arm when he was hit by a pitch.

Hunter Pence Out Six To Eight Weeks

Mar 5

ESPN.com MLB writer/editor Christina Kahrl reacts to Hunter Pence's left forearm fracture, which will sideline him for six to eight weeks.

Posey On Giants' Focus, Preparations

Feb 23

Three-time World Series champion Buster Posey talks about his preparations for this season, how San Francisco's rotation will shake out and the competition within the division.