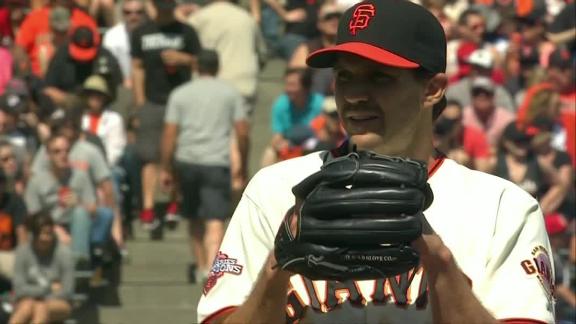 Barry Zito and Chad Gaudin combined on a six-hitter, Buster Posey homered and the San Francisco Giants beat the San Diego Padres 5-0 on Sunday to complete a three-game sweep.
Share
Tweet
Tim Lincecum earned a rousing ovation with a four-hit effort over 6 2/3 innings, and Pablo Sandoval hit a two-run homer to lead the Giants to a 2-0 victory over the Padres on Saturday night at AT&T Park.

Share Tweet
Zito, Giants Blank Padres

Apr 21

Barry Zito tossed seven shutout innings in the Giants' 5-0 win against the Padres.
Sports Columnists
Cleveland Cavaliers reach out to Phil Jackson about open coaching position…

Apr 21

As they did eight years ago when he was in retirement, the Cleveland Cavaliers have reached out to Phil Jackson about their head coach opening, sources told ESPN.com.

Manu Ginobili gives San Antonio Spurs a lift in Game 1

Apr 21

After missing the bulk of April, Manu Ginobili helps lift the Spurs past the Lakers in Game 1.