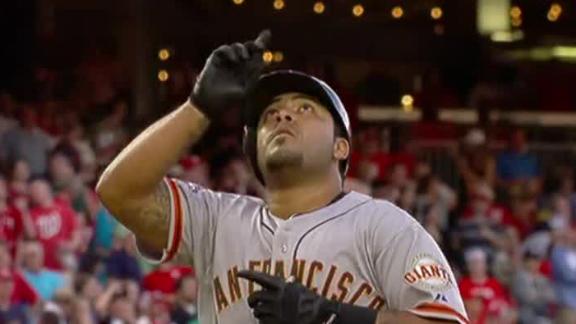 Denard Span saves game for Nationals with diving catch against Giants

yahoo.com

Aug 15, 2013

The Washington Nationals entered play on Wednesday with a four-game winning streak and a chance to climb to within one game of the .500 mark. Not exactly the position many of us envisioned for the Nationals back in March, but that's where they are. All …

Share Tweet

The Tragic, Meaningless Collapse of the San Francisco Giants

grantland.com

Aug 15, 2013

Let's get one thing out of the way up front: I'm not trying to diminish the significance of winning two World Series in three years. It's a tremendous...

Share Tweet

Pinch-Hit Homer Lifts Giants

Aug 15

Hector Sanchez's three-run homer in the ninth propelled the Giants to a 4-3 win over the Nationals.

Web Gems

Aug 15

Does Brandon Crawford's diving catch top Jose Iglesias's barehanded pick and flip to first for the out.