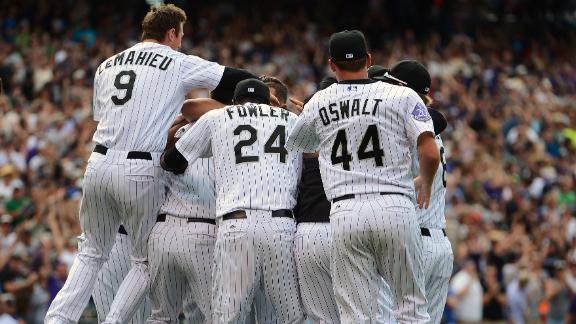 Nolan Arenado hit a game-ending single with two outs in the ninth inning Saturday to lift the Colorado Rockies to a 2-1 victory over the San Francisco Giants, losers of six straight for the first time in three years.
Share
Tweet
Nothing predictable about NL West

MLB.com

Jun 29, 2013

Welcome to the wacky National League West. How wacky? The Colorado Rockies' rotation -- 29-25 with a 4.43 ERA -- has a lower ERA and better record than the San Francisco Giants (24-29, 4.57).

Share Tweet

Rockies Walk Off In The Ninth

Jun 29

Michael Cuddyer extended his hitting streak to 26 games as the Rockies handed the Giants their sixth straight loss with a 2-1 win.