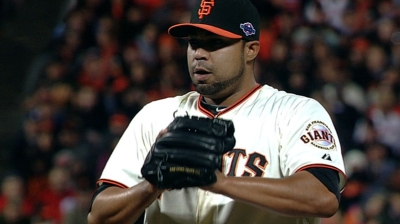 Panda's injured elbow complicated by bone spurs

MLB.com

Mar 19, 2013

The Giants have learned that their All-Star third baseman has not only an inflamed ulnar nerve in his right elbow, but also a bone spur in the back of his elbow that head athletic trainer Dave Groeschner described as "chronic."

Share Tweet

Pagan inspired by legacy Clemente left on PR

MLB.com

Mar 19, 2013

Roberto Clemente was well before Angel Pagan's time, but there is a link to the legend that keeps the greatest of all Puerto Rican ballplayers in the thoughts of the Giants' center fielder and leadoff man for Team Puerto Rico in the World Baseball Class…

Share Tweet

How do seagulls know to show up in the ninth inning of a World Baseball Classic game?

yahoo.com

Mar 19, 2013

SAN FRANCISCO - The arrival of hundreds of seagulls in the eighth and ninth innings of a San Francisco Giants game is not an uncommon sight at AT&T Park. The birds have become such a big problem that they've earned their own parody Twitter account and t

Share Tweet

CNNSI.com

Mar 19, 2013

SAN FRANCISCO (AP) Late lineup addition Moises Sierra hit a tying RBI double in the fifth, Jose Reyes added a go-ahead single two batters later and the Dominican Republic reached the championship of the World Baseball Classic with a 4-1 win against the …

Share Tweet

Dominican Republic Wins World Baseball Classic

Mar 19

The Dominican Republic jumped out early and kept Puerto Rico at bay to take the World Baseball Classic.