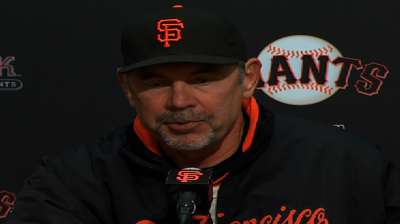 deadspin.com

May 16, 2013

Jeremy Affeldt admits it: In 2010, he literally was an overpaid relief pitcher for the San Francisco Giants.Read more...

Share Tweet

'Giants Gamer Babes' vie for cash on latest 'Bucks'

MLB.com

May 16, 2013

Emma Dewit and Georgie DeAntoni aren't your typical Giants fans. Already known entities at AT&T Park for their unique displays of support for their team, the stepcousins were the latest to take their shot at some cash on "Bucks on the Pond."

Share Tweet

Arencibia, Lind hit 2-run HRs; Jays win 4th in row

ESPN.com

May 16, 2013

J.P. Arencibia and Adam Lind each hit two-run home runs, and the Toronto Blue Jays won their season-high fourth straight game Wednesday night, beating the San Francisco Giants 11-3.

Share Tweet

MLB.com

May 16, 2013

With Melky Cabrera, Jose Bautista and Edwin Encarnacion atop the lineup the last four games, the Blue Jays have scored 36 runs, and Wednesday they won their fourth straight by defeating the Giants, 11-3, at Rogers Centre.

Share Tweet

Web Gems

May 16

Does Brandon Crawford's barehanded stop and throw top Aaron Hicks' reigning Web Gem?

Giants Overcome Cain's Rough Start

May 16

Matt Cain surrendered six earned runs, but the Giants scored eight unanswered runs to defeat the Rockies 8-6.