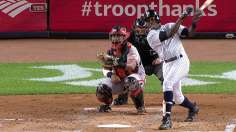 MLB.com
Updated Sep 20, 2013
Alex Rodriguez rewrote the record books to become baseball's grand slam leader and CC Sabathia turned in his best effort in months, leading the Yankees to a 5-1victory over the Giants on Friday at Yankee Stadium.
Share
Tweet
Giants rookies dress up like The Naked Cowboy, then meet him in Times Square

yahoo.com

Sep 20, 2013

MLB teams have been doing their rookie dress-up days lately, a hazing ritual in which the new guys have to dress up after a game in costumes chosen by the veterans. For instance, the New York Yankees made their rookies dress up like pop stars. The San F…

Share Tweet

Fan play of the day: Lady snares a line drive with her glove, is super pumped afterward

yahoo.com

Sep 20, 2013

Last week at a San Francisco Giants game, we saw a great-grandmother snag a foul ball and then do a dance of joy. We loved it. The announcers loved it. Everybody loved it. It was precious. But now she's got a challenger for best older-woman-with-a-glove…

Share Tweet

SF Giants could ruin Yankees' playoff hopes

nydailynews.com

Sep 20, 2013

The standings say the defending world champion San Francisco Giants, who invade Yankee Stadium on Friday night, are now a last-place team with nothing left to play for than to be spoilers to the Yankees.

Share Tweet

A-Rod's Grand Slam Lifts Yankees

Sep 20

Alex Rodriguez set a major league record with his 24th career grand slam, passing Lou Gehrig with a tiebreaking shot in the seventh inning that lifted the Yankees past the Giants 5-1.