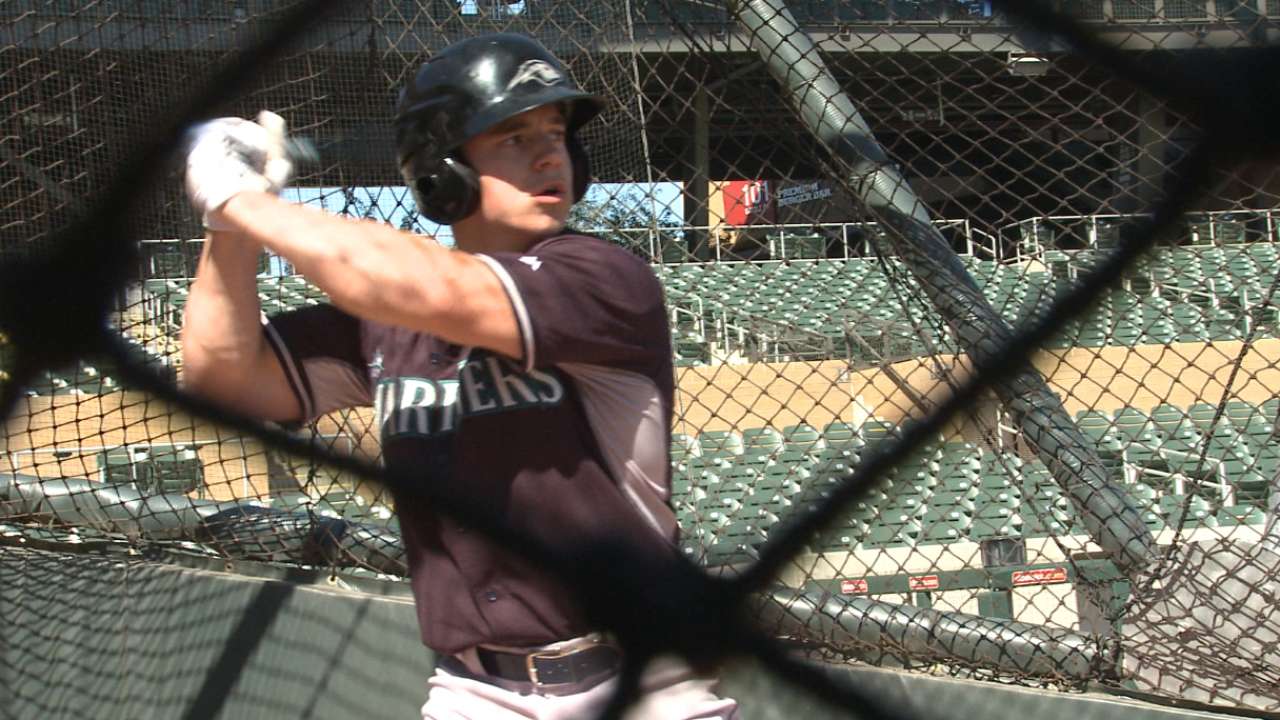 Mariners' Servais, coaching staff to return in '17

ESPN.com

Oct 20

Mariners' Servais, coaching staff to return in '17

Share Tweet

yahoo.com

Oct 12

(Yahoo Sports) Sorry, Seattle Mariners, your World Series trophy is in another castle. And if Bowser is in that castle, it would be the most on-brand one of these we've done. The Mariners didn't win the AL West this year, but they hung in there, survivi…

Share Tweet

Root For The Rangers In The Playoffs

deadspin.com

Oct 6

The Texas Rangers finished with a 95-67 record, winning the AL West while nine games clear of the second-place Seattle Mariners. The lack of competition within the division, and thus the lack of a late-season race for the playoffs, may have kept the Ran…

Share Tweet

ESPN.com nytimes.com

Oct 2

Despite dramatic rally, Mariners' playoff hopes end

Share Tweet

MLB.com nytimes.com

Oct 2

The Mariners pushed it to the 10th inning of their 161st game of the season, but there will be no playoffs in the Pacific Northwest for a 15th straight year after the A's pulled out a taut, 9-8 thriller Saturday night at Safeco Field.

Share Tweet

nytimes.com

Oct 1

The Mariners traded him. The Twins released him. And even the Boston fans gave up on David Ortiz a couple of times after he struggled to start the spring or limped away before the year was over.

Share Tweet

yahoo.com

Sep 30

SEATTLE — Homecomings in sports can be a dangerous thing. Anytime legendary former players come home and take on a new role with the team that they helped put on the map, they run the risk of tarnishing their legacy. So, when the Seattle Mariners hired …

Share Tweet

deadspin.com

Sep 30

The Toronto Blue Jays are in a tight race for the American League wild card, and last night's loss to the Orioles didn't make things any easier. They are now facing a three-game series against the Red Sox, and need to hold off the Tigers and Mariners, w…

Share Tweet

Statcast of the Day: Diaz rides slider to key save

MLB.com

Sep 30

Edwin Diaz is just a 22-year-old rookie, but the right-hander has thrived in some big spots for the Mariners since his debut in June.

Share Tweet

Zunino's HR Spurs Seattle Past A's 3-2

nytimes.com

Sep 30

Struggling Mike Zunino delivered the go-ahead home run in the seventh inning and Seattle held on for a 3-2 victory over the Oakland Athletics on Thursday night, keeping the Mariners on the edge of the AL wild card chase.

Share Tweet

Cano's Homers Mariners Top Astros 12-4, Boost Playoff Hopes

nytimes.com

Sep 28

Robinson Cano continued his dominance against the Houston Astros on Wednesday to keep Seattle's playoff hopes alive.

Share Tweet

Mariners overpower Astros, keep pace in Wild Card

MLB.com

Sep 28

Robinson Cano launched a three-run homer in the first inning -- his ninth against Houston in 19 games this year -- off struggling starter Doug Fister, and Seth Smith capped a three-run second inning with a two-run single to send Seattle to a 12-4 rout o…

Share Tweet

Mariners to let Cruz play through wrist injury

MLB.com

Sep 28

Nelson Cruz continues to deal with a painful left wrist that causes him to visibly cringe at times when he swings and misses at pitches, but the Mariners slugger will play as long as he can with his team still clinging to hopes of landing the final Amer…

Share Tweet

MLB.com nytimes.com

Sep 27

Robinson Cano continued his assault on Astros pitching, edging the Mariners closer in the American League Wild Card chase in the process while pushing Houston towards elimination.

Share Tweet

Cruz Homers Twice, Mariners Beat Twins 4-3

nytimes.com

Sep 25

Nelson Cruz homered twice before leaving with left wrist soreness, Jesus Sucre homered for the first time in 14 months and the Seattle Mariners beat the Minnesota Twins 4-3 on Sunday.

Share Tweet

Sano, Duffey Lead Twins to 3-2 Win Over Mariners

nytimes.com

Sep 24

Nelson Cruz's towering two-run home run seemed to give the Seattle Mariners the jolt they needed Saturday night, tying the score with the second-longest homer in the majors this season.

Share Tweet

MLB.com nytimes.com

Sep 24

Mariners lefty James Paxton took matters into his own hands on Friday with a powerful seven-inning outing, and he got plenty of help from his offense as Seattle topped the Twins, 10-1, to stay in pursuit of an American League Wild Card.

Share Tweet

Cano On Turning The Perfect Double Play

Feb 28

Mariners 2B Robinson Cano demonstrates why he is one of the best in the world at turning double plays.

King Felix Ready To Lead Mariners To Postseason

Feb 27

2010 AL Cy Young winner Felix Hernandez talks about Seattle's improved starting rotation, the acquisition of Nelson Cruz and their playoff hopes.

Mariners Questions In Spring Training

Feb 27

Whether Austin Jackson can bounce back and improve the Mariners' attack is one of the most important questions for the team this spring.

A-Rod: A Pariah's Return

Feb 21

At age 39, Alex Rodriguez is back on the Yankees' roster after a record-setting 162-game suspension. T.J. Quinn reports on the troubling memories and burning questions that surround Rodriguez's return from season-long exile, even among some allies.