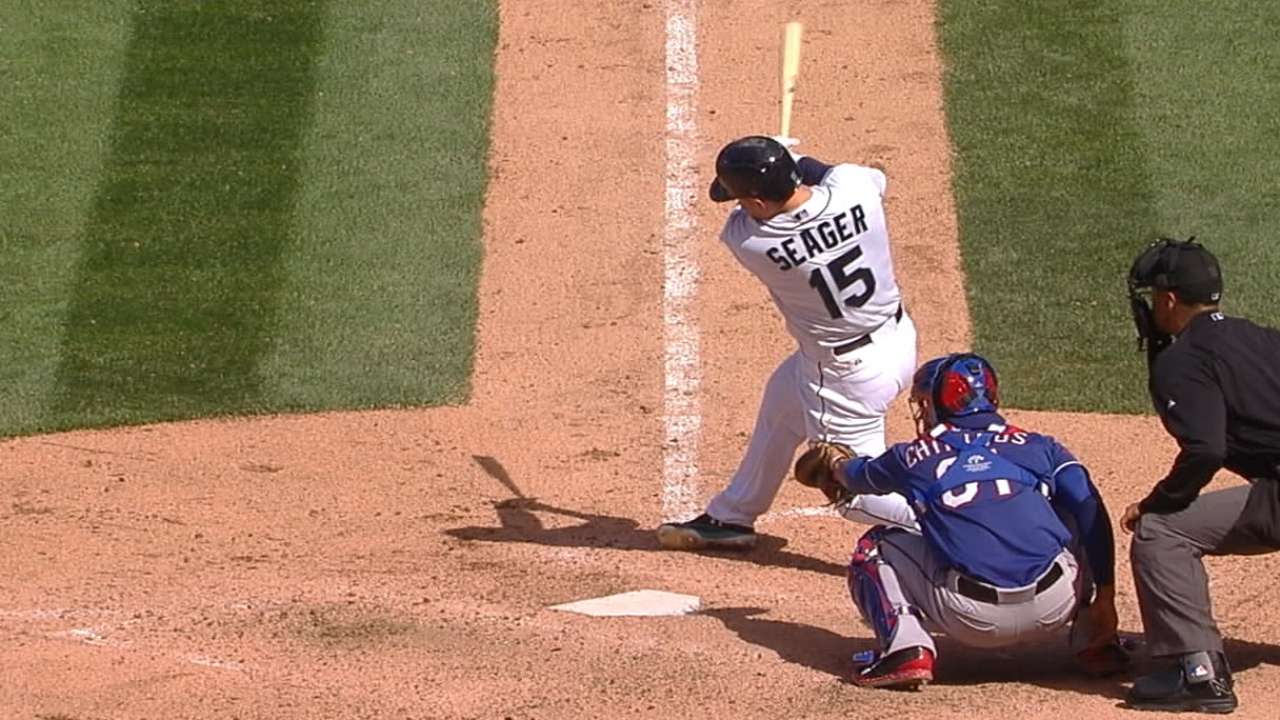 Seager teams up with friend to help fight cancer
MLB.com
Updated 21 hours ago
Racking up hits has always been important to Kyle Seager, but that role will help another goal this season as the Mariners All-Star third baseman has hooked up with former North Carolina teammate Chase Jones on a charity to help fight children's cancer.
Upvote
Share
Tweet
Weeks likely to be part of corner-outfield platoon

MLB.com

Mar 2 (2 days ago)

Lloyd McClendon has never liked the word "platoon," but the Mariners' skipper acknowledged Monday that he'll likely be using that sort of split-time situation in both left and right field this season if things go as planned.

Upvote Share Tweet

Cano arrives to camp focused on reaching postseason

MLB.com

Feb 24

As Mariners position players reported for camp on Tuesday, Robinson Cano arrived with a breath of fresh air and a healthy dose of optimism. But the six-time All-Star second baseman also knows that all the raised expectations and excitement can disappear…

Upvote Share Tweet

Felix: Main motivation is Mariners have talent to win

MLB.com

Feb 24

It's definitely good to be the King. Felix Hernandez traveled the world this winter with his wife and two kids, then returned home to a beautiful new house in the Seattle area where he has a fleet of sports cars and a beautiful view befitting a man with…

Upvote Share Tweet

Wilhelmsen has no regrets about going to arbitration hearing

MLB.com

Feb 22

Despite coming out on the losing end of his arbitration hearing, Mariners reliever Tom Wilhelmsen said he was grateful for the opportunity to stand up for what he believed.

Upvote Share Tweet

nytimes.com MLB.com ESPN.com

Feb 21

In the final case of a busy year, Seattle bested pitcher Tom Wilhelmsen, and major league teams went 8-6 over all.

Upvote Share Tweet

Montero brings new attitude -- and new look -- to Mariners camp

MLB.com

Feb 20

Mariners' former top prospect Jesus Montero arrived at Spring Training with a slimmer physique and a new attitude in an effort to put past off-field issues behind him and contribute in 2015.

Upvote Share Tweet

Seattle Mariners pitching prospect Victor Sanchez was hospitalized in Venezuela following a boating accident.

Upvote Share Tweet

MLB.com

Feb 15

Right-hander Victor Sanchez, who was ranked as the 11th-best prospect in the Mariners' organization last year, has suffered a head injury after being hit by a boat while swimming, according to media reports in his native Venezuela.

Upvote Share Tweet

nytimes.com MLB.com ESPN.com

Feb 12

After making additions throughout the offseason, the Seattle Mariners had one more move before the start of spring training.

Upvote Share Tweet

yahoo.com

Feb 11

The Seattle Mariners biggest disadvantage won't come on the field this season. As is frequently the case, it will come at about 35,000 feet in the air, as they are once again faced with baseball's most grueling travel schedule. According to Baseball Sav…

Upvote Share Tweet

On the Cusp: Seattle Mariners

MLB.com

Feb 3

Bernie Pleskoff takes a look at which Mariners prospects are on the cusp of playing in the big leagues in 2015.

Upvote Share Tweet

A Super matchup on the diamond: Seattle vs. Boston

MLB.com

Jan 31

A team from Seattle vs. a team from Boston on the big stage. What's that you say? The Super what? No, no, I'm talking about the 2015 American League Championship Series. Could happen. Both the Mariners and Red Sox will be attempting to rise from the aby…

Upvote Share Tweet

yahoo.com

Jan 31

The fallout from the recent bench-clearing incident in the Australian Baseball League has gone beyond record-breaking league sanctions and could wind up in a court of law, according to MiLB.com. In the latest development, Seattle Mariners pitching prosp…

Upvote Share Tweet

yahoo.com

Jan 29

Baseball teams are romancing the past this week. Consider the Seattle Mariners' nice-looking new alternate jerseys and the San Diego Padres' announcement that they'll go retro with late '80s brown pinstriped uniforms for five games. One of the other mor…

Upvote Share Tweet

Hicks knows Seahawks' Wilson is a winner

MLB.com

Jan 29

In the National Football League, Russell Wilson is the little guy doing huge things as quarterback of the Seahawks. But Mariners catcher John Hicks remembers Wilson in a different way. To Hicks, Wilson was the big guy on their youth baseball team when t…

Upvote Share Tweet

Mariners close to reuniting with Endy, Gutierrez

MLB.com

Jan 25

Two familiar outfielders, Endy Chavez and Franklin Gutierrez, are close to returning to the Mariners on Minor League deals with invitations to next month's Major League Spring Training.

Upvote Share Tweet

Cruz highlights first day of Mariners FanFest

MLB.com

Jan 24

Nelson Cruz insists he's still a kid at heart, so the new Mariners slugger fit right in during his first public appearance with his new club on Saturday at Safeco Field.

Upvote Share Tweet

Looking good, Seattle Mariners. The M's have unveiled new alternate uniforms that they'll wear this season for Sunday home games and they're deliciously retro, adding elements of their late 1980s uniforms to their current look. Enough words, we know wha…

Upvote Share Tweet

Cano On Turning The Perfect Double Play

Feb 28

Mariners 2B Robinson Cano demonstrates why he is one of the best in the world at turning double plays.

King Felix Ready To Lead Mariners To Postseason

Feb 27

2010 AL Cy Young winner Felix Hernandez talks about Seattle's improved starting rotation, the acquisition of Nelson Cruz and their playoff hopes.

Mariners Questions In Spring Training

Feb 27

Whether Austin Jackson can bounce back and improve the Mariners' attack is one of the most important questions for the team this spring.

A-Rod: A Pariah's Return

Feb 21

At age 39, Alex Rodriguez is back on the Yankees' roster after a record-setting 162-game suspension. T.J. Quinn reports on the troubling memories and burning questions that surround Rodriguez's return from season-long exile, even among some allies.