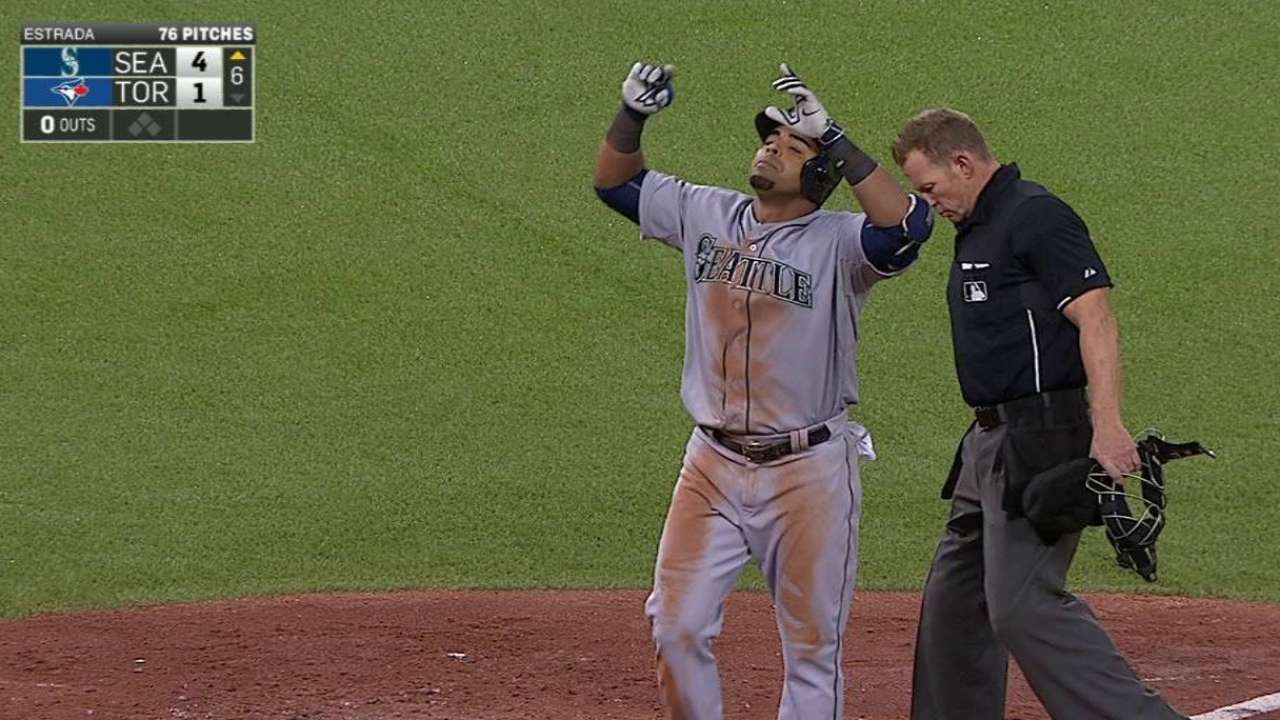 Mariners, Blue Jays await fruits of their labor

MLB.com

22 hours ago

The Blue Jays and Mariners enter their weekend series in Toronto in similar states of frustration. Unwittingly, they have illustrated that you can get so many things right in the offseason and still have so much go wrong in the season itself.

Share Tweet

Pearce Slam, Hardy's RBI Lift Orioles Past Mariners 5-4

nytimes.com

May 21 (yesterday)

Steve Pearce hit his first career grand slam, J.J. Hardy singled in the tiebreaking run in the eighth inning and the Baltimore Orioles weathered a lengthy rain delay and a comeback by the Seattle Mariners in a 5-4 victory Thursday.

Share Tweet

MLB.com

May 20 (3 days ago)

Once Welington Castillo was able to process the news of his trade from the Cubs to the Mariners, he looked forward to a new beginning and having the opportunity to make an immediate impact. He will get that chance Thursday, as manager Lloyd McClendon na…

Share Tweet

Paredes' HR, 4 RBIs Power Orioles Past Mariners 9-4

nytimes.com

May 19 (3 days ago)

Jimmy Paredes homered and had a career-high four RBIs, and the Baltimore Orioles overcame a home run by former teammate Nelson Cruz in a 9-4 victory over the Seattle Mariners on Tuesday night.

Share Tweet

Smith belts shot, brings one back in big 1st

MLB.com

May 19 (3 days ago)

Mariners left fielder Seth Smith had a first inning to remember in Tuesday's series-opener against the Orioles, impressing with both his bat and his glove.

Share Tweet

Mariners awaiting rest of bats to click with Cruz

MLB.com

May 18 (5 days ago)

As the Mariners prepare to open a nine-game East Coast road swing Tuesday in Baltimore, they're looking at a familiar situation.

Share Tweet

MLB.com

May 18 (5 days ago)

Mariners shortstop Brad Miller has been named the American League Player of the Week after leading the Majors in slugging percentage last week.

Share Tweet

MLB.com

May 17 (5 days ago)

Mariners shortstop Brad Miller hit his third home run in the past two games and left-hander James Paxton extended his scoreless streak to 20 innings with eight shutout frames on Sunday as Seattle beat Boston, 5-0, at Safeco Field.

Share Tweet

nytimes.com

May 17 (6 days ago)

David Ortiz and Pablo Sandoval each homered as the Boston Red Sox beat the Seattle Mariners 4-2 on Saturday night.

Share Tweet

MLB.com nytimes.com yahoo.com

May 16

Nelson Cruz continued his terrific start in Seattle with a walk-off single with two out in the bottom of the ninth on Friday to lift the Mariners to a 2-1 victory over the Red Sox.

Share Tweet

MLB.com

May 16

Red Sox manager John Farrell didn't sound like he was going to get much sleep once he got back to his hotel room late Friday night. Before a question could even be asked following a 2-1 loss to the Mariners, Farrell essentially blamed himself for the de…

Share Tweet

yahoo.com

May 15

After eight full big-league seasons and four Gold Gloves, we've come to expect impressive plays from Dustin Pedroia. So while a great play on Thursday night isn't exactly surprising, it's still worth watching and tipping your cap. The Red Sox were leadi…

Share Tweet

MLB.com

May 15

Mookie Betts drove in the go-ahead run on a ninth-inning sacrifice fly that turned into an error on a dropped ball by left fielder Rickie Weeks as the Red Sox pulled out a 2-1 victory over the Mariners in Thursday's series opener at Safeco Field.

Share Tweet

Boston Rallies in the 9th for 2-1 Victory Over Seattle

nytimes.com

May 15

Brock Holt doubled and scored the go ahead run on Rickie Weeks' error with one out in the ninth inning, Shane Victorino hit his first home run of the season and the Boston Red Sox beat the Seattle Mariners 2-1 on Thursday night for their fourth win in f…

Share Tweet

Jackson not yet ready for rehab assignment

MLB.com

May 13

Mariners center fielder Austin Jackson will need a little more recovery time for his sprained right ankle before beginning a Minor League rehab stint, manager Lloyd McClendon said Wednesday.

Share Tweet

Zunino stands out on big night for offense

MLB.com

May 13

Hitting home runs has never been Mike Zunino's issue and the Mariners catcher knocked two more in Tuesday's 11-4 victory over the Padres. But Seattle's young backstop has begun lifting his average -- as well as homers -- and a 3-for-4 day with three RBI…

Share Tweet

yahoo.com

May 12

SEATTLE – Until last season Felix Hernandez's career with the Seattle Mariners could be summed up as such: Hernandez has been great. The team? Not so much. Then finally, after a decade of his brilliance resulting in little team success, the Mariners fin…

Share Tweet

deadspin.com

May 11

You probably remember when Michael Pineda was a blue-chip prospect in the Mariners' organization, the guy who was supposed to develop into Felix Hernandez Jr. You probably also remember that all those plans went to hell when Pineda needed shoulder surge…

Share Tweet

Cano On Turning The Perfect Double Play

Feb 28

Mariners 2B Robinson Cano demonstrates why he is one of the best in the world at turning double plays.

King Felix Ready To Lead Mariners To Postseason

Feb 27

2010 AL Cy Young winner Felix Hernandez talks about Seattle's improved starting rotation, the acquisition of Nelson Cruz and their playoff hopes.

Mariners Questions In Spring Training

Feb 27

Whether Austin Jackson can bounce back and improve the Mariners' attack is one of the most important questions for the team this spring.

A-Rod: A Pariah's Return

Feb 21

At age 39, Alex Rodriguez is back on the Yankees' roster after a record-setting 162-game suspension. T.J. Quinn reports on the troubling memories and burning questions that surround Rodriguez's return from season-long exile, even among some allies.

Sports Columnists

2015 NBA playoffs - Golden State Warriors learning what it takes to be cha…

May 21

Steve Kerr is trying to impress upon his inexperienced Warriors just how hard the playoffs can be, without them actually proving it by adding to the degree of difficulty.

NBA Playoffs 2015 - Golden State Warriors and Houston Rockets going small …

May 21

The Western Conference finals are downsizing. And while Houston has no problem going small, it might be playing right into Golden State's hand.