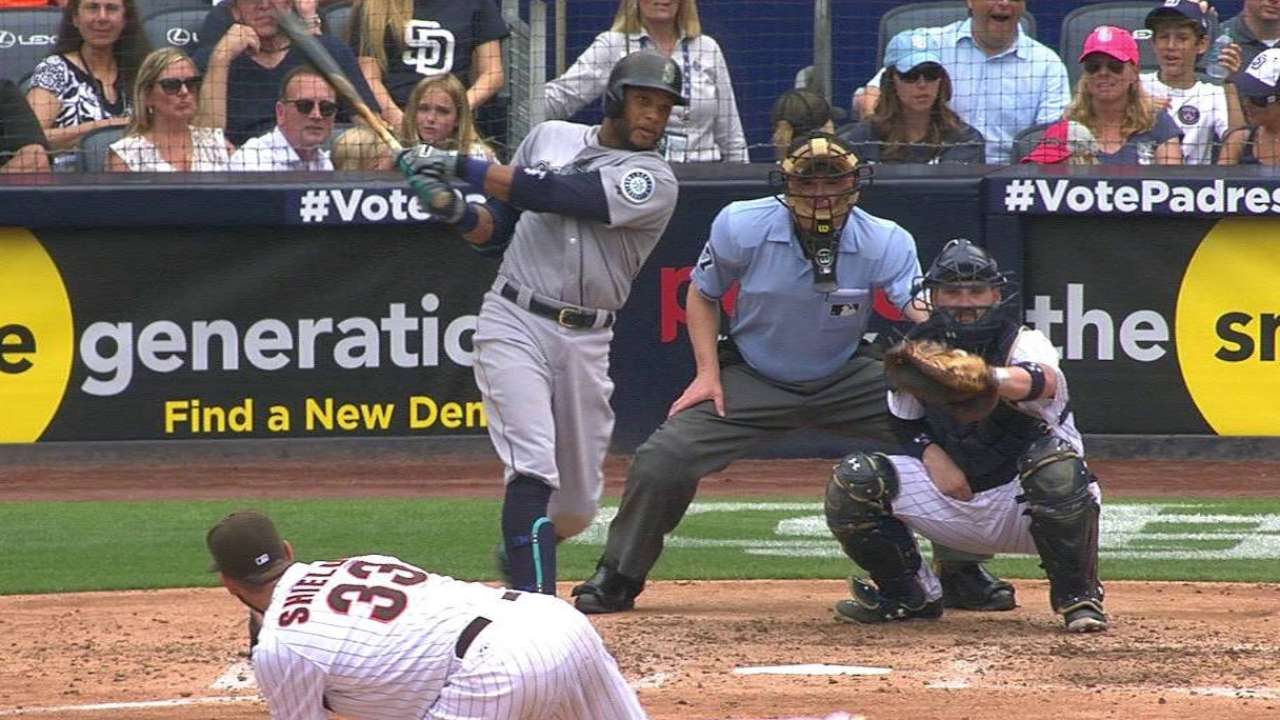 MLB.com
Updated 6 hours ago
Taijuan Walker and four relievers combined to shut out the Padres on three hits Wednesday as the Mariners took both games of the series at Petco Park with a 7-0 Interleague victory.
Share
Tweet
Walker notches six-inning, one-hit shutout

MLB.com

7 hours ago

With Taijuan Walker cruising through six innings on just one hit with a 1-0 lead, manager Lloyd McClendon chose to lift the 22-year-old for a pinch-hitter in the top of the seventh in what turned into a 7-0 victory for the Mariners over the Padres.

Share Tweet

yahoo.com MLB.com nytimes.com

Jul 1 (yesterday)

Take a look around the league with Big League Stew's daily wrap up. We'll hit on all of the biggest moments from the day that you may have missed, while providing highlights, photos and interesting stats. Move over Felix Hernandez, the Seattle Mariners …

Share Tweet

Cruz feels 'blessed' for fans' All-Star support

MLB.com

Jun 30 (yesterday)

Mariners slugger Nelson Cruz is down to the final two days of All-Star Game voting and says he appreciates the fan support, no matter how things turn out in his race to the wire with Kendrys Morales of the Royals for the starting designated hitter spot …

Share Tweet

Idiot On The Field Invades Angels Game, Eludes Security, Throws Pitch

deadspin.com

Jun 29 (3 days ago)

Sunday's Mariners-Angels game featured an Idiot on the Field who lasted quite a while. The shirtless guy made it from center field to the pitcher's mound and even pretended to throw a pitch. Security eventually corralled him near the dugout.Read more...

Share Tweet

yahoo.com MLB.com deadspin.com nytimes.com

Jun 29 (3 days ago)

Seattle Mariners second baseman Robinson Cano left Saturday's game after being hit in the head by an errant warm-up throw as he sat in the dugout. If Sunday was any indication, he learned his lesson. Prior to the start of Sunday's game against the Los A…

Share Tweet

Angels Win on Wild Pitch, Beat Mariners 3-2 in 10 Innings

nytimes.com

Jun 28 (3 days ago)

Kole Calhoun scored the winning run on a wild pitch by Tom Wilhelmsen in the 10th inning after Albert Pujols grounded into a bases-loaded double play against a five-man infield, and the Los Angeles Angels beat the Seattle Mariners 3-2 on Sunday.

Share Tweet

Walker's gem lifts Mariners at Angel Stadium

MLB.com

Jun 27 (5 days ago)

Taijuan Walker pitched seven innings of one-run ball and the Mariners' scuffling offense did just enough against the Angels' Matt Shoemaker to capture a 3-1 win at Angel Stadium on Friday night.

Share Tweet

Street excited to have 300 saves in reach

MLB.com

Jun 26 (5 days ago)

Angels closer Huston Street entered this weekend's series against the Mariners just five saves away from 300 for his career. It may not be 3,000 hits or 500 home runs, but it's a distinguished round number nonetheless. Only 26 players have reached the m…

Share Tweet

Trumbo seeks jump-start in return to Angel Stadium

MLB.com

Jun 26 (5 days ago)

Returning to Angel Stadium, where Mark Trumbo played his first four Major League seasons just 10 minutes from his childhood home, might be the perfect tonic for the 29-year-old who has struggled at the plate in his first three weeks with the Mariners.

Share Tweet

Moose, Royals bust loose in 4th, drop Seattle

MLB.com

Jun 25

Mike Moustakas drilled a two-run homer as part of a seven-run fourth inning and left-hander Danny Duffy delivered 4 2/3 effective innings in his first start back from injury as the Royals handled the Mariners 8-2 on Wednesday night at Safeco Field.

Share Tweet

Moustakas, Infante Lead Royals Past Mariners 8-2

nytimes.com

Jun 25

Mike Moustakas hit a two-run home run and Omar Infante had a three-run double in a seven-run fourth inning and the Kansas City Royals beat the Seattle Mariners 8-2 on Wednesday night.

Share Tweet

Mariners call up Gutierrez from Triple-A

MLB.com

Jun 24

Veteran outfielder Franklin Gutierrez has been called up from Triple-A Tacoma and is playing left field and hitting second for the Mariners in Wednesday night's game against the Royals.

Share Tweet

MLB.com nytimes.com

Jun 24

Mariners rookie left-hander Mike Montgomery, a former Royals prospect, survived a shaky start, then overmatched the Royals with a four-hit, complete-game shutout as the Mariners rolled to a 7-0 victory on Tuesday at Safeco Field.

Share Tweet

Cano On Turning The Perfect Double Play

Feb 28

Mariners 2B Robinson Cano demonstrates why he is one of the best in the world at turning double plays.

King Felix Ready To Lead Mariners To Postseason

Feb 27

2010 AL Cy Young winner Felix Hernandez talks about Seattle's improved starting rotation, the acquisition of Nelson Cruz and their playoff hopes.

Mariners Questions In Spring Training

Feb 27

Whether Austin Jackson can bounce back and improve the Mariners' attack is one of the most important questions for the team this spring.

A-Rod: A Pariah's Return

Feb 21

At age 39, Alex Rodriguez is back on the Yankees' roster after a record-setting 162-game suspension. T.J. Quinn reports on the troubling memories and burning questions that surround Rodriguez's return from season-long exile, even among some allies.