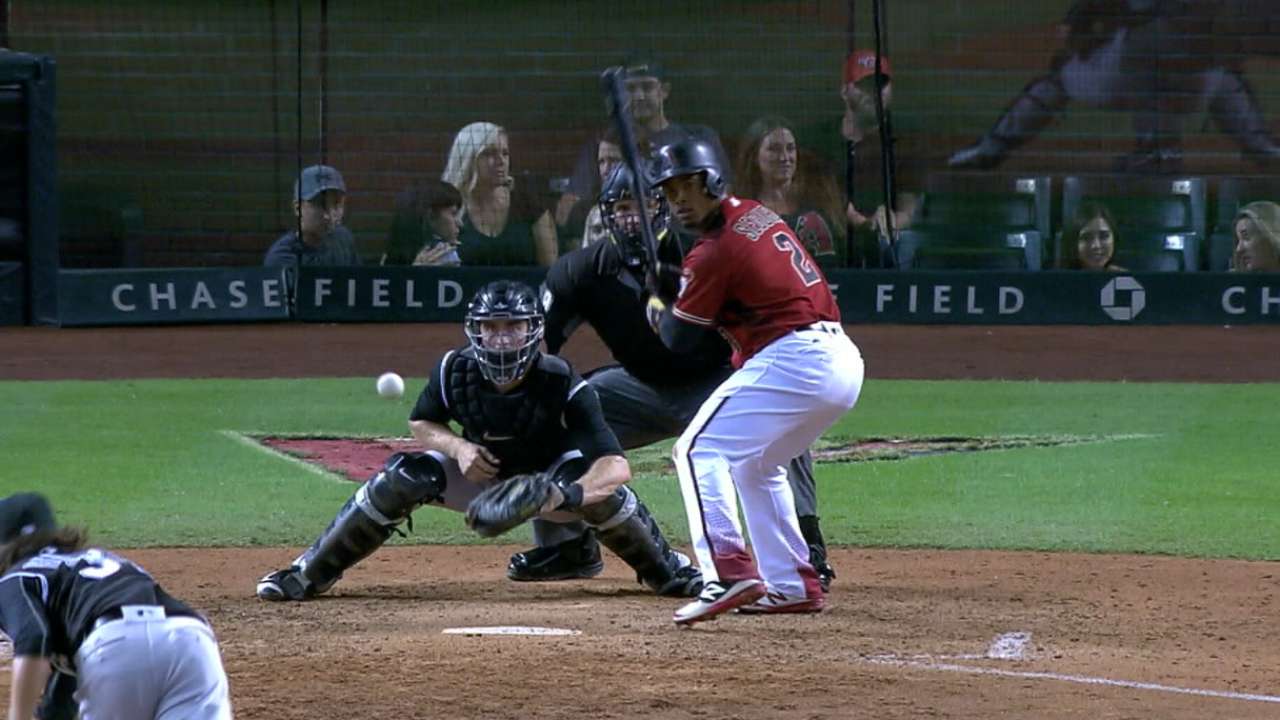 MLB.com
Updated Dec 2 (yesterday)
The Mariners tendered contracts for 2017 to 32 players on their Major League roster on Friday, including seven arbitration-eligible players who would have otherwise become free agents.
Share
Tweet
Source: Mariners, Rzepczynski near deal

MLB.com

Dec 1 (2 days ago)

The Seattle Mariners are closing in on a deal with left-handed reliever Marc Rzepczynski, a source told MLB Network's Jon Morosi on Thursday. The club has not confirmed the report.

Share Tweet

Dipoto: Mariners looking for 'experienced starter'

MLB.com

Nov 30 (3 days ago)

Jerry Dipoto has solidified his lineup and position group with a flurry of six trades involving 19 players over the past 23 days. But the Mariners' general manager acknowledges one of his remaining priorities -- acquiring a veteran starting pitcher to b…

Share Tweet

Epstein's 'simple' Draft strategy continues to pay off

MLB.com

Nov 30 (4 days ago)

It's not too soon to see what the top of the 2014 Draft -- when the Mariners made the conventional choice with the sixth overall pick and selected Alex Jackson, a widely praised high school catcher with the ability to hit -- says about how the game is c…

Share Tweet

Mariners continue to deal, trade former top pick Alex Jackson

ESPN.com

Nov 28 (5 days ago)

Mariners continue to deal, trade former top pick Alex Jackson

Share Tweet

Mariners acquire righties Whalen, Povse from Braves

MLB.com

Nov 28 (5 days ago)

Mariners general manager Jerry Dipoto engineered his sixth trade of the offseason on Monday, dealing 2014 first-round Draft pick Alex Jackson to the Braves for young right-handed pitchers Rob Whalen and Max Povse.

Share Tweet

yahoo.com

Nov 23

Jean Segura is headed to the Mariners in a five-player trade. (AP) General managers Jerry Dipoto of the Seattle Mariners and Mike Hazen of the Arizona Diamondbacks aren't checking out early for Thanksgiving. Late Wednesday night, the two men came togeth…

Share Tweet

5-player deal pre-heats holiday Hot Stove

MLB.com

Nov 23

The Arizona Diamondbacks have acquired right-hander Taijuan Walker and infielder Ketel Marte from the Seattle Mariners for infielder Jean Segura, outfielder Mitch Haniger and left-hander Zac Curtis, the D-backs announced on Wednesday.

Share Tweet

yahoo.com

Nov 21

If Andrew McCutchen is available, he won't come cheap. (Getty Images/Justin K. Aller) Welcome to The Stew's Hot Stove Digest, our daily rundown of MLB news, rumors and gossip for Hot Stove season. Here you'll find a quick recap of all the day's action a…

Share Tweet

Mariners move quickly, hoping small offseason moves add up

ESPN.com

Nov 19

Mariners move quickly, hoping small offseason moves add up

Share Tweet

MLB.com

Nov 15

When Felix Hernandez wrapped up a disappointing 2016 season in early October, he vowed to work hard this winter to return to "King" status for the Mariners. And his pledge to pitch in some games in the Venezuelan Winter League as well as on Ve…

Share Tweet

Mariners general manager Jerry Dipoto moved to add a potent right-handed hitter who can team with first baseman Daniel Vogelbach or play a corner outfield spot, acquiring Danny Valencia from the A's on Saturday for Minor League pitcher Paul Blackburn.

Share Tweet

Mariners keep reliever Cook on Minors deal

MLB.com

Nov 11

Right-handed reliever Ryan Cook, who missed all of the 2016 season, has agreed to a Minor League deal that will keep him in the Mariners' organization next year as he recovers from Tommy John surgery.

Share Tweet

Mariners reportedly showing interest in Napoli

MLB.com

Nov 8

Free agency opened on Tuesday in Major League Baseball, and one of the first reports was that the Mariners are showing interest in first baseman Mike Napoli, which would make perfect sense given Seattle's offseason needs.

Share Tweet

Source: Dodgers trade Ruiz to Mariners

MLB.com

Nov 6

The Dodgers are trading veteran catcher Carlos Ruiz to the Mariners, according to a report from MLB Network insider Jon Heyman. MLB.com's Jon Paul Morosi confirmed from a source that Ruiz waived his no-trade clause, and MLB Network insider Joel Sherman …

Share Tweet

Mariners' Servais, coaching staff to return in '17

ESPN.com

Oct 20

Mariners' Servais, coaching staff to return in '17

Share Tweet

Seattle trio propels Javelinas with late rally

MLB.com

Oct 19

Mariners No. 2 prospect Tyler O'Neill hit his AFL-leading third homer, Luiz Gohara hurled a scoreless frame and Tyler Marlette went 1-for-3 with an RBI for Peoria in an Arizona Fall League win.

Share Tweet

yahoo.com

Oct 12

(Yahoo Sports) Sorry, Seattle Mariners, your World Series trophy is in another castle. And if Bowser is in that castle, it would be the most on-brand one of these we've done. The Mariners didn't win the AL West this year, but they hung in there, survivi…

Share Tweet

Root For The Rangers In The Playoffs

deadspin.com

Oct 6

The Texas Rangers finished with a 95-67 record, winning the AL West while nine games clear of the second-place Seattle Mariners. The lack of competition within the division, and thus the lack of a late-season race for the playoffs, may have kept the Ran…

Share Tweet

ESPN.com nytimes.com

Oct 2

Despite dramatic rally, Mariners' playoff hopes end

Share Tweet

MLB.com nytimes.com

Oct 2

The Mariners pushed it to the 10th inning of their 161st game of the season, but there will be no playoffs in the Pacific Northwest for a 15th straight year after the A's pulled out a taut, 9-8 thriller Saturday night at Safeco Field.

Share Tweet

nytimes.com

Oct 1

The Mariners traded him. The Twins released him. And even the Boston fans gave up on David Ortiz a couple of times after he struggled to start the spring or limped away before the year was over.

Share Tweet

Cano On Turning The Perfect Double Play

Feb 28

Mariners 2B Robinson Cano demonstrates why he is one of the best in the world at turning double plays.

King Felix Ready To Lead Mariners To Postseason

Feb 27

2010 AL Cy Young winner Felix Hernandez talks about Seattle's improved starting rotation, the acquisition of Nelson Cruz and their playoff hopes.

Mariners Questions In Spring Training

Feb 27

Whether Austin Jackson can bounce back and improve the Mariners' attack is one of the most important questions for the team this spring.

A-Rod: A Pariah's Return

Feb 21

At age 39, Alex Rodriguez is back on the Yankees' roster after a record-setting 162-game suspension. T.J. Quinn reports on the troubling memories and burning questions that surround Rodriguez's return from season-long exile, even among some allies.