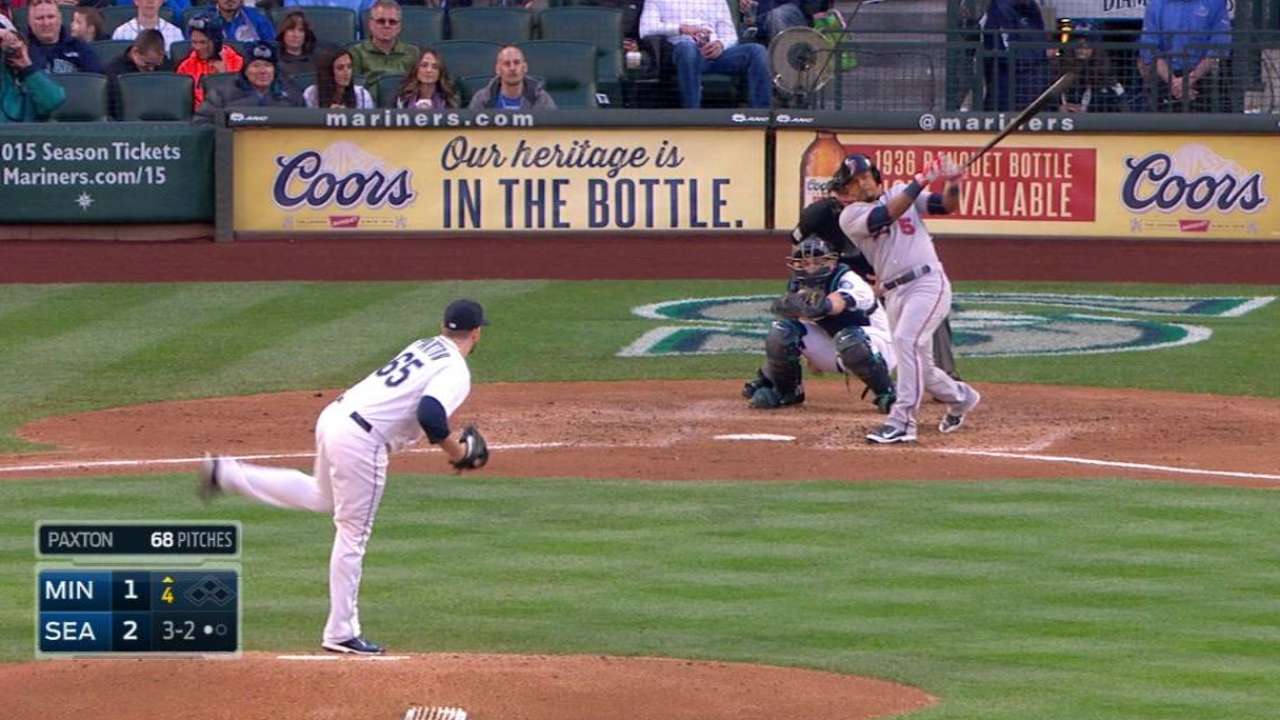 MLB.com
nytimes.com
Updated 16 hours ago
The Twins took advantage of shaky defense by the Mariners and made the most of their run-scoring opportunities to beat Seattle, 8-5, on Saturday night before 33,566 at Safeco Field. Minnesota knocked Mariners starter James Paxton out of the game in the …
Share
Tweet
May exits game vs. M's after comebacker hits right elbow

MLB.com

18 hours ago

Trevor May was pitching to Mariners third baseman Kyle Seager to lead off the bottom of the fourth inning when a liner appeared to hit the pitcher's right arm near the wrist.

Share Tweet

MLB.com nytimes.com

Apr 25 (yesterday)

Felix Hernandez continued his long-running dominance of the Twins and Nelson Cruz and Logan Morrison backed The King up with home runs as the Mariners topped Minnesota, 2-0, on Friday at Safeco Field

Share Tweet

Iwakuma placed on 15-day DL with strained lat muscle

MLB.com

Apr 24 (yesterday)

Mariners right-hander Hisashi Iwakuma, one of the top starters in the American League the past three seasons, was placed on the 15-day disabled list on Friday with a strained lat muscle behind his right shoulder.

Share Tweet

Happ outduels Hernandez, earns first win to snap Astros' streak

MLB.com

Apr 23 (4 days ago)

Veteran southpaw J.A. Happ picked up his first victory for the Mariners with 7 1/3 innings of two-run ball as Seattle snapped the Astros' four-game winning streak with a 3-2 win on Wednesday at Safeco Field.

Share Tweet

nytimes.com

Apr 23 (4 days ago)

J.A. Happ earned his first win with the Mariners as the Seattle bullpen held off the Houston Astros 3-2 Wednesday night.

Share Tweet

Paxton's ERA raised to 8.40 after MLB scoring change

MLB.com

Apr 22 (4 days ago)

An official scoring change by Major League Baseball has added five earned runs to James Paxton's start on Sunday, raising the Mariners left-hander's ERA from 5.40 to 8.40 in one swoop.

Share Tweet

Mariners sign veteran Quentin to Minor League deal

MLB.com

Apr 22 (4 days ago)

Two-time All-Star outfielder Carlos Quentin has signed a Minor League Deal with the Mariners and will report to Triple-A Tacoma, the club announced Wednesday.

Share Tweet

MLB.com nytimes.com

Apr 22 (5 days ago)

Collin McHugh racked up his 10th straight victory for the Astros as Houston rallied for a 6-3 win over the Mariners on Tuesday to remain in first place in the early American League West race.

Share Tweet

MLB.com nytimes.com

Apr 21 (6 days ago)

Houston third baseman Luis Valbuena slugged two home runs, including a go-ahead shot in the eighth inning off Seattle reliever Danny Farquhar, and the Astros won their third straight with a 7-5 victory over the Mariners on Monday.

Share Tweet

MLB.com

Apr 20 (6 days ago)

Nelson Cruz wasted no time making an impact on the Mariners' offense, and the big slugger's imprint was noticed as the 34-year-old right fielder earned American League Player of the Week honors on Monday for his powerful performance over the previous se…

Share Tweet

Walks put bullpen in 'bad situation' as lead melts away

MLB.com

Apr 19 (7 days ago)

Tanner Scheppers blamed himself for putting the Rangers bullpen in a tough spot as the Mariners rallied to win with a walk-off run in the ninth.

Share Tweet

Cruz Drives in 5 Runs as Seattle Beats Texas 11-10

nytimes.com

Apr 19

Austin Jackson singled in the tying run in the ninth inning, Nelson Cruz followed with a two-out single for his fifth RBI of the game, and the Seattle Mariners overcame a pair of five-run deficits to beat the Texas Rangers 11-10 on Sunday.

Share Tweet

Gallardo, Rangers Relievers Shut Down Mariners in 3-1 Win

nytimes.com

Apr 18

Yovani Gallardo pitched six scoreless innings, Robinson Chirinos homered and the Texas Rangers beat the Seattle Mariners 3-1 Friday night.

Share Tweet

McClendon: Early adversity will help Mariners 'build character'

MLB.com

Apr 17

Seattle manager Lloyd McClendon says the team's early struggles in close games against tough teams would be good for his club in what is expected to be a banner year.

Share Tweet

On Baseball: Ichiro Suzuki's Hitting Remains Constant Amid Changes

nytimes.com

Apr 17

Suzuki has 2,848 hits in the majors and probably needs another season to reach 3,000, but he is exceptionally fit, and motivated.

Share Tweet

yahoo.com

Apr 16

By all accounts, Seattle Mariners second baseman Robinson Cano appears to be a smart player with a high baseball IQ. Unfortunately for the struggling Mariners, that IQ briefly eluded Cano on Wednesday night. Trailing 5-2 in the sixth inning against the …

Share Tweet

Cano embarrassed after mental lapse on basepaths

MLB.com

Apr 16

Robinson Cano made a mental error he'll have a hard time forgetting in Wednesday's game against the Dodgers when he got thrown out after walking toward home plate following a one-out walk to Mariners teammate Logan Morrison.

Share Tweet

nytimes.com

Apr 16

Joc Pederson used his bat, glove and arm to help Brett Anderson record his first victory with the Los Angeles Dodgers.

Share Tweet

Cano On Turning The Perfect Double Play

Feb 28

Mariners 2B Robinson Cano demonstrates why he is one of the best in the world at turning double plays.

King Felix Ready To Lead Mariners To Postseason

Feb 27

2010 AL Cy Young winner Felix Hernandez talks about Seattle's improved starting rotation, the acquisition of Nelson Cruz and their playoff hopes.

Mariners Questions In Spring Training

Feb 27

Whether Austin Jackson can bounce back and improve the Mariners' attack is one of the most important questions for the team this spring.

A-Rod: A Pariah's Return

Feb 21

At age 39, Alex Rodriguez is back on the Yankees' roster after a record-setting 162-game suspension. T.J. Quinn reports on the troubling memories and burning questions that surround Rodriguez's return from season-long exile, even among some allies.