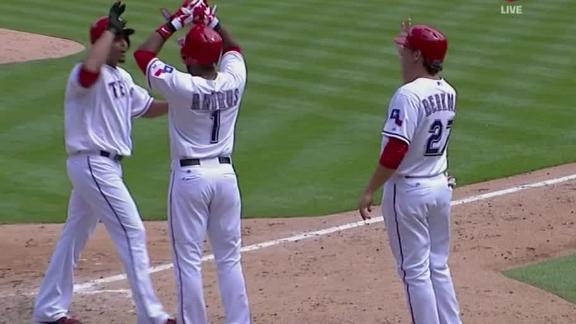 ESPN.com
Updated Apr 21, 2013
Nelson Cruz hit his fifth career grand slam, one of four home runs by the Texas Rangers in an 11-3 victory Sunday to complete a three-game series sweep over the Seattle Mariners.
Share
Tweet
Famous Rangers fan robs Mariners' Franklin Gutierrez, breaks into 'Gangnam Style' dance (video)

yahoo.com

Apr 21, 2013

You probably remember Texas Rangers fan Trent Williams from his past adventures on "Greene's Hill" at the Ballpark in Arlington. He's quite the expert home run catcher - or ballhawk, if you will - and he's made a little name for himself over the past

Share Tweet
Sports Columnists
Cleveland Cavaliers reach out to Phil Jackson about open coaching position…

Apr 21

As they did eight years ago when he was in retirement, the Cleveland Cavaliers have reached out to Phil Jackson about their head coach opening, sources told ESPN.com.

Manu Ginobili gives San Antonio Spurs a lift in Game 1

Apr 21

After missing the bulk of April, Manu Ginobili helps lift the Spurs past the Lakers in Game 1.