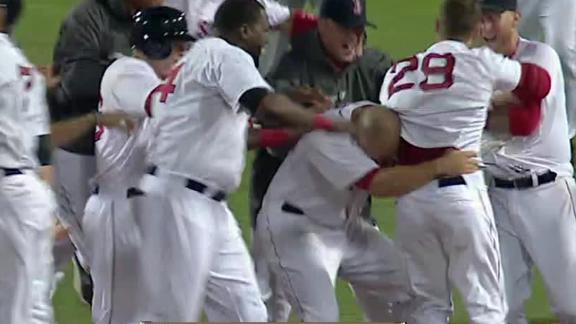 ESPN.com
Updated Aug 1, 2013
Daniel Nava's long single to center field capped a six-run rally in the bottom of the ninth inning as the Boston Red Sox came back to beat the Mariners 8-7 on Thursday night and sweep Seattle in the three-game series.
Share
Tweet
Left fielder Jonny Gomes pulls off unassisted double play for Red Sox

yahoo.com

Aug 1, 2013

Wednesday night was a wild and crazy night at Fenway Park in Boston. Not only did the hometown Red Sox move back into first place in the American League East with a 5-4, 15 inning victory over the Seattle Mariners, which alone drove the city into a fren…

Share Tweet

MLB.com

Aug 1, 2013

Stephen Drew played the role of early-morning walk-off hero on Thursday at Fenway Park, belting a bases-loaded RBI single down the line in right with two outs in the bottom of the 15th inning, capping a 5-4 win over the Mariners. The victory, coupled wi…

Share Tweet

Red Sox Walk Off With Win

Aug 1

The Red Sox scored six runs in the bottom of the ninth to complete the comeback against the Mariners 8-7.