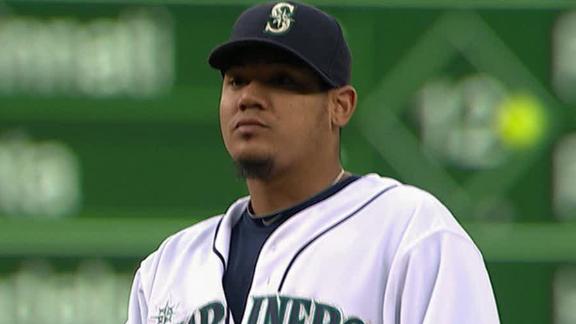 Lefty Saunders reportedly agrees to deal with Mariners

MLB.com

Feb 7, 2013

Joe Saunders, a veteran left-hander who pitched for the Orioles and D-backs last season, has agreed to a one-year deal with the Mariners pending the completion of a physical exam, according to Ken Rosenthal of FoxSports.com.

Share Tweet

The Seattle Mariners have finalized a $1.5 million, one-year contract with catcher Kelly Shoppach, providing a needed backup to expected starter Jesus Montero.

Share Tweet

King Felix just became the king of the contract hill. Felix Hernandez, the Seattle Mariners' ace, has agreed to a new seven-year, $175 million extension with the team, according to USA Today's Bob Nightengale. The deal is not finalized yet, but should b…

Share Tweet

ESPN.com

Feb 7, 2013

The agents who represent Seattle catcher Jesus Montero and Toronto outfielder Melky Cabrera say no one at their agency has ever heard of or knows anyone at the Florida anti-aging clinic currently under investigation by Major League Baseball.

Share Tweet

Report: Record Deal For Hernandez

Feb 7

Geoff Baker discusses the report that Felix Hernandez has agreed to a five-year, $135.5 million contract with the Mariners.

Sports Columnists

Don Banks: Williams, Titans may be the best thing for each other

Feb 7

To paint Tennessee's hiring of well-known NFL pariah Gregg Williams on Thursday as nothing more than an act of desperation is not a totally baseless characterization. For either Titans head coach Mike Munchak or Williams himself.

Don Banks: Taking a second look at 2012 NFL Draft's first round

Feb 7

With the Super Bowl in the books, we can now stand clear enough to view the NFL's 2012 season through the prism of history, all 267 games worth (256 in the regular season and 11 in the playoffs). Before looking ahead to 2013, let's look back one last ti…

Chicago Bulls, Toronto Raptors talking Carlos Boozer-Andrea Bargnani swap,…

Feb 7

The Chicago Bulls and Toronto Raptors have engaged in exploratory trade discussions on a deal that would swap the Bulls' Carlos Boozer for the Raptors' Andrea Bargnani, according to sources familiar with the discussions.