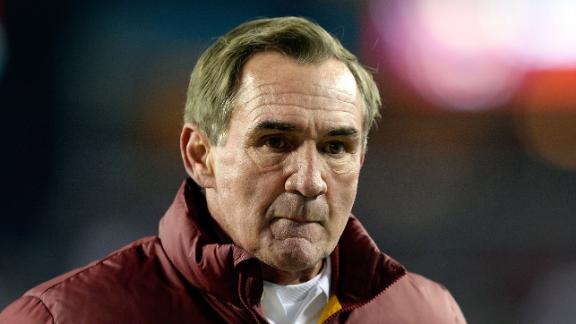 Updated 1 hour ago
Share
Tweet
Disillusioned with the way Dan Snyder was running the organization, Mike Shanahan cleaned out his office in advance of January's wild-card playoff game against the Seahawks and expected to leave the team whenever the season ended, according to a source.
Sunday links: Predictions, and more

Updated 3 hours ago

Share Tweet

Before getting to the links, here's my pick for Sunday's game as published in the paper: Seahawks 21, 49ers 16: Seattle enters a game as a Vegas underdog for the first, and probably only, time during the regular season. And this is a tough venue and a t…

Statistically speaking, Seattle has edge

Updated 5 hours ago

Share Tweet

RENTON, Wash. -- The Seahawks are a 3-point underdog Sunday at San Francisco, the first time this season Seattle hasn't been favored. However, statistically speaking, the 11-1 Seahawks are better than the 8-4 49ers in most categories, as the table shows…

Undercover officers to be present again at Candlestick Park

Updated 12 hours ago

Share Tweet

As the Seahawks face the 49ers at Candlestick Park for the final time, police will be there. Again. According to KTVU-TV, officers will be wearing both Seahawks jerseys and 49ers jerseys. "Energized fans going at each other — totally in bounds, no probl…

Seahawks in uncommon role of underdogs Sunday at San Francisco

Updated 15 hours ago

Share Tweet

Numerous Nevada sports books have made the 49ers 2.5-point favorites over the visiting Seahawks on Sunday in San Francisco, according to multiple line-monitoring websites. If you did a double-take seeing 11-1 Seattle as an underdog, you couldn't be blam…

Crabtree declares it's a "new day, new game"

Updated 16 hours ago

Share Tweet

The last time the 49ers played the Seahawks, they didn't have receiver Michael Crabtree. And the Niners lost, 29-3. This time, Crabtree is back. And he thinks it will lead to an improved outcome for San Francisco. "Now it's different. New day, new game,…

Russell Wilson, NFL MVP? There might be a case for it

Updated 17 hours ago

Share Tweet

Peyton Manning has put up bigger numbers this year for the Broncos, but Wilson has been on an impressive run for the Seahawks. Does the Seahawks' quarterback belong in the MVP conversatoin with Manning?

Seahawks looking to claim NFC West by beating 49ers

Updated 17 hours ago

Share Tweet

A win against the 49ers is all it will take to get what would be Seattle's eighth division title, sixth since 2004 and second since Pete Carroll took over in 2010.

Greg Cosell's Film Review: Seahawks didn't beat up the Saints, they outsmarted them

Updated 18 hours ago

Share Tweet

A lot of people are saying after Seattle's 34-7 win over the Saints on Monday night that the Seahawks whipped them physically. I thought it was far more of a tactical domination by Seattle than a physical show of force. The Saints are a shot play team. …

Source:

yahoo.com

Seahawks-49ers: Five things to watch

Updated 18 hours ago

Share Tweet

Here's our regular day-before look at five things to watch in Sunday's game: 1, CORRALLING COLIN: Colin Kaepernick has had two of his poorer performances against Seattle, going 32-64 for 371 yards with one touchdown and four interceptions in games won b…

Quarterbacks on Rise, and on Collision Course

Updated 21 hours ago

Share Tweet

The Seahawks' Russell Wilson and 49ers' Colin Kaepernick appear to be quarterback stars in the making, but in many ways, they could not be more different.

Source:

nytimes.com

Updated 22 hours ago

Share Tweet

In September, someone (possibly with the Eagles) was putting out the word that the Eagles nearly traded for 49ers quarterback Colin Kaepernick prior to the 2012 draft, and that the Eagles otherwise wanted to pick Seahawks quarterback Russell Wilson. Phi…

Updated 24 hours ago

Share Tweet

For our Seahawks story for today's paper, I wrote a little bit defensive end Cliff Avril who was one of the free agents brought in during the off-season to shore up the pass rush. As the story notes, Avril has done his job, with a team-high 7.5 sacks an…

Stills doesn't think Sherman should have been fined for illegal hit

Updated Dec 7 (yesterday)

Share Tweet

On Monday night, Seahawks cornerback Richard Sherman applied a cheap shot to Saints receiver Kenny Stills. The officials didn't miss it. The league office didn't, either. According to Katherine Terrell of the New Orleans Times-Picayune, Sherman was fine…

Updated Dec 7 (yesterday)

Share Tweet

Seattle Seahawks cornerback Brandon Browner, facing a one-year suspension for violating the NFL's substance abuse, will continue the appeal process after turning down a deal to shorten the ban, NFL.com reported.

Updated Dec 7 (yesterday)

Share Tweet

RENTON, Wash. -- No one was surprised to learn that receiver Percy Harvin won't play Sunday for the Seahawks, which will lead to increased speculation about whether he will play again this season. "We're looking forward to next week being a really impor…

Updated Dec 7 (yesterday)

Share Tweet

Here are the weekly links and notes previewing the upcoming game from Pro Football Focus: On the site this week: - Check out this week's Three to Focus On preview of the Seahawks vs. 49ers. - K.J. Wright makes an appearance on the PFF Team of Week 13. -…

Mind-blowing stats: Russell Wilson vs. 49ers

Dec 7

Check out Seattle Seahawks quarterback Russell Wilson's numbers against the San Francisco 49ers over his career.

Browner Rejects Deal To Reduce Ban

Dec 7

John Clayton breaks down why Seahawks cornerback Brandon Browner decided to turn down the NFL's offer to shorten his one-year suspension for violating the league's substance abuse policy.

Week 14 Predictions

Dec 6

The NFL Live crew provides their predictions for Seahawks-49ers and Panthers-Saints.

'Playbook': Seattle Seahawks vs. San Francisco 49ers

Dec 6

The Seattle Seahawks and San Francisco 49ers have two of the best defenses in the league, so why is the 49ers' running game going to be so important on Sunday? "Playbook" debates.