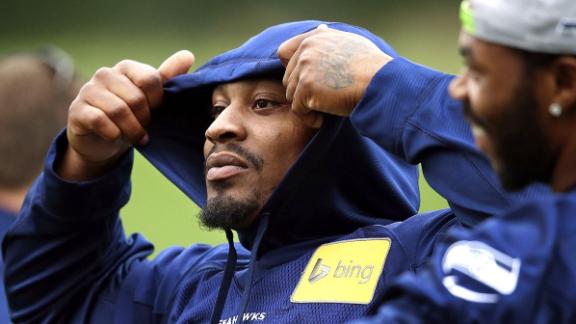 seattletimes.com
ESPN.com
profootballtalk.com
Updated 4 hours ago
Lynch returns to camp after weeklong holdout, but just watches. He essentially got the same deal the Seahawks offered in May. Running backs coach Sherman Smith said Lynch will not see much action in exhibition games, something Lynch also did in 2013, ru…
Upvote
Share
Tweet
ESPN.com

8 hours ago

RENTON, Wash. -- A daily review of the hot topics coming out of the Seattle Seahawks training camp: Rookie middle linebacker Brock Coyle was practicing with the first-team defense Friday while Bobby Wagner is nursing a pulled hamstring. "He's done a gre…

Upvote Share Tweet

The Pro Football Hall of Fame's Class of 2014 gets inducted on Saturday. Shutdown Corner will profile the seven new Hall of Famers this week, looking at each of their careers and their impact on the game. Walter Jones1997-2008 Seattle SeahawksOffensive …

Upvote Share Tweet

Recon Marines Literally Drop In On Seattle Seahawks Training Camp

deadspin.com

15 hours ago

U.S. Recon Marines paid a little visit to the Seattle Seahawks Training Camp yesterday, dropping in via UH-1Y 'Venom' helicopters with AH-1Z 'Viper' cover and swimming their way to shore, with their guns drawn for their final landing. This demonstration…

Upvote Share Tweet

seattletimes.com profootballtalk.com

15 hours ago

The Seahawks announced this morning they placed defensive tackle Jesse Williams on injured reserve, released wide receiver Randall Carroll and signed linebacker Marcus Dowtin.

Upvote Share Tweet

Officials say jersey grabs are a no-no

ESPN.com

16 hours ago

RENTON, Wash. -- NFL officials gave their annual training camps presentation to the Seattle Seahawks Sunday, including the video that emphasized the rule changes and how they will be enforced. The one change that the Legion of Boom likely played close a…

Upvote Share Tweet

Report: Seahawks workout tight end Steve Maneri

profootballtalk.com

Aug 1 (yesterday)

The Seattle Seahawks could be on the lookout for additional help at the tight end position after veteran Anthony McCoy suffered a torn left Achilles tendon on Tuesday. While the team isn't pursuing Jermichael Finley, the team did bring in another vetera…

Upvote Share Tweet

Former Seattle Seahawks lineman Walter Jones introduced at Hall of Fame Dinner

Aug 1

Former Seattle Seahawks offensive tackle Walter Jones is introduced at the Hall of Fame Dinner and receives his gold jacket.

Seahawks RB coach Smith: 'We are better with Marshawn'

Aug 1

Seattle Seahawks running backs coach Sherman Smith discusses having Marshawn Lynch back at practice and what he brings to the team.

Lynch Reports With A Pay Raise

Aug 1

Adam Schefter discusses what RB Marshawn Lynch's new deal means for his future in Seattle.

No new money for Seattle Seahawks running back Marshawn Lynch?

Jul 31

NFL Media Insider Ian Rapoport has the latest on Seattle Seahawks running back Marshawn Lynch's contract situation after the star runner returned to camp.