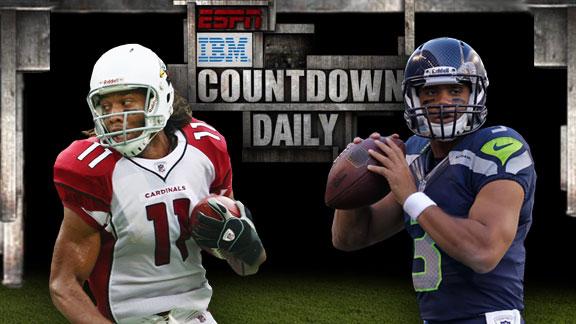 Updated Dec 5, 2012
Share
Tweet
Arizona's John Skelton will be back at starting quarterback when the Cardinals play the Seahawks on Sunday in Seattle. Coach Ken Whisenhunt, whose...
Sources:
seattletimes.com
ESPN.com
CNNSI.com
Updated Dec 5, 2012

Share Tweet

Seahawks coach Pete Carroll says his team has to move on and replace Brandon Browner, but with another possible suspension looming, that won't be easy.

Red Bryant misses practice, expected to be back for game

Updated Dec 5, 2012

Share Tweet

RENTON -- Seahawks defensive end Red Bryant did not practice on Wednesday, resting the sore foot that kept him out of practice all last week.But last week is an important measurement because Bryant was still able to play after sitting out the week, whic…

Updated Dec 5, 2012

Share Tweet

By the numbers: Russell Wilson and rookie QB records

By the numbers: Cardinals at Seahawks

Updated Dec 5, 2012

Share Tweet

A look inside the statistics heading into Sunday's game between Seattle and Arizona.

710ESPN Seattle audio: Taking on Bayless

Updated Dec 5, 2012

Share Tweet

Mike Salk, Brock Huard and I had all sorts of fun dissecting Skip Bayless' recently expressed skepticism over Seattle Seahawks quarterback Russell Wilson. They drew me into a myth-busting session of epic proportions. Hope you enjoy the audio.

Source:

ESPN.com

PFT Live: Bears talk with John Mullin, Coaching Hot Seat

Updated Dec 5, 2012

Share Tweet

The Bears gave up a pair of late touchdowns to the Seahawks last Sunday, costing them a win they needed to hold onto their position as the NFC North leaders. John Mullin of CSN Chicago will join Mike Florio on Wednesday's edition of PFT Live to talk abo

Source:

profootballtalk.com

Rodgers says Packers are still discussing loss to Seahawks

Updated Dec 5, 2012

Share Tweet

When Week Three of the 2012 NFL season ended with a Monday night game between the Packers and Seahawks that ended with a horrible call on a play that has become known as the "Fail Mary," we all knew that the undeserved loss for Green Bay and the undes

Source:

profootballtalk.com

NFL32OT: Ravens Defense Looks For Boost

Dec 5

Episode 231: Wendi Nix and Chris Mortensen discuss the impact on Ray Lewis' return to the Ravens defense. Tim Hasselbeck breaks down why Eli Manning is set to be in the Hall of Fame. The NFL32 crew discuss which team in the NFC will make the playoffs

Blogger Blitz: No Place Like Home

Dec 5

NFC West blogger Mike Sano talks about the Seahawks home-field advantage down the stretch

Blogger Blitz: Seahawks Secondary

Dec 5

NFC West blogger Mike Sando says Seattle's secondary is in good shape despite the suspension of Brandon Browner

Inside the Huddle: Megatrend, RBs, QBs & Kickers

Dec 5

John Clayton takes you inside the huddle to see Megatron Johnson, Green-Ellis, the Class of 2012 rookie QBs and some trouble in the kicking game.