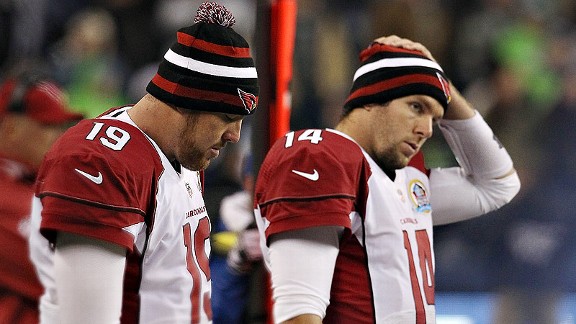 seattletimes.com
ESPN.com
profootballtalk.com
Updated Dec 9, 2012
Go ahead - dream of a Super Bowl. A 58-0 drubbing proved this group of players is as good as it wants to be.
Share
Tweet
seattletimes.com ESPN.com profootballtalk.com

Dec 9, 2012

With a possible PED suspension looming, Sherman overshadowed his troubles, at least for one afternoon, with a laughably dominant performance against Arizona.

Share Tweet

Players of the game Tight end Anthony McCoy became the first Seahawk to surpass 100 yards receiving in a game this season. He caught three passes for 105 yards, including a 67-yarder that is Seattle's longest completion of the year. Cornerback Richard S…

Share Tweet

The father of Cardinals receiver Larry Fitzgerald has seen enough. Larry Fitzgerald Sr., a sportswriter who occasionally opines about his son's athletic endeavors, took to Twitter on Sunday and ripped the Cardinals as they went through a dismal 58-0 los

Share Tweet

Seahawks demolish Cardinals with historically dominating performance

Seattle forced eight turnovers - six in the first half - en route to a 58-0 rout of Arizona that set a franchise record for points scored.

Share Tweet

deadspin.com

Dec 9, 2012

Vince Young may not be the hero Arizona deserves, but he just might be the hero it needs. The Seattle Seahawks are in the process of thoroughly humiliating the Cardinals 58-0. As of this writing, there are an ungodly two minutes and change remaining-and

Share Tweet

Cardinals can't get out of own way, trail 38-0 at half

It's a pretty simple formula, really. If you can force your opponent to turn the ball over six times, your chances  of winning improve dramatically. That's what the Seahawks have done, and why they're beating the Cardinals 38-0. John Skelton has th

Share Tweet

Seahawks up 17-0 early on Cardinals

Some things, you can see coming a mile away. The Cardinals are getting less-than-stellar quarterback play and the Seahawks are running well, pointing to a 17-0 Seattle lead. Cards quarterback John Skelton already has an interception, and Marshawn Lynch …

Share Tweet

GameDay Chat: Kicks off at 12:30 p.m.

Join Seattle Times reporter Danny O'Neil from CenturyLink Field where the Seahawks host the Cardinals.

Share Tweet

Cardinals, Seahawks draw 49ers-Rams ref

ESPN.com

Dec 9, 2012

SEATTLE -- Carl Cheffers, the referee assigned to work the Arizona-Seattle game Sunday, was the same one presiding over two controversial scoring plays earlier this season. Cheffers' crew incorrectly allowed a Carolina touchdown to stand during the Pant…

Share Tweet

710ESPN Seattle audio: Clayton Show

ESPN.com

Dec 9, 2012

Good morning/evening and welcome to Week 14 on the NFC West blog. I'll be heading to CenturyLink Field early Sunday for the Seattle Seahawks' game against the Arizona Cardinals. The plan is to watch the St. Louis Rams-Buffalo Bills broadcast from there,…

Share Tweet

Sunday Blitz: Cardinals-Seahawks Recap

Dec 9

Jim Basquil and Eric Allen break down the Seahawks' 58-0 win over the Cardinals.

Seahawks Blank Cardinals, 58-0

Dec 9

Seahawks capitalize on eight turnovers, handing the Cardinals their ninth straight loss.

Arizona Cardinals vs. Seattle Seahawks highlights

Dec 9

The Seattle Seahawks defense dominates, recording four interceptions and four fumble recoveries in a 58-0 romp of the Arizona Cardinals.

Week 14: Seahawks defense highlights

Dec 9

Catch the highlights of the Seattle Seahawks defense and special teams as they force eight turnovers and score two touchdowns.